How to develop a competency framework
Reading time: about 6 min
Posted by: Lucid Content Team
It may seem impossible to measure how well your employees are doing their jobs. After all, how can you measure something like "leadership" or "collaboration"? Yet, knowing how to define and measure these skills is a vital part of improving the efficiency of your organization.
A competency framework can help your company in these efforts—it defines the skills, knowledge, and characteristics required from members of your organization. Furthermore, competency development helps your employees grow in their jobs and expand their skill sets.
By articulating the skills valued in each job in your organization, you'll develop a competency framework that gives you a clear way to measure your employees' performance while also developing the culture of your business.
Why practice competency development?
If you can't define your competencies, you can't measure them. And if you can't measure the success of your employees, you won't know whom to promote or how to help those who are struggling in their roles. Competency development will help you:
Define and measure success in each role.
Recruit higher-quality staff.
Set expectations for every new employee.
Provide a competency framework with which to evaluate performance.
Discover gaps in competencies and better train to fill those gaps.
Prepare employees for advancement.
A competency framework (also called a competency matrix) can help you standardize competencies for better evaluation. This competency framework is meant to be shared with employees so they have clear expectations of their roles and understand how these competencies contribute to the betterment of the organization as a whole.
How to develop a competency model
Developing a competency matrix consists of four steps, with each step containing many parts that we will break down for you. The four main steps are:
Determine the framework's purpose.
Gather information.
Construct the framework.
Implement the framework.
Before beginning to construct your competency framework, you'll need to determine whether you'll be working as an individual or with a team. It may be wise to undertake the competency analysis and matrix development with a team, as the process initially seems less complicated than it is. If you choose to go the team route, select members from across your organization who have varying viewpoints and can lend their expertise.
1. Determine the framework's purpose
There's a huge difference between developing a framework that will be used to sort and hire candidates and developing a framework that will be used to determine annual raises. You'll need to decide which managers will be using the competency framework and when they'll be using it. Context is everything, so clarifying the competency matrix's purpose before you begin researching will save you time and result in a better framework.
2. Research
You may be in HR, but odds are, you aren't familiar with the intricacies of every single job in your organization. It's just not possible. That's why you'll need to gather information from those who are most familiar with each role. The more time and effort you spend on competency analysis, the better your framework will be.
There are four main ways of gathering the information needed for your competency matrix:
Watch: Spend time observing each role in your organization, making notes about what you observe.
Talk: Chat with teams and individuals about which competencies they feel are most important to a particular role's success. It may be, for instance, that a key competency on the customer service team is "unwavering friendliness" or that a key competency on the operations team is "responsible resource allocation." But you won't know unless you talk to the people involved.
Ask: It's smart to gather information in multiple ways; sometimes questionnaires yield better responses than in-person observations.
Analyze: Next, look at the behaviors demonstrated by the jobs for which you're developing a competency framework and list them out for each role. At this stage, you'll want to keep the behaviors granular, so a bulleted list is just fine.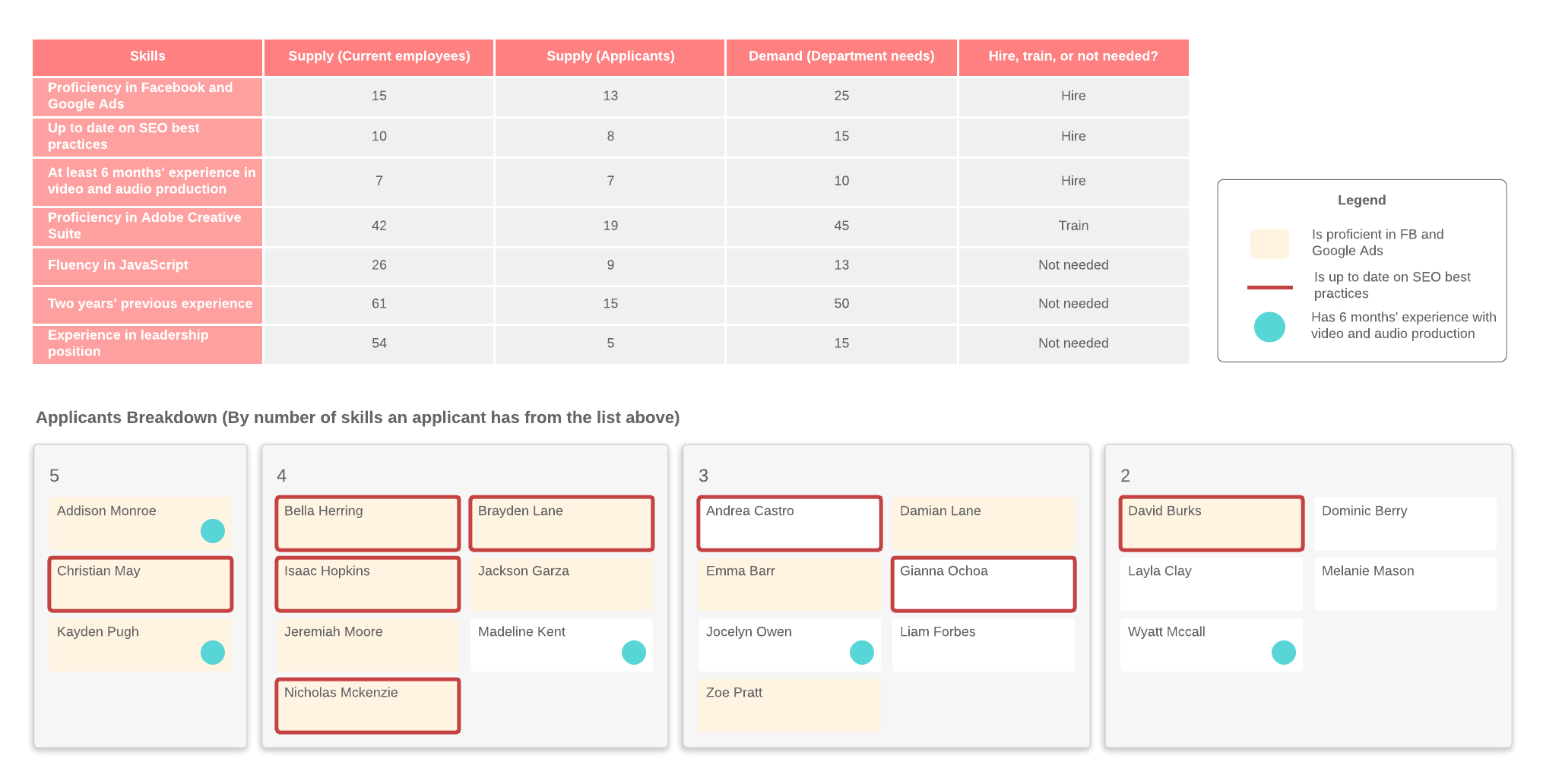 3. Construct the framework
Now we'll talk about how to develop a competency model. You will now have lists of behaviors and responsibilities for each job you've observed, and that's likely a whole lot of bullet points. Now, all those granular behaviors will be grouped. With the help of your team, cluster behaviors and responsibilities into similar behaviors. For instance, if you have a list of the behaviors of a content manager, grouping behaviors might look like this:
Content strategy
Brainstorm and research articles
Conduct SEO research
Develop purpose of individual articles
Develop and maintain content calendar
Team management
Hire freelancers
Develop freelancer contracts
Develop editing process
Provide feedback for freelancer improvement
Voila! Based on the above groupings, it's clear that two of your competencies for a content manager role are "content strategy" and "team management."
You may have as many competencies for each role as you feel the job demands. The goal is to make sure that the competencies you identify are truly "make or break." In other words, if you had an applicant for a content manager who was a brilliant content strategist, but was poor at team management, would it disqualify the applicant from the role? Role-based competencies should be vital for the role's success.
When you use Lucidchart to develop a competency framework template, it's easy to share your competency framework with teams and gather final feedback before implementation. We've also developed templates that you can easily adapt to your own needs—your entire team can participate in filling out the chart in real time, which makes collaboration a breeze. It's an easy way to keep the competency framework process organized.
4. Implement the framework
Look back at your initial purpose for developing the competency framework. When revealing your competency matrix to the organization, tell staff why the competency framework was developed in the first place and what you hope to gain with its implementation. It's easier to get buy-in if everyone in the business knows the end goal of the competency framework.
It's easiest to unveil the competency framework in a meeting so you can go over the goals of the competencies, provide training, and show how the framework is a truly beneficial tool that can help employees feel more empowered.
It may be beneficial during the implementation process to show the work that went into developing the framework: If employees understand the care and consideration you and your team took to develop the competency matrix, they'll be more receptive to its implementation. Remember that most employees aren't familiar with competency frameworks, so be patient as you explain its purpose.
A competency framework is really just a way to help your employees—and, in turn, your organization—succeed. It's a great tool to gauge areas of strength and weakness and provide real, meaningful training opportunities. You'll also be able to locate gaps in your business model and find people to fill those gaps for a more efficient team. Competency frameworks take significant time to develop, but the effort is rewarded with more empowered employees who feel confident that their roles are understood and their managers are invested in their improvement and success.
See how you can use Lucidchart to view employee skill sets in the context of an org chart and plan for the future.
Read more
Start diagramming with Lucidchart today—try it for free!
Sign up free
About Lucidchart
Lucidchart is the intelligent diagramming application that empowers teams to clarify complexity, align their insights, and build the future—faster. With this intuitive, cloud-based solution, everyone can work visually and collaborate in real time while building flowcharts, mockups, UML diagrams, and more.
The most popular online Visio alternative, Lucidchart is utilized in over 180 countries by millions of users, from sales managers mapping out target organizations to IT directors visualizing their network infrastructure.