"Work for someone who believes in you, because when they believe in you, they'll invest in you."

—Marissa Mayer, Yahoo CEO
Talent management is often one of the most overlooked, underappreciated—or at the very least, misunderstood—aspects of a corporation's hierarchical structure today.
At face value, some may dismiss talent management as just another HR term or phrase used to describe a company's in-house recruitment team. However, the importance of talent management goes far beyond the mere act of hiring and retention of employees. Done correctly, talent management can directly impact a business's growth strategy as well as its ability to differentiate itself as a preferred employer in a competitive market.
Case in point: a survey of over 1,100 U.S. adults conducted by The Harris Poll revealed that 84% of job seekers cited a company's reputation as an employer of choice as being an important consideration factor when deciding whether or not to even apply for a job.
So, what can today's HR professional do to improve their talent management process and attract better applicants to their company (not to mention, create a more consistent and enjoyable experience to keep new hires engaged through the employee lifecycle)?
In this article, we will review three ways to enhance your organization's talent management process—which offer you the potential to transform your company from within. But first, to provide you with a proper foundation, let's start with a talent management definition.
What is talent management? Why does it matter to your business?
The importance of talent management in organizations is best appreciated once we first determine what talent management is not, particularly in contrast to human resources. Both disciplines work to manage employees, yet each takes on a different approach.
Whereas HR attends to benefits administration, time-off requests, and payroll concerns, talent management is in charge of recruiting talent and tasked with hiring new employees. They are also focused on professional development—serving this function on a company-wide level and not just for individual employees. If HR is tactical, then talent management is strategic.
For talent management, candidates aren't just measured by how well they fit a role, but by how well they fit the company, align with its goals, or match with any future career paths.
Growing, developing, and retaining a superior workforce takes a lot of time, planning, and energy. That's why it's so important to get your talent management approach just right. Which leads us to the first of our three ways to enhance your existing process…
1. Treat applicants and new hires like you would your best customers  
Every great customer experience can increase our likelihood to recommend brands and become advocates. But when we have a bad experience, we become even more vocal.
When Salesforce Research surveyed over 6,700 people to compile its latest State of the Connected Customer report, they confirmed what you may already suspect. For 84% of customers, being treated like a person is very important to win their business. Another 70% said connected processes—such as seamless handoffs between departments and channels, or contextualized engagement based on earlier interactions—were important.
So, what's the customer experience like for job applicants or recent hires onboarding at your company? If you're not sure what their experience is like, that could be a problem.
For better or worse, frontline employees are the face of your company. To offer a more enjoyable, consistent experience for the talent you seek to attract, you must also offer a more enjoyable, consistent experience for your recruiters—as well as receptionists.
Whether that means nailing the hiring process at your company or getting more oriented with your new hire orientation process, Lucidchart has the tools to create the flowcharts and process maps to better illustrate your methods, your company, and its culture.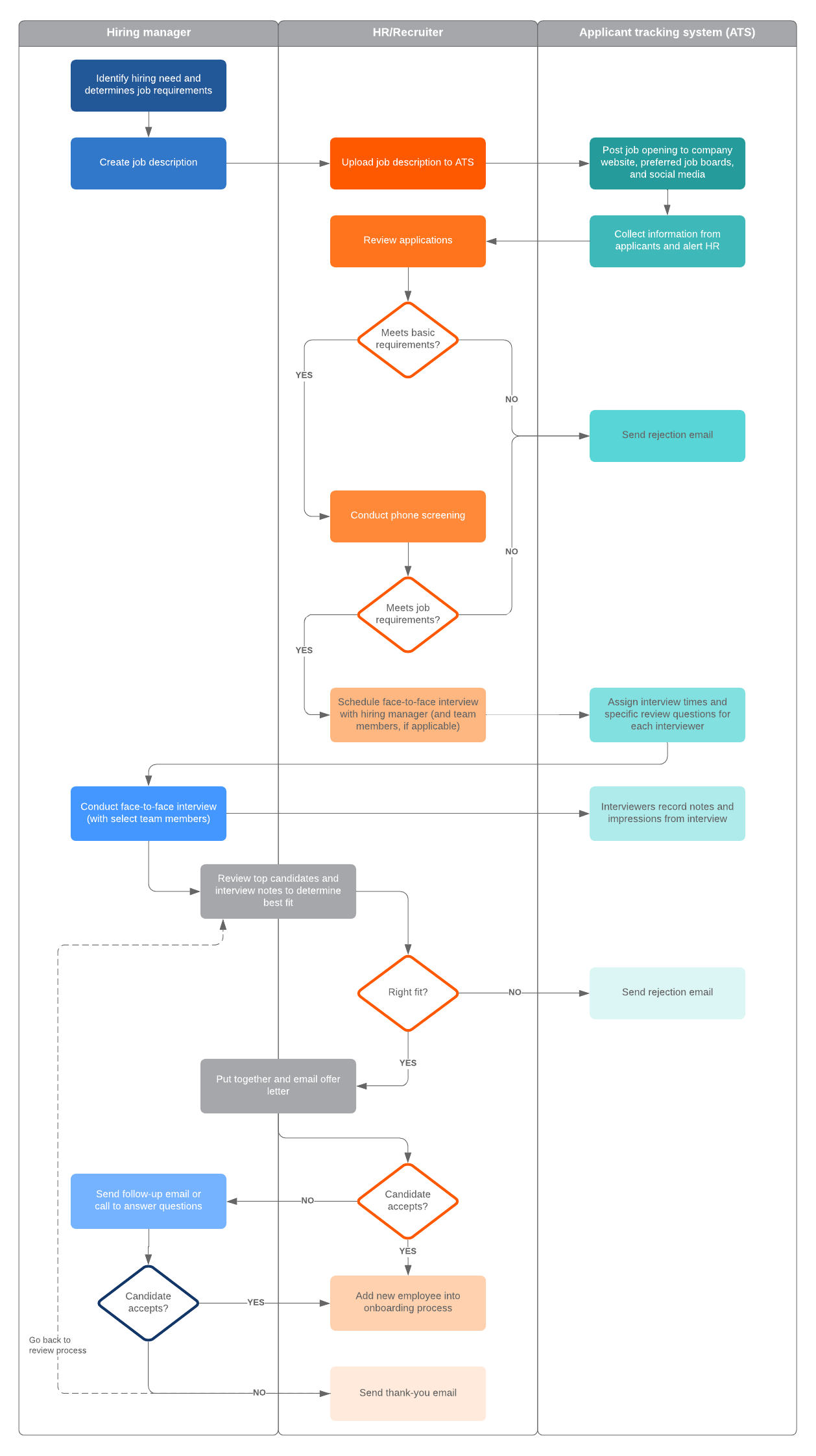 2. Develop an onboarding system that inspires new hires from day one
Think back to your own first day at work as the new employee. You probably arrived at the office feeling both excited and nervous. At some point along the way, you wondered:
"Did I really make the right decision by accepting this job offer?"
Starting a new job can be stressful—especially if things aren't quite what you expected them to be. Or you find yourself uncertain of what your new employers expect of you in return. Which is why most job seekers today do a fair amount of research ahead of time.
In fact, a recent study by Glassdoor reveals that 93% of employees/job seekers say it is important to be informed about all aspects of a company (e.g., culture, values, mission, business model, future plans, workplace pros and cons) prior to accepting a job offer.
When it comes to your company's reputation with its applicants and new hires, first impressions matter, which is why you should put extra thought into your onboarding process. Quickly communicate what new hires need to know about your company, its culture, job expectations, or even the nearby lunch venues using a visual flowchart or Google Docs.
Making the effort to encourage employee engagement does more than increase their job satisfaction. It can inspire them to recruit friends and family to join your workforce.
3. Recognize and award talent as a form of employee recognition
Employee recognition is the acknowledgment of staff for exemplary performance and the reinforcement of particular behaviors that result in positive business outcomes.
But for talent management, employee recognition can mean something else entirely.
Identifying and hiring great talent for your company doesn't stop with filling one position with your candidate. It's about helping employees find a career trajectory within your organization—as well as investing time and resources into their continued development.
It's also important to discover the individual job preferences of your employees—what tasks they enjoy, which projects motivate them, and what careers they dream about.
This type of insight into your workforce allows talent management to strategically match employees to upcoming career opportunities—taking into account the essence of the person instead of making considerations based on the job roles they currently fulfill.
Knowing the strengths of your workforce is not only vital for your ongoing recruitment efforts. With a recent SHRM report citing an average $4,129 cost-per-hire for new employees, promoting from within can also improve your company's bottom line.
Improve your talent management efforts with Lucidchart
Lucidchart can help streamline your efforts to keep new hires engaged, attract better applicants to your organization, and help retain your best employees. More than a visual diagramming tool, it provides you with a collaborative way to ensure your team follows procedure correctly to establish a more consistent talent management experience.
Whatever processes you hope to improve, Lucidchart can help you create the visual roadmap to make it happen. Sign up for your free account today.