How to Integrate Lucidchart with Google Drive
Lucid Content Team
Reading time: about 4 min
We consider it our job to make our software work wherever you do, and that's why Lucidchart was one of the first web apps to integrate with Google Drive. We don't want to drag you away from your Docs, Sheets, and Slides—we simply want to make them more visual. Lucidchart integrates seamlessly with all three apps, allowing you to work from your familiar Drive interface and make diagrams a part of any document, spreadsheet, or presentation.
When you integrate with Google Drive, you can:
Create, open, and share Lucidchart documents from Drive.
View, open, and edit Microsoft Visio documents from Drive.
Export Lucidchart documents as a PNG, JPG, or PDF to store in Drive.
Schedule daily or weekly backups of all your Lucidchart documents.
View this quick video tutorial on how to sync Google Drive with Lucidchart, or read on to get a closer look at how you can take advantage of our G Suite integration:
Get Google and Lucid in sync
Sync your entire Lucidchart library to Google Drive so all your diagrams are available in both locations. To sync your library, access your user preferences within Lucidchart and select "Google Drive." While there, you can choose whether you would like your documents automatically synced to Google Drive and backed up weekly.
Once you've done so, you can choose to share documents from both Google Drive and Lucidchart. When you select a diagram from your Google Drive folder, you can choose to open it with Lucidchart so you can edit and revise as needed, and your diagrams will be automatically updated in Google Drive.
Make your words and numbers easier to digest
There are only so many words, numbers, cells, and rows people can take before they enter the dangerous zone of information overload. So do everyone a favor and grace your text-heavy documents and massive spreadsheets with a little eye candy. These visuals will not only give your readers a break from the mundane but also help them better understand and retain the information. Remember that a diagram can succinctly convey a point in a more digestible format.
First set up the add-on.
From an open Google Doc, Sheet, or Presentation, select Extensions from the top menu bar.
Hover over Add-ons and click Get add-ons.
Search for and select Lucidchart. Click Install. Select Continue to give Lucid permission to begin installing.
Click Allow to give Lucid access to your Google Account.
In the confirmation window that appears, click Done.
That's it—just five steps to connect your two favorite applications. And you only need to do that once.
Now you're ready to insert a diagram.
Build your diagram in Lucidchart.
Open a Google Doc or Sheet.
Click Browse documents in the Lucidchart add-on sidebar on the right.
Select the thumbnail of the document you want to insert.
Click Select.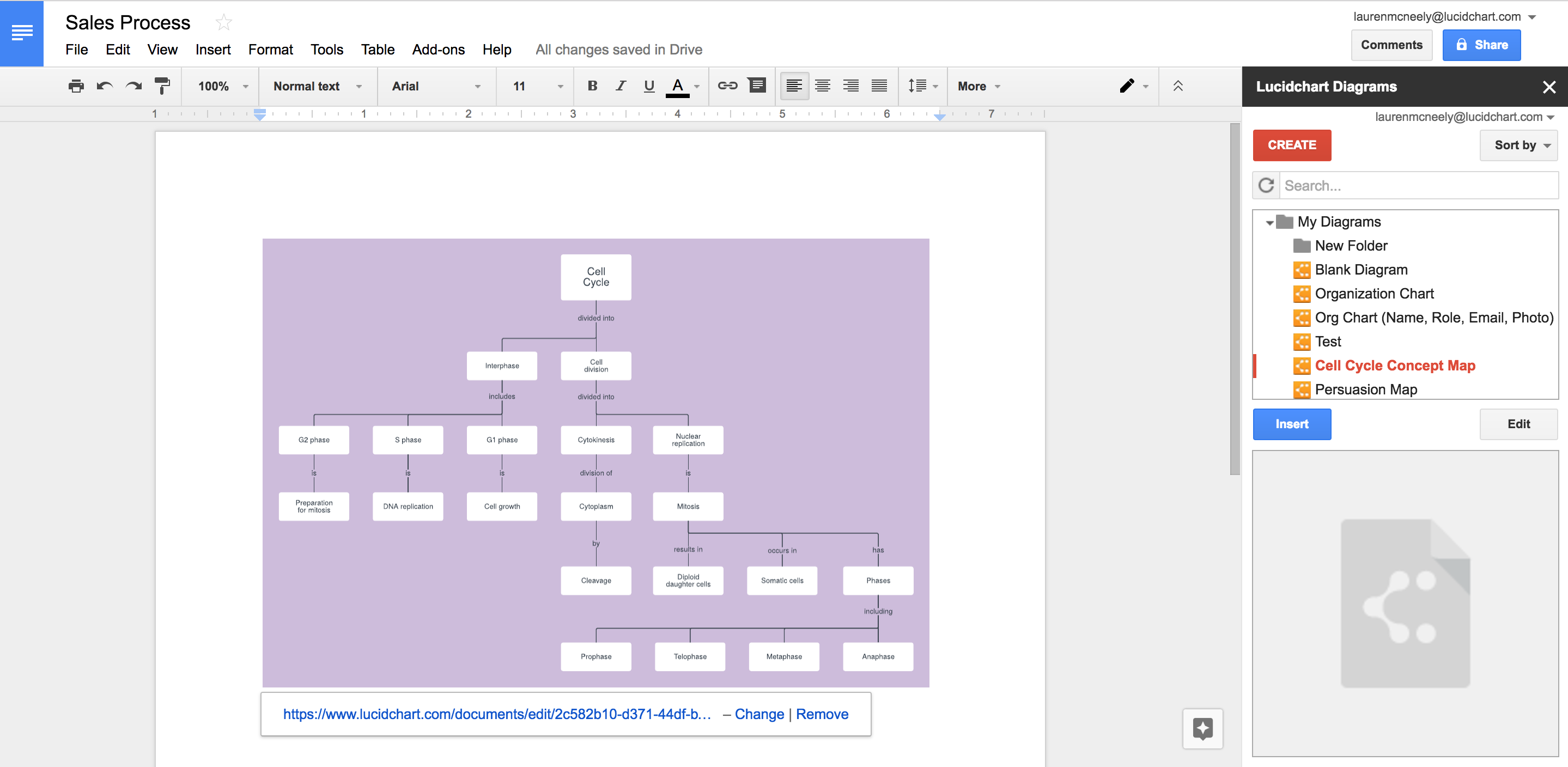 If you make changes to a Lucid document, board, or model click Update images from the corresponding add-on sidebar to see the most current version. Please allow up to 10 seconds for each image to update.
Spice up any presentation
Once you've integrated with Google Drive, you automatically have access to our Google Slides integration, a more recent Lucidchart feature. Diagrams can enhance any presentation, but sometimes the audience might get too busy admiring your diagram and forget to listen to you. Or you might have a massive diagram that will be way to hard to understand as a whole if you plop it into a single slide. With this integration, you can break up your diagram into different slides so that your audience stays with you as you walk through it.
Use the presentation mode in Lucidchart to split your diagram into as many different slides as needed.
Select "Send to Google Slides."
Wait for your presentation to export, and then click "Edit it now!" You will automatically be directed to Google Slides.
Now you can format away within Google Slides to add any necessary context without affecting your original Lucidchart diagram.
Thank goodness you can still think visually even if you're a die-hard Google fan. Install the Lucidchart add-on and start harnessing the power of Google and Lucidchart today.

To learn how to make a flowchart in other Google products, read our post on inserting a flowchart in Google Docs and adding a flowchart to Google Sheets.