How to lead remote training sessions
Lucid Content Team
Reading time: about 7 min
If there's one thing more nerve-racking than presenting to an audience, it's presenting to a remote audience. While remote trainings and remote meetings are becoming standard practice, they present a whole new world of problems and pain points. But they also present wonderful opportunities for inclusivity and engagement. 
Here are our best tips and tricks for improving your training sessions or any large meeting that features one or two presenters. When you know how to conduct an effective training session, you'll wonder how you ever survived without them.
Benefits and challenges of remote training
Once you know how to conduct remote meetings, there can be many advantages to conducting your meetings online, including:
Instant feedback from your audience
Greater accessibility to people from all over the world
More dynamic content
Anonymous feedback
Cost savings on travel expenses
But there are definitely drawbacks. Here are some of the challenges you'll face when you begin to lead remote training sessions:
Avoiding distractions: It's so much easier to zone out when you're not in a classroom and the threat of being caught dozing off is gone. In a remote training session, it's easy for your audience to play video games or do laundry instead of paying attention.

Technology working against you: While tech companies are always trying to figure out how to improve remote training technology, there's still friction and a solid video connection relies on a solid Internet connection.

"Reading the room" over video: If your audience hasn't turned on their cameras, you won't be able to read their faces and body language to gauge how well they're understanding the material.

Keeping an audience engaged: As mentioned previously, your audience may be more easily distracted, and because it's more difficult for attendees to jump into the conversation or ask questions, keeping people engaged can be much more difficult with remote learning.

Connecting your audience to one another: Facilitating discussions and helping your audience build relationships with one another can be tricky.
Types of remote training
It may be worth experimenting with different types of remote training to discover the perfect fit for your organization.
Live trainings: These are typically conducted via Zoom, Skype, or another video conferencing solution and allow a presenter to share slides or other materials while they're streaming live.

Recorded trainings: These trainings are usually a presenter speaking while recording their desktop, but there are a number of third-party companies that will allow your company to record a more formal training that could be uploaded to YouTube or Vimeo or downloaded via a private link.

Self-paced trainings: These trainings often have no presenter and are primarily slides or e-books that often have quizzes interspersed. Many companies used self-paced trainings for mandatory human resources and hiring training.
Tips for conducting effective remote training sessions
Now that you're aware of the potential drawbacks of remote training, you can actively work to combat them—give these suggestions a try. Note that these tips are primarily best for remote live trainings and recorded training sessions. 
1. Set ground rules
It's a smart idea to set some boundaries for your training sessions, such as making sure everyone has their camera turned off/on, making sure everyone is muted, and making sure notifications are disabled. The exact rules are up to you. Share an agenda highlighting what you plan to cover during the training and a schedule of the training including breaks.
2. Don't read the slides
You know exactly what this means because you've been in countless meetings in which the presenter has read the content from the slide—often word for word—aloud to the entire room. The only time you should be reading things word for word from a page to a room is if you're a kindergarten teacher reading to the class (and even then, only if you're good at doing the character voices).
Reading verbatim from slides is insulting to your viewers' intelligence. Worse, it's likely your audience has already read the slide silently to themselves well before you've finished reading it aloud, so they've been zoning out while you've been reading to them. Now you have to get their attention back and further elaborate on what's on the slide. 
A better approach is to use visuals (such a flowchart explaining the process that you need the team to follow) or data on the slide to illustrate your point. Refer to notes on each slide to guide what you'll say.
3. Use chat
The in-person group dynamic usually suffers in remote training sessions. But it doesn't have to.
Even if you're hesitant to let viewers interrupt with a question and break the flow, you can encourage trainees to use chat or similar features on your remote conferencing software, such as "Raise Hand" on Zoom. Invite the audience to submit questions to you and then address those questions live at the end of the session. At Lucid, we use a Slack channel to chat during our company-wide updates and other trainings so employees can send GIFs and cheer each other on.
4. Incorporate polls
Showing data is a great way to get your audience more engaged, especially if that data comes directly from them. Most video conferencing providers have built-in polling functionality, so invite your audience to participate in a poll during your training session and then share the results with the group. Or create a word cloud in real time by asking the audience a question and seeing the answers materialize in front of you.
5. Make it a workshop, not a lecture
Think back to your high school or college classroom: Did you prefer being lectured to or being involved? When your audience is actively participating during your training session, you'll automatically decrease distractions and the potential your audience is working on something else on the side.
For instance, if you're leading a training session on how to write more professional emails, challenge your audience to write a professional email to their landlord letting her know your next-door neighbor has started breeding and selling snakes. Or if you're leading a customer service training, challenge your audience to role-play and tactfully navigate a situation with a customer who claims your product has made his hair fall out. You'll notice these are fun examples, and that's on purpose: When your training is fun, your audience is more likely to pay attention. 
Make an activity, workshop, or task for each segment of your training. You may even want to use impromptu icebreakers to get your audience's attention again if you feel it's started to wander throughout the training.
If your video conferencing software supports it, you could also consider creating breakout sessions for discussion or to allow attendees to practice the skills they are learning with others. Whichever way you choose to get your audience more involved, Lucidchart gives training attendees a collaborative digital whiteboard they can use to brainstorm ideas and complete the activity together.
6. Share additional resources after your training
Even the most engaged audience is likely to forget the majority of what they were told during a training. After the training, be sure to send your slide deck or a summary of the presentation as well as resources for additional reading.
It's also a good idea to show exactly how the things you discussed in the training can be used in real-world scenarios so your audience knows how to apply what they were taught.
7. Set ground rules
It's a smart idea to set some boundaries for your training sessions, such as making sure everyone has their camera turned off/on, making sure everyone is muted, and making sure notifications are disabled. The exact rules are up to you. Share an agenda highlighting what you plan to cover during the training and a schedule of the training including breaks.
Remote training sessions are a fantastic opportunity to harness new technology and new ways of connecting with co-workers from around the world. These trainings can utilize different forms of content sharing to address various learning styles and they provide a more accessible way to learn.
There are definitely some downsides to digital training sessions, but the good far outweighs the struggles. If you incorporate the above tips and tricks, we can guarantee you'll have trainings so engaging, you might just become a remote training celebrity.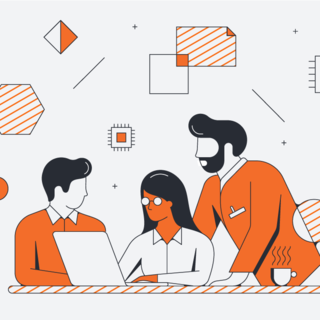 See how Lucidchart can be a powerful solution for collaborating and staying aligned while working from home.
Learn more