How to overcommunicate effectively
Lucid Content Team
Reading time: about 7 min
Good communication is at the heart of good business. 
How well your senior leaders, managers, and employees talk to one another is crucial to creating a productive, efficient, and collaborative environment. Without clear, consistent communication, your teams will be less effective and confusion and misalignment will increase. 
Communication is an especially important skill for leaders today as many organizations continue to work remotely across distributed teams. Keeping everyone on the same page, particularly during periods of upheaval or change, is essential for maintaining smooth operations and ensuring your employees have the information and resources they need to succeed. 
That's where the art of overcommunicating comes in. 
Why overcommunication is important 
Overcommunicating may sound counterintuitive—after all, if you've delivered the message, why are you wasting time repeating yourself? 
But when done correctly, overcommunication can help leaders reinforce important messages (like the organization's vision and values), help employees retain key information, and ensure that everyone heard and understands the message. 
In other words, overcommunication helps prevent misunderstandings, keeps key information top of mind, and makes sure everyone is on the same page.
What overcommunication is not
Keep in mind that overcommunication is not oversharing or info-dumping on your employees at every interaction. Do not micromanage. Sharing all the details about a decision or bombarding your employees' inboxes with dozens of emails is not the goal. That behavior will quickly make eyes glaze over and cause frustration among your employees when they see that the information is irrelevant, is unnecessary, or distracts them from actually doing their work. 
Your goal is understanding and alignment—not wasted time. Therefore, the key to successful overcommunication is prioritizing and delivering the right information at the right time. 
When you should overcommunicate
Because it is so easy to overcommunicate in unhelpful ways, it's important to recognize when and where overcommunication is most useful. 
For example, if you have a clear process for communicating project details within a team, overcommunicating information (through redundant emails, multiple project management platforms, or multiple meetings) can become frustrating and waste valuable time and resources. 
So when should you overcommunicate?
Overcommunication is particularly important during times of change or crisis and for clarifying and reinforcing key messages from top leadership—such as your organization's vision, priorities, or company-wide goals.
Managing change, especially on a department or organizational level, requires juggling a lot of moving parts. Without consistent, clear, and regular communication, important details can get lost in the shuffle and employees may end up feeling ignored, undervalued, or confused. Communicating with regular updates and check-ins and reinforcing messaging through follow-ups will help you avoid misunderstandings, keep morale high amidst uncertainty, and transition through change more smoothly.
Additionally, regularly communicating your vision as a leader or an organization is crucial for aligning your teams with a strategy or mission. When you overcommunicate your vision (such as connecting your vision to smaller team-level projects or goals), you create a culture around that value, and your employees will be able to align their own goals and problem-solving to that vision more effectively.
How to overcommunicate effectively 
Use the following tips to make sure you are overcommunication is relevant and helpful. 
1. Keep it simple
Make sure messages and feedback are straightforward and concise. Don't get caught up in every detail, but rather clearly communicate expectations, goals, or priorities. 
By hyper-focusing what points or information you choose to communicate, your message will be more impactful and clear.  
2. Hold short frequent check-ins
Instead of long, drawn-out meetings with agendas that cover a broad range of topics or priorities, opt for shorter, focused, more frequent check-ins. 
For example, when starting a new project or making changes, it's important to bring in those who need to be a part of the conversation early and sync often. This ensures everyone understands the project objectives, how the initiative connects to organizational goals, what each person's responsibilities are, and a timeline of what to expect. 
Use subsequent check-ins for brief progress reports and accountability updates to keep everyone on the same page and the project is moving forward as planned.
Pro tip: Keep in mind that too many meetings can overwhelm employees. Meetings are best for big-picture information (like policies, procedures or goals), that require face-to-face communication. Save smaller details for email updates so you don't waste employees' time.   
3. Make 1:1s relaxed
Not every 1:1 has to be a formal production. Check in with your team members in natural, low-stake settings. 
Relaxed 1:1s help you maintain a good relationship with your team so that employees feel comfortable communicating with you and have the opportunity to share feedback and insights with you regularly. For example, consider holding lunch meetings or "walk and talks." 
A lunch meeting or walking 1:1 should have a loose agenda that is focused on checking in on your employee individually. These are a great opportunity to connect with your employees on a more casual and personal level, which can strengthen your relationship and build trust.  
4. Mix up your modes of communication
There are many ways to communicate with your employees (and vice versa). Different channels will have different uses and advantages. Don't be afraid to mix up your modes of communication. 
For instance, you can schedule weekly standup meetings to check in on team progress and provide any high-level updates, but rely on email or chat for quick questions and process flowcharts or visuals to easily reference project workflows or assignments.
Lucidchart helps you collaborate within and across teams seamlessly through easy-to-use visuals. Create flowcharts to map your processes and workflows, and use visuals such as Gantt charts or Kanban boards track assignments and accountabilities. Link data and import documentation right to your visual so you have one source of truth. Leave @mentions in your documentation to notify team members of new info or bring their attention to important items. 
Ask your team what cadence works for them and what communication channels they prefer. Don't be afraid to change your routine to find a process that works for everyone.    
5. Don't wait on news (good or bad)
One of the most important rules for good communication is relaying news in a timely manner. Don't wait to share news—even if it's bad news. This is especially true during times of uncertainty or change. Even if you don't have answers for your employees, check in with them frequently to update them (including sharing that you have no news). 
Sharing news and updates as the situation evolves builds trust and helps relieve anxiety surrounding uncertainty. If your employees trust that you will be honest and transparent with them, they will be less stressed and better equipped to move through change effectively.
Conclusion: Expect the unexpected
When it comes to running a business, you can never fully predict the future. The key is to expect the unexpected and plan for it in your communication. There are going to be hiccups. Don't panic; instead, communicate issues to the appropriate stakeholders quickly so you can tackle challenges as a team.
Communication is a two-way street. As you create a culture of "overcommunication," you will build trust between your leadership and employees and make it easier for employees to provide needed feedback, ask questions, and be open about challenges or issues. 
Just remember: Keep your teams in the know and on track by communicating openly, frequently, and clearly.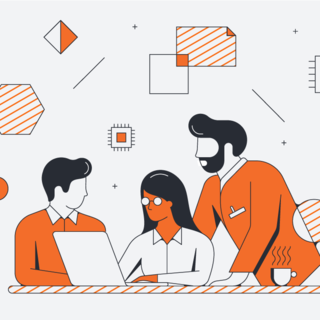 Take a look at the collaboration tools your company needs to overcommunicate effectively.
See the list
Lucidchart
Lucidchart, a cloud-based intelligent diagramming application, is a core component of Lucid Software's Visual Collaboration Suite. This intuitive, cloud-based solution empowers teams to collaborate in real-time to build flowcharts, mockups, UML diagrams, customer journey maps, and more. Lucidchart propels teams forward to build the future faster. Lucid is proud to serve top businesses around the world, including customers such as Google, GE, and NBC Universal, and 99% of the Fortune 500. Lucid partners with industry leaders, including Google, Atlassian, and Microsoft. Since its founding, Lucid has received numerous awards for its products, business, and workplace culture. For more information, visit lucidchart.com.
Bring your bright ideas to life.