All About the Human Resources Job Screening Process
Lucid Content Team
Reading time: about 8 min
Of the many responsibilities you have as a human resources professional, your most important job might be to find people who will be the right fit for your organization.
In the old days (the '90s), you used to advertise an open position and sit back and wait for the printed resumes to come in. Then you had to look through each one to identify which candidates had the qualifications that met your requirements. Technological advances have made resume screening much easier today. You no longer have to slog through a mountain of printed applications and resumes—now you have computers to do that for you.
Still, you need to have a solid screening process in place in order to find the best people. In this article, we will discuss the steps in the screening process, offer some example HR screening interview questions, and tell you how Lucidchart can help you streamline the entire process.
What is the screening process?
Alternate definitions of the term "screening," such as "material separated from another material by means of a screen" or "metal or plastic mesh (as for window screens)," are applicable to the process you use to find the right candidate for the right job. You are going to draw from a pool of candidates and apply screens to compile a short list of suitable, qualified candidates.
Following are some steps you may want to use to develop your own hiring screening process. As you develop your process, consider creating a flowchart to document it from beginning to end with Lucidchart.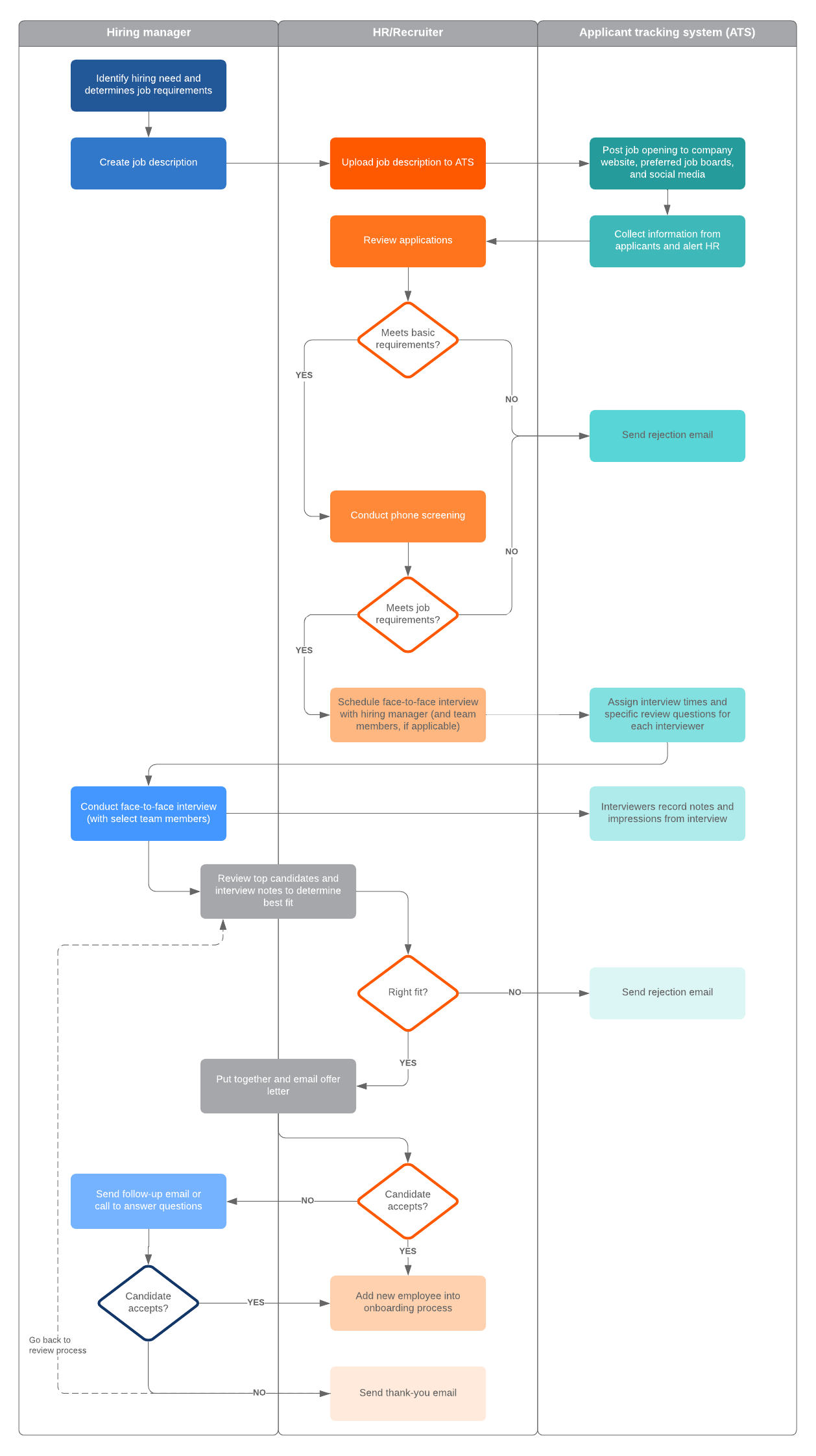 Step 1: Create a job description
If it is not your job to write the job description, it is still a good idea that you work with the hiring manager to compile a list of keywords that will qualify a candidate for a job. For example, include the type of college degree required or specific skills needed to do the job.
Also, be sure to clearly define the job responsibilities of the open position so you can find matches with applicants' previous experience.
Step 2: Post the job opening announcement   
After the job description is written and approved by the hiring manager or anybody else who need to approve them, post it to your favorite job board.
Step 3: Complete initial resume screening
You should add the list of keywords you created in step one to your resume scanning software. As soon as the applications start coming in, you can have the software scan for those specific keywords as a quick way to find candidates who meet the minimum requirements.
After you have a group of applicants who meet the minimum requirements, use keywords from the job description to sort the candidates in terms of suitability for the role.
For example, suppose you are looking for a technical writer. The keyword "technical writer" would meet the minimum requirement. But if the job description indicates that experience with MadCap Flare is preferred but not a requirement, then candidates who have that experience may be more suitable for the role.
Step 4: Check for keyword context
Many of your applicants know that by adding a lot of the keywords from the job description to their resumes, they are more likely to rise to the top of the initial resume screening. Now that you have a smaller set of candidates, you need to read their resumes to make sure that the keywords they use match up with previous experience.
If the resumes pass to this kind of scrutiny, they may be ready for the next step in the process.
Step 5: Social media search
Many companies search for candidate profiles on social media as part of the screening process. Social media can give you an idea of a person's character and professionalism.
If your candidates rise to the top through these steps in the screening process, they can move on to the phone screen.
What is a phone screen?
The phone screen or phone interview is typically the first interaction you have with a job candidate. You may want to conduct a phone screen to talk to candidates who live very far away or to get a better idea of the candidate's interest in the job. The goal is to create a short list of suitable candidates who will be invited to take the next step in the interview process—the face-to-face interview.
Phone screening is not meant to be a long, in-depth interview. Instead, you want to quickly assess the candidate's qualifications, work history, and applicable skills. You can usually accomplish this in 30 minutes or less.
How to conduct a phone screen
In a phone interview, you are flying blind. There is no face-to-face meeting and no opportunity to read body language. You have to rely on the questions you ask and the candidate's answers to make your decisions.
Before you begin the interview, you want to be sure you know which questions to ask. You also want to make sure you understand what the hiring manager is looking for. Be sure to consult with the people who are going to be involved in the interviewing and hiring process. You want to know what their expectations are so you don't end up wasting your time and the candidate's time.
Here are some common HR screening interview questions that may want to ask during a phone screening.
"Tell me about yourself."
While this is not exactly a question, it does come up very often in phone interviews. Candidates can sometimes misunderstand what you want to hear and may start sharing information about hobbies and activities that you don't care about. Consider rephrasing the question to ask more specifically about the information you want candidates to share. For example, if you want them to highlight previous work experience, say "Tell me about your previous employment."
"Why are you interested in this position?"
With this question, you want to know how well the candidate's skills, experience, and goals match the job description and your company. If candidates answer "Because I need a job" or "Your job listing matched my keyword search," you can probably move on to the next candidate.
"How did you find out about this job?"
This question is not designed to screen out potential candidates, so why would you ask it? Generally, you want to know if the money you are spending on job boards to advertise job openings is being well spent or if they know anybody in the organization. If a colleague told them about the opening, you can go to that person to get useful information about the candidate.
"What do you know about our company?"
You don't want to hire somebody who is simply applying for every open job in the hopes that something will land. Some interviewers make the mistake of starting the interview by giving the candidate a complete history of the company before ever asking the first question. This question gives the candidate an opportunity to explain how their experience and skills will fit in with your company. A candidate usually wants to answer this question so they can show you that they understand your product, industry, or technology. They want this opportunity to tell you that they would be a good fit.
"What were your responsibilities in your most recent job?"
This is a good way to find out if the candidate's job experience would be relevant to the opening in your company. Do their past responsibilities and accomplishments align with the job description?
"What are your salary expectations?"
This can be a very awkward question to ask and to answer. If the candidate asks for too much, it can put them out of consideration. If the candidate asks too little, it could hurt their negotiating power later, and they may end up unhappy because they don't feel like they are being paid what they are worth. Still, you want to get an idea of what they are expecting. This is another way to ensure that you are not wasting each other's time.
"What questions do you have for me?"
You do not want to hire somebody who is simply looking to work for the first company that is willing to hire them. You want the candidate to ask questions about the job duties, the team they would be working with, corporate culture, employee satisfaction, and so on. These types of questions let you know that the candidate is being careful and is truly trying to find a good fit.
"When can you start?"
Be careful when asking this question because it's possible that the candidate will believe that they are closer to getting the job than they really are. What you really want to know is, if they are currently employed, how soon they will be available. If they are not employed, that is also good information that can help you as you schedule follow-up and in-person interviews.
How can Lucidchart help you standardize your recruiting process?
Lucidchart has templates that you can use to help you create flowcharts, conversation trees, or any other kind of document that can help you clearly define your hiring process. Because Lucidchart documents are web-based and can be accessed from anywhere, you can easily collaborate in real time with everybody who has a stake in the hiring process.
A business is only as good as its employees. Make sure you choose the right ones by following these guidelines and building out your hiring process in Lucidchart.