Think about the way you engage with your favorite brands and decide what to buy. Maybe you're looking for a new sofa for your living room or a new suit for your workplace wardrobe. Depending on how quickly you need the item, you might make an impulsive buying decision—or spend weeks researching options and comparing reviews. You might sign up for a company newsletter, read a few blog posts from your favorite influencers, or use a discount code from an Instagram ad on a brand's website.
While these are all consumer-centric examples, they still ring true to the modern B2B lead generation process. Simply put, the customer journey is no longer a linear one. Because our lives are more mobile and digitally driven than ever, businesses can no longer rely on the consumer following a predetermined journey before making a purchase—or becoming a qualified lead.
As a result, it's even less likely to expect a seamless handoff of leads between sales and marketing. Rather, sales and marketing need to work hand in hand to meet the customer wherever they happen to engage. Here are some ways that your company can improve the lead generation process so sales and marketing can stay on the same page—plus some tools to help along the way.
What is lead generation?
Lead generation is the process of capturing sales qualified leads through either inbound marketing or demand generation.
Inbound marketing includes all of the marketing activities that drive attention and traffic to your brand. Some good examples include social media content, e-books and articles, SEO optimization, and landing pages. Demand generation is more tactical, bringing in traffic through thought leadership content, traditional and digital advertising, paid social media campaigns, and personal networking.
In essence, the purpose of both of these lead generation tactics is to create touchpoints of interaction between your prospective or existing customers and your brand. After all, 47% of buyers view 3-5 pieces of content before engaging with a sales rep. Each of these touchpoints is an opportunity to educate your customers with key information to help prime them for an educated purchase decision.
The new reality of sales and marketing alignment
As previously mentioned, the customer journey is no longer linear. That means it's more critical than ever for sales and marketing teams (and even customer service and product teams) to align around KPIs and benchmarks, journey stage definitions, and lead scoring models.
But too often, that's where sales and marketing alignment falls apart: Marketing teams don't always trust that sales teams know how to capitalize on the leads they send along. In turn, sales doesn't always trust that leads from marketing are truly qualified or ready for a meaningful conversation.
Let's break down some of these definitions, with the understanding that sales and marketing activity both have a direct impact on each of these opportunity stages. Clearly defining and understanding the implications of each is critical to the success of B2B lead generation.
Lead: A person who has indicated interest in your company's product or service in some way.
Marketing qualified lead (MQL): A lead that has achieved a certain score based on a predetermined set of criteria and is ready to be handed off to sales.
Sales accepted lead (SAL): Leads accepted by sales for follow-up actions.
Sales qualified lead (SQL):  A prospective customer who has been researched and vetted—first by marketing, then by sales—and is deemed ready for the next stage in the sales process. These leads turn into opportunities, either wins or losses.
Customer: Once a lead signs on the dotted line or makes a purchase, they are a won customer.
How to do lead generation: 3 actionable tips
Now that we've laid the groundwork, let's dive into the details. Cross-functional alignment is just the first step in a successful lead generation strategy. Follow these lead generation steps to better manage your lead generation process.
Acquire leads
It might seem overly simplistic or obvious, but this is the most critical step in any effective lead generation plan. Generate engaging content that can be shared throughout your various marketing channels. New visitors, particularly visitors who engage with more than one piece of content or take some sort of action, are new leads.
Nurture leads
Once you've acquired a lead, you need to continue to move them through the sales funnel or to encourage another purchase. You can do this through autoresponder email campaigns that are curated based on your lead's industry, job title, and previous interactions with your brand. This process can take a few weeks or a few years—but taking your time to nurture leads will ensure they're ready to take the next step.
Score leads
Marketing and sales increase their combined efficiency and productivity based on the clarity of a sales-ready lead. But how do you establish the scoring criteria?
Based on your audience's interactions with your nurture campaigns, you can begin to determine their sales-readiness by assigning them a score based on the value of each interaction. Analyze the rise and fall of your lead's score to better understand—and optimize—the effectiveness of specific pieces of content or customer touchpoints.
Pass leads to sales
With lead scoring in place, you'll be able to tell which leads are ready to be passed on to sales—and which still need to be nurtured by the marketing team. Once a lead is marketing qualified, pass them off to sales and trust them to do what they do best.
Evaluate lead generation process
It's important to continuously reevaluate and optimize your lead generation process to ensure you're both attracting, nurturing, scoring, and closing on the leads you generate. Mapping out your sales cycle will help you better understand and identify gaps within it.
For more insight on the lead generation process, take a look at this exclusive blueprint from Jacco vanderKooji, founder of Winning by Design. 
5 questions to help you better manage leads
It all starts and ends with the customer. And while knowing how to define leads is critical, the way you engage with them can't be limited to acronyms. The next step in how to manage sales leads is to bring your sales and marketing teams together to map out lead generation and qualification processes. These five questions can help you determine the tactics you need to take to improve your lead generation process.
1. Who are you marketing to?
Building out key buyer personas and targets is key to crafting the right message and delivering it to the right person, on the right channel, at the right time.  
2. How do you send those people targeted messages that resonate with their needs?
Personalization is key. Lead segmentation is the process of categorizing and segmenting leads so you can send them relevant content and targeted communication. Marketing automation can help deliver these messages at the right cadence.
3. How do you determine the quality of every raised hand?
You could have thousands of leads coming your way every day—but if they're not the right people, they won't move the needle for your brand. Lead scoring is the process of assigning point values to key interactions or touchpoints. Once a contact hits a certain agreed-upon benchmark, they become a qualified lead. Lead scoring is the single most critical step to true sales and marketing alignment.
4. How do you prime every lead for an educated purchase decision?
Just like B2C consumers, the interests and needs of your B2B leads can shift throughout the buyer journey. You can monitor the progress of leads through the sales funnel and send them relevant content based on their most recent interactions (this is called nurture content). You can apply lead scoring rules, and move them to various lead nurturing paths as you monitor their behavior. Lead scoring and lead nurture paths also help you notice when potential leads are dropping out of the buying cycle altogether. Identifying these content gaps can help ensure that you're meeting every potential customer with the right information at the right time—at every touchpoint.
5. How do you continue to educate and engage the customers you've won?
The sales cycle doesn't end when a lead becomes a customer. Sales and marketing teams need to continue to engage with existing customers and help them optimize their investment. Continue to nurture and offer impeccable service to existing customers to drive upsells and lifetime value. Solid customer retention is the mark of a healthy organization—and a solid lead generation process.
Better processes lead to better sales cycles
A solid lead generation is the first step to streamline the buyer experience. But the ability to visualize and share these processes across your organization is just as important for improved collaboration, visibility, and buy-in.
In Lucidchart, you can easily map out your lead generation and qualification processes—and implement them to help your entire sales team to close bigger deals faster. Using a lead management process flowchart, everyone can see exactly where each lead is coming from, what content they have already consumed, how they've been scored, and where there might be any gaps in the buyer journey.
With Lucidchart, you can also layer data on top of your processes so you can understand, in context, which channels have been most successful for generating leads. By doing so, you can increase efficiency and streamline your entire sales organization.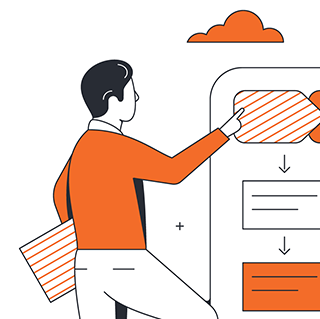 Map out your sales processes, from first contact to close, to ensure repeatable success for your sales team.