"The world as we have created it is a process of our thinking. It cannot be changed without changing our thinking."

—Albert Einstein
Not long ago, Amazon was simply a source to purchase books online. Fast forward 20 years.
According to a digital economy poll by NPR/Marist, practically two-thirds of Americans report buying something on Amazon. This adds up to 92% of the nation's online shoppers—40% of which also cite they buy something from the online giant once a month or more.
More impressive is how Amazon's organizational change model completely shifted the paradigm when it comes to how most consumers research products. Recent statistics show Amazon is the starting point for 38% of all product searches by shoppers—beating out the 21% of consumer product searches on brand/retailer sites and the 35% being made on Google.
So, why is it that businesses like Amazon possess the uncanny ability to adapt and reinvent themselves ahead of shifting consumer preferences or industry trends, while once formidable and ubiquitous businesses like Kmart and Sears become casualties in the retail landscape?
Essentially, it comes down to an organization's commitment to change. Yet, no matter how logical or well planned the new course of action might be, buy-in from employees is crucial.
Lewin's change management theory helps account for both the uncertainty and resistance to change that can be experienced at all staff levels within an organization. The lack of cooperation between employees, a general distrust of unproven processes, or the fear of turning away from what has worked in the past are just some of the common barriers to implementing change.
In this article, we will further expand upon Lewin's change theory, which remains one of the most popular—and possibly the first—change management models still being used by modern business today. We will also explore why the relative simplicity of this theory offers you a distinct advantage when it comes to applying procedural change at organizations of any size or type.
3 basic steps of Lewin's change theory
Lewin observed that people naturally resist change, gravitate toward what's familiar, and seek out comfort zones. Based on his research, Lewin sought to simplify change management strategy. Successful implementation of change required greater simplicity.
For his particular strategy, Lewin broke everything down into three manageable stages: unfreeze, change, refreeze.
Unfreeze
First, a team or organization must unfreeze their current process and perceptions when preparing for upcoming changes. This helps the team approach the task or challenge with a clean slate without bias or bad habits. Past behaviors, ways of thinking, processes, people, and organizational structures must be thoroughly examined to demonstrate the necessity for change to establish or uphold a competitive edge in an evolving marketplace.
Change
Once the team or organization is no longer frozen, it's time to implement change. Lewin recognized this was a time marked with uncertainty and fear—making it the most arduous step to complete. During this step, employees begin to learn new behavior, processes, and ways of thinking. For this reason, clear and constant communication across all are critical for employees as they become familiar with the change both during and after deployment.
Refreeze
Finally, it's time to refreeze. Assuming that the changes made to behaviors, processes, and ways of thinking are accepted, the refreeze step locks the new norm or status quo into place. Lewin found this step to be particularly crucial to ensure that teams and organizations would not revert back to their old way and past habits before the change was implemented.
Why use Lewin's change theory
While too simplistic for some, Lewin's change theory is favored by others for its uncanny ability to uncover bad patterns or unseen problems and its fresh approach to new thinking. Here are three more reasons why you may want to consider applying Lewin's change theory for yourself.
1. It's relatively easy to implement
How successfully an organization manages change can vary tremendously. It often depends on the nature of the business—along with the scope of change and the people involved. Much of this is contingent on how well everyone understands the change process from start to finish.
Given its relative simplicity and basic three-step approach, Lewin's change theory is easy to implement. The transition period between the Unfreeze and Change steps makes change more palatable to new hires and seasoned employees—two groups whose shared acceptance and understanding is critical when it comes to the success of your proposed organizational change.  
Lewin's change theory framework also naturally lends itself to the process diagram treatment.
Building a chart to visually outline your organization's change process can help you gain buy-in from employees and leadership. Lucidchart offers the ideal solution to map out the as-is and to-be states of your organization—while helping you identify any roadblocks you may encounter along the way.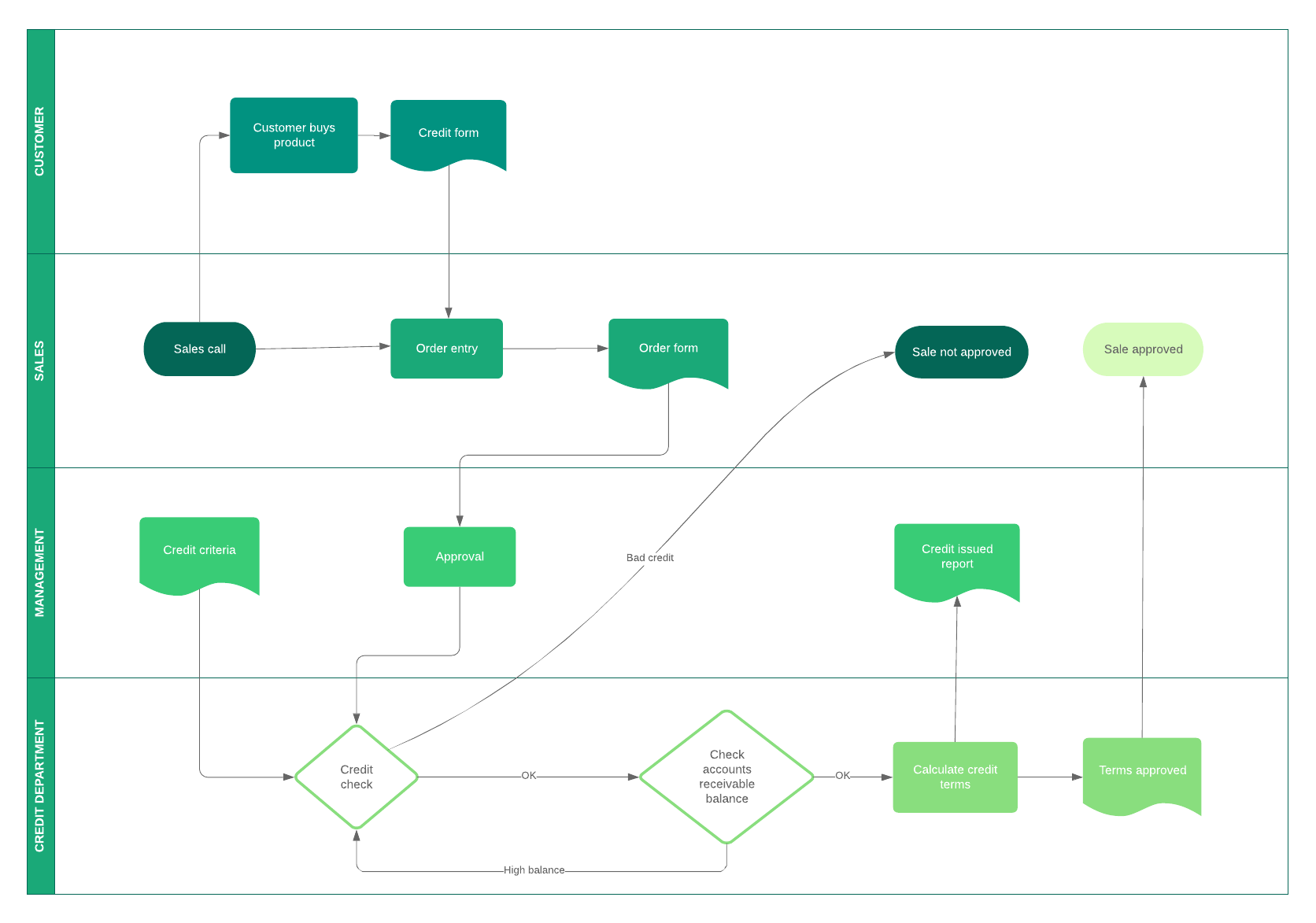 Lucidchart allows you to verify the current processes with the employees and teams directly involved. By analyzing your diagram, your organization can clearly identify and address points of friction, waste, or weakness. You can also use layers to make adjustments as needed.
Best of all, you can share your optimized processes with critical stakeholders from anywhere at any time—helping you gain approval or feedback to expedite improvement implementations. These documents can be used to keep employees updated and accelerate new hiring training.
2. It helps encourages lasting change
Corporate organizational transformations don't always have the best success rate.
As authors Jean-Louis Barsoux and economist Bharat N. Anand point out in a recent Harvard Business Review article, "Before worrying about how to change, executive teams need to figure out what to change."
In today's complex, fast-moving business environment, the combination of flawed implementation and the misdiagnosis of what really needs to be changed can result in negative performance. They cite Ron Johnson's takeover of J.C. Penney as CEO and his rush to overhaul store design and pricing to attract younger, trendier customers—all while ignoring the store's older, coupon-savvy fanbase—as an example of when change management goes wrong.
However, in Lewin's change theory, the Unfreeze stage allows for a more substantial transition period before Change is enacted—allowing people time to overcome their natural reaction to resist change then embrace the idea of transformation. This period also gives leaders time to reflect on their desired outcomes and make adjustments as needed to achieve their goals.
3. Its gradual approach creates momentum
In his inspirational article for Inc. magazine, entrepreneur Adam Fridman credits legendary author and theorist Simon Sinek for asking him the simple, yet revelatory question: "Why?"
Sinek explained to Fridman that this question is meant it to be an exploration of who we are, what inspires us, and what compels us to act. He also suggests the key to change is consistency and the willingness to sustain effort. "People start to notice a difference in you, and you start to notice a difference in yourself," he says. "As the momentum builds, it gets bigger and bigger."
Such change is incremental, but tangible—carrying with it significant dividends. For Fridman, it acted as a personal awakening. It also played a significant role in an organizational change and cultural shift that revitalized Fridman's Chicago-based digital marketing agency, Mabbly.
Likewise, Lewin's change theory emphasizes gradual but purposeful change—always keeping in mind the benefit of change once fully implemented. The idea behind Lewin's Unfreeze step is that the more we know about a change and the more we feel it is urgent, the more likely we are to become motivated to accept change. This gives us the momentum needed to transform.
Put change theory into practice
Lewin's change theory can be a slow process to implement. When putting change theory into practice at your organization, lay the foundation for your strategy by starting out small. Building up consensus and company-wide acceptance may require a set of achievable short-term goals.
Employees often look to management and executive leadership for cues on how well change is being accepted throughout all levels of the organization. When transitioning from unfreeze to change, it is critical to talk to your employees to understand their needs, concerns, and fears.
Clearly position your vision for change. Be sure to give frequent updates to all stakeholders and staff involved in your change process. Make efforts to avoid secrecy or the lack of transparency.
Doing things differently may not come naturally to some employees. Many may find the entire change process to be uncomfortable or intimidating. Stay aware of negativity brewing among your staff and be prepared to address issues or misconceptions from the moment they arise.
Always keep the channels of communication open. Before the refreeze step can take shape and change becomes the status quo, employees will be eager for any information you provide.
Perhaps most important is to maintain a positive attitude. Lewin's change model works best when you can serve as an early adopter to change yourself. Give frequent personal feedback to your employees to help build up their confidence and shape expectations for lasting change.
Visualize your change process with Lucidchart
With the right solution, planning for even the most radical change within an organization becomes possible. Sign up for your free Lucidchart account and begin to apply Lewin's change theory at your business or customize a change process strategy of your very own.