How to use Lucidchart for goal setting and tracking
Lucid Content Team
Reading time: about 4 min
In a recent Harvard Business study, researchers found that the 14% of recent Harvard MBA graduates with goals for the future were 10 times more successful than those without goals. What's more, the 3% of graduates with written goals earned, on average, three times more than those whose goals were not written down.
While setting goals is always a positive step, taking the necessary steps to set, record, and track meaningful goals can spell the difference between getting the results you want and remembering your untouched to-do list at the end of the quarter.
Break the cycle and get the most out of the goal-setting process with professional visuals that can provide you with a clear understanding of your current state, document ideas as you brainstorm solutions, and track your progress as you work towards your goal. 
Lucidchart is the ultimate visual workspace to help you set timely, meaningful goals that reflect the progress you, your team, and your organization want to make. See how to get started.
Define the current state of your system
Whether you're updating organizational processes within your team or looking to cut office waste, use Lucidchart to define the current state of your process or system. With a clear visual, you can easily identify inefficiencies, bottlenecks, and communication blocks that might otherwise go unnoticed and plan for necessary improvements. 
For a more accurate representation of your progress, Lucidchart lets you link your performance data directly to your diagram. Import data from any Excel spreadsheet, Google Sheets, or a CSV. This feature can help you contextualize otherwise complicated information and make sure your goals and ensuing plans are based on up-to-date data.
Brainstorm and record solutions with your team in real time
Brainstorming can be used to encourage unconventional approaches to goal setting, both in personal and team goal-setting scenarios. No matter how straightforward your goal might seem, a few minutes spent coming up with ideas can help you step outside the box to find more creative and innovative solutions.
When brainstorming, focus on coming up with as many ideas as possible. Even seemingly unrealistic or outlandish ideas can spark new ways of thinking, which just might lead you to your next great idea. If you can, brainstorm in a group to take advantage of different opinions and perspectives. 
Keep your brainstorm organized and easily accessible by recording your ideas using a mind map or sticky notes in Lucidchart. Give your entire team access to your canvas so that shareholders can participate in the brainstorm and add ideas in real time, no matter where they're located. You can even use @mention notifications or our in-editor chat to call out great ideas or build upon what's already been shared. 
Use Lucidchart as your digital whiteboard to brainstorm goals as a team and come to a consensus.
Learn more
Get started quickly with Lucidchart templates
Once you've decided on a plan of action, use Lucidchart's diagram templates to quickly lay out goals and objectives, breaking them down into more manageable initiatives within your company's chosen framework. Lucidchart's template gallery includes dozens of diagram templates to get you started, as well as examples to give you ideas on how to best organize your data. 
Choose from diagram templates like:
Balanced scorecards
OKRs
SWOT analysis
Action plans
Strategy maps
For ideas on how to get started, look at the example templates below or visit our template gallery and search "goals" to see what's available.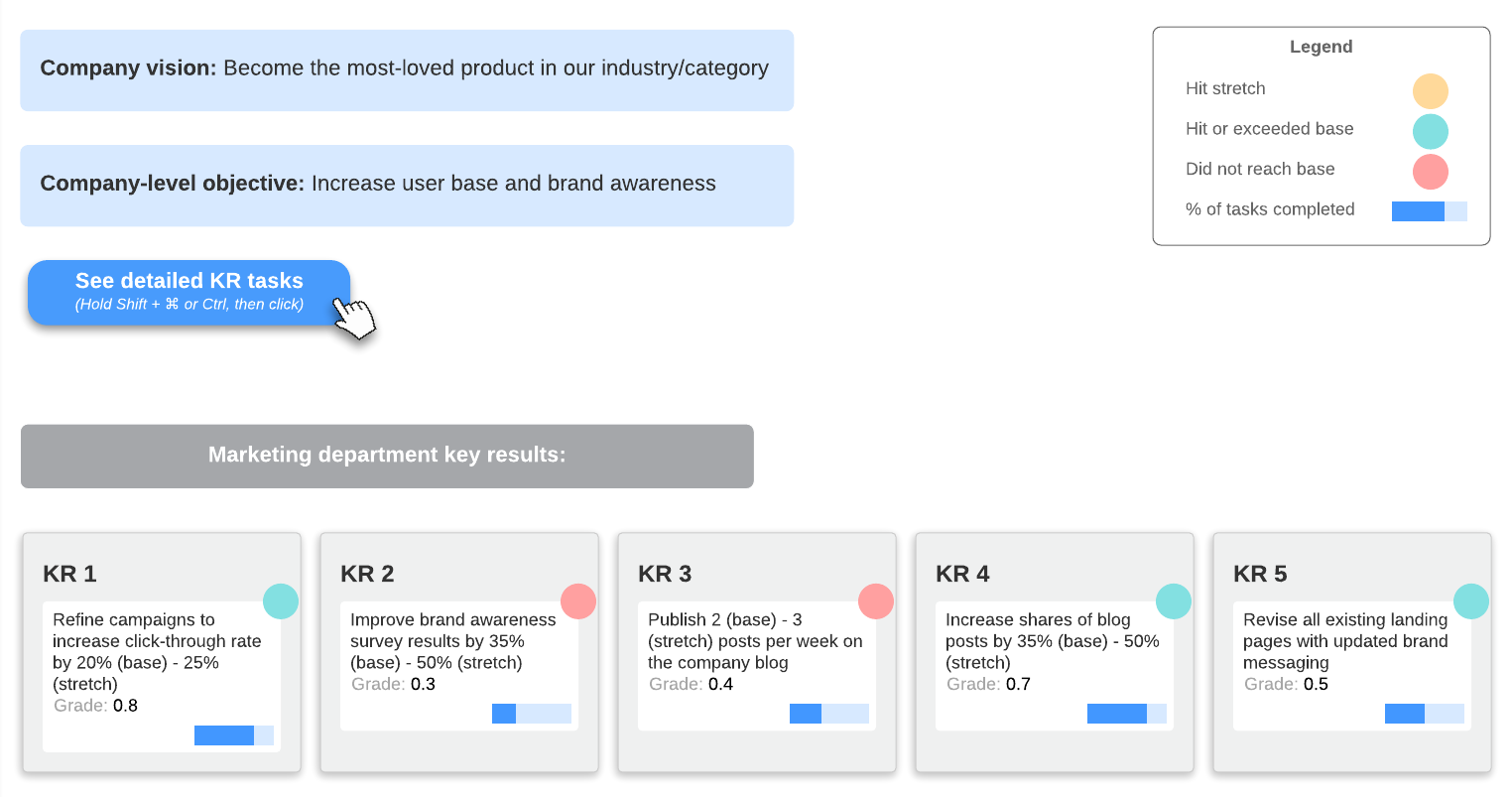 Assign tasks and track progress as you go
The best way to ensure your goals are met is to add a level of accountability to your goal setting, whether you're holding yourself or team members accountable. Use Lucidchart to create a visualization of your project from beginning to end, assigning tasks and deadlines as you go. 
With Smart Containers, team members can easily move tasks into categories like "in progress," "completed," etc., so that your entire team stays up to date on project progress. With tasks, deadlines, and dependencies clearly mapped out, each team member can hold themselves and others accountable for their progress.
Track your progress regularly to make sure that you're on the right track, adjusting goals and deadlines if needed. You can use data linking and Dynamic Shapes within your Lucidchart document to create a dashboard depicting where individual team members stand on their goals. Share your dashboard with team members to provide an easy-to-understand progress report. 
Lucidchart
Lucidchart, a cloud-based intelligent diagramming application, is a core component of Lucid Software's Visual Collaboration Suite. This intuitive, cloud-based solution empowers teams to collaborate in real-time to build flowcharts, mockups, UML diagrams, customer journey maps, and more. Lucidchart propels teams forward to build the future faster. Lucid is proud to serve top businesses around the world, including customers such as Google, GE, and NBC Universal, and 99% of the Fortune 500. Lucid partners with industry leaders, including Google, Atlassian, and Microsoft. Since its founding, Lucid has received numerous awards for its products, business, and workplace culture. For more information, visit lucidchart.com.
Bring your bright ideas to life.