How to make your org chart the best resource for employees
Reading time: about 5 min
When you think about an org chart, what comes to mind? 
Org charts are typically used by people ops and HR professionals to map out a company's hierarchy or for organizational planning, but many workers use their company org chart to find the best employee to answer their question or to understand the organization better as a whole.
Use our handy guide to find out how you can transform your org chart into a comprehensive resource for your employees.
Basic elements of an org chart
Org charts are essential to organizing a company workforce and helping employees understand where their role fits into the larger organizational structure. You need a few basic elements in your org chart before you can turn it into an all-in-one employee resource.
Employee name: Include each employee's first and last name, as well as what they prefer their colleagues to call them.  
Job title: Add the employee's official role at the company. 
Photo: Put a face to a name when you insert a professional image. 
Contact information: List their email address, phone number, and other methods of contact. 
Do you still need to create your company org chart? Leverage your employee data and get started without having to begin from scratch with Lucidchart.
Import your employee data directly into Lucidchart to automatically generate an org chart. Now you can easily add the essential employee fields that you need.  
How to make org charts your employees' favorite resource 
1. Include employees' contact preferences
We all work with someone who only responds to Slack messages. Help everyone contact their co-workers faster by adding their communication preferences to your org chart. 
If your team can take into account individuals' preferred methods of communication, you'll eliminate unnecessary bottlenecks and waiting. It also helps get new hires up to speed faster on the organization's internal communication practices. 
If you're creating an org chart in Lucidchart, go further and link employees' email addresses and handles next to their preferences. Now employees know how best to reach others and can get started right from the org chart.
2. Add skills and subject matter experts
Do you ever need to know who oversees all external communication, or is the company's Jira expert? Most of the time, you have to ask around to find the person you need. Incorporate employee skills and expertise into your org chart so team members can complete a quick search and get in touch with the right person. 
HR can use this information to identify skills gaps in your organization so they know which teams and what positions to hire for next, making it easier to plan the future structure of the organization. 
Visualize employee strengths and skill sets in your org chart, so you can easily assign team members to the project where their skills will make the biggest impact.
Get started by asking employees to provide their skills and expertise in a quick survey. Import the results to create org charts that you can quickly rearrange using conditional formatting and group views to optimize productivity.
Conduct a skills gap analysis to find out what gaps exist between the skills your employees have and the skills your organization needs to achieve its goals.
Find out how
3. Incorporate locations
If your organization is large with multiple locations and hundreds to thousands of employees, adding locations to the org chart is extremely helpful for all employees. Not only will employees be able to find out who works in each office, but if your offices span different time zones, employees can also find out the best time to contact colleagues around the world. 
Don't stop there. Incorporate location-specific information to each office's org chart including where employee's desks are located. In Lucidchart, build dynamic org charts that link to external office maps so it's easy to find colleagues' desks to ask a quick question or join for a meeting. 
Overlay multiple elements using Layers, making it easy to organize different offices' employee information onto your larger company org chart. Then switch between the layers quickly with buttons and actions to access all your different offices all from one centralized diagram. With Lucidchart, you can create multiple Group Views to switch between and see employees grouped by location.
4. Tie in employee tenure
You do more than show seniority when you include how long employees have been at the company in your org chart does more than show seniority. The chart becomes a guide for employees to visualize the growth and history of the organization. 
HR can also capitalize on this information to help with succession planning and organizational restructuring. Managers and leadership can even leverage it to help employees with career planning and pursuing professional goals. Use it to help your team members see where they want to go and who to talk to for advice.  
You can integrate Lucidchart with BambooHR or other sources to pull in employee data, ensure transparency and accuracy, and create a single source of truth.
5. Integrate performance metrics
Incorporate performance review data onto your org charts for leadership use. People managers can now easily track employee growth and combine employee evaluations with employees' skills to identify areas of improvement. 
Create manager-only views in Lucidchart to keep employee data safe and give managers a complete overview of their entire team. See who would be the best fit for specific projects and to help meet organizational goals. 
Your organizational charts don't have to be boring, static images of a company's hierarchy—instead you can create dynamic org charts that are a great resource for all employees. Get new hires up to speed quickly, boost internal communication, and help managers improve training for employees.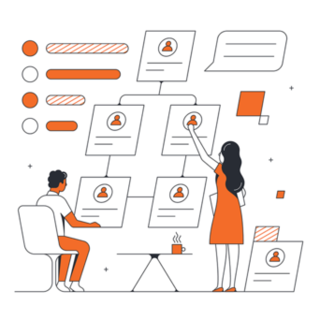 Build an all-in-one resource for your employees when you create a dynamic org chart in Lucidchart.
Get started today