3 proven methods to transform your sales management process
Lucid Content Team
Reading time: about 6 min
When it comes to growing business, fulfilling customer needs, and creating a positive work environment, few things are as critical to an organization as its sales department.
And naturally, the effectiveness of a company's sales teams relies on its sales management.
To better understand (and appreciate) what goes into the management of a sales force, we should first start with a sales management definition. For one, sales management involves more than the day-to-day supervision of a company's sales representatives. Secondly, sales management processes influence more than revenue growth alone.
So, what is sales management? And how can you align your entire sales team in a way that leverages each team member's connections and expertise, allowing them to utilize account-based strategies with the potential to transform your organization from within? All while improving your own abilities, skills, and performance as a sales manager?
In this article, we will highlight three sales management techniques you can use to build out your sales team. These techniques can also be applied across your organization and redefine the way other leaders are groomed for the management of a sales force.
1. Make your expectations firm, clear, and consistent with your sales team
In sales management, success is most often measured by your team's sales numbers. But the reality is, your team's performance may always feel just outside of your control, especially once you take the underperformers on your sales team into account.
A fine line seems to exist between consistently encouraging greater performance from your reps and actively burdening them with seemingly out-of-reach sales goals. Yet, even if you only have a few top performers, always make high achievement the norm.
Studies show that people generally rise to the level of expectations being set for them. Sales reps are no exception. So, how do you express those expectations to your team?
While conducting qualitative and quantitative research for his book, Heavy Hitter I.T. Sales Strategy, former Silicon Valley sales leader Steve Martin interviewed and tested over 1,000 sales leaders. Martin's study produced a number of insightful takeaways:
Top sales managers have a natural disposition for fixating their team on goal achievement, keeping them hyper-focused with a sense of urgency.
They also establish an environment where teams hold themselves to a higher level of accountability and continually seek to prove themselves.
Top sales managers rely on a command instinct, creating an environment where peer pressure and attention-seeking help to eliminate complacency.
Martin's findings highlight the importance of clarifying (and enforcing) any expectations you make of your sales team. Plainly state the goals you have for each sales rep—while also suggesting any specific actions or behaviors needed to successfully achieve them.
It's not about authoritarianism. Sales reps appreciate clear consistent guidance from an organization with strong leaders who keep teams on track, ready to face any situation.
2. Recognize the differences between top performers and underperformers
As the manager of a sales team, it's a given that each of your sales rep is ultimately accountable to you in terms of achieving their goals and making their sales quotas.
In turn, you must also support their growth and success in terms of leading by example.
When it comes to understanding your business, top performers and underperformers alike will look to you as their best resource for strategy development, sales tactics, and best practices. That being said, when your team consistently misses its sales numbers, it is highly likely they're not getting the level of individualized support needed from you.
If you've spent any amount of time in sales, you realize that no two sales reps are alike, particularly when drawing comparison between top performers to your underperformers.
A recent survey from Velocify reveals two main differences you should recognize as a sales manager:
Underperforming reps often lack confidence and were more likely to rank a sales leader's product knowledge and industry expertise as the most helpful.
Top performers are typically more disciplined and self-motivated; they placed greater value on the practical experience and sales intuition of a sales leader.
Whether you oversee five sales reps or 25, you can expect these disparities to exist on your team. Recognizing these differences lets you become equipped to address them.
Here's how. For the sales reps who struggle on your team, resist the urge to adjust their goals or go easy on them. What they really need is your help figuring out where they are falling short. It may be as simple as offering them additional sales or product training.
Conversely, you may want to consider affording your top performers greater autonomy.
According to author and coach Kim Scott, the best bosses direct their teams to make decisions. In her book, Radical Candor, Scott explains how creating a clear decision-making process empowers those closest to the facts to make as many decisions as possible. Not only does this result in better decisions—but it results in better morale.
3. Provide an outline for repeatable success with a formalized sales process
Finding a better way to collect customer data and automate some of your team's more routine tasks can lay the foundation for you to make greater improvements over time.
Referring once again to Martin's research, sales managers who closely monitor and strictly enforce a sales process are more likely to exceed their quotas. Correspondingly, the best sales leaders seek to control the daily behavior of their sales teams.
43% of high-performing sales managers responded that the sales processes on their teams were closely monitored, strictly enforced, or automated.
In contrast, 44% of underperforming sales managers indicated that their organizations had a nonexistent or an informal structured sales process.
Organizational sales processes can take on many shapes and forms.
For example, you can develop an ideal sales process for your entire team by observing your top performers and noting which tactics work best at every step of the sales cycle. By using a marketing automation software program like Marketo, you can generate an email cadence to help guide your sales prospects from inquiries to satisfied customers.
If you need a way to collect sales collateral for your team or visualize information and processes across your entire organizations, there's Lucidchart. With the click of a button, its Salesforce integration makes it possible for your reps to import their contacts. With a drag and drop, those contacts form an account map that allows anyone in your organization to quickly identify relationships and close sales.
When new reps join the team or accounts are reassigned, key insights and valuable customer information won't be lost or misplaced along the way. Lucidchart's intuitive interface makes it easy to share everything managed on Salesforce with your team.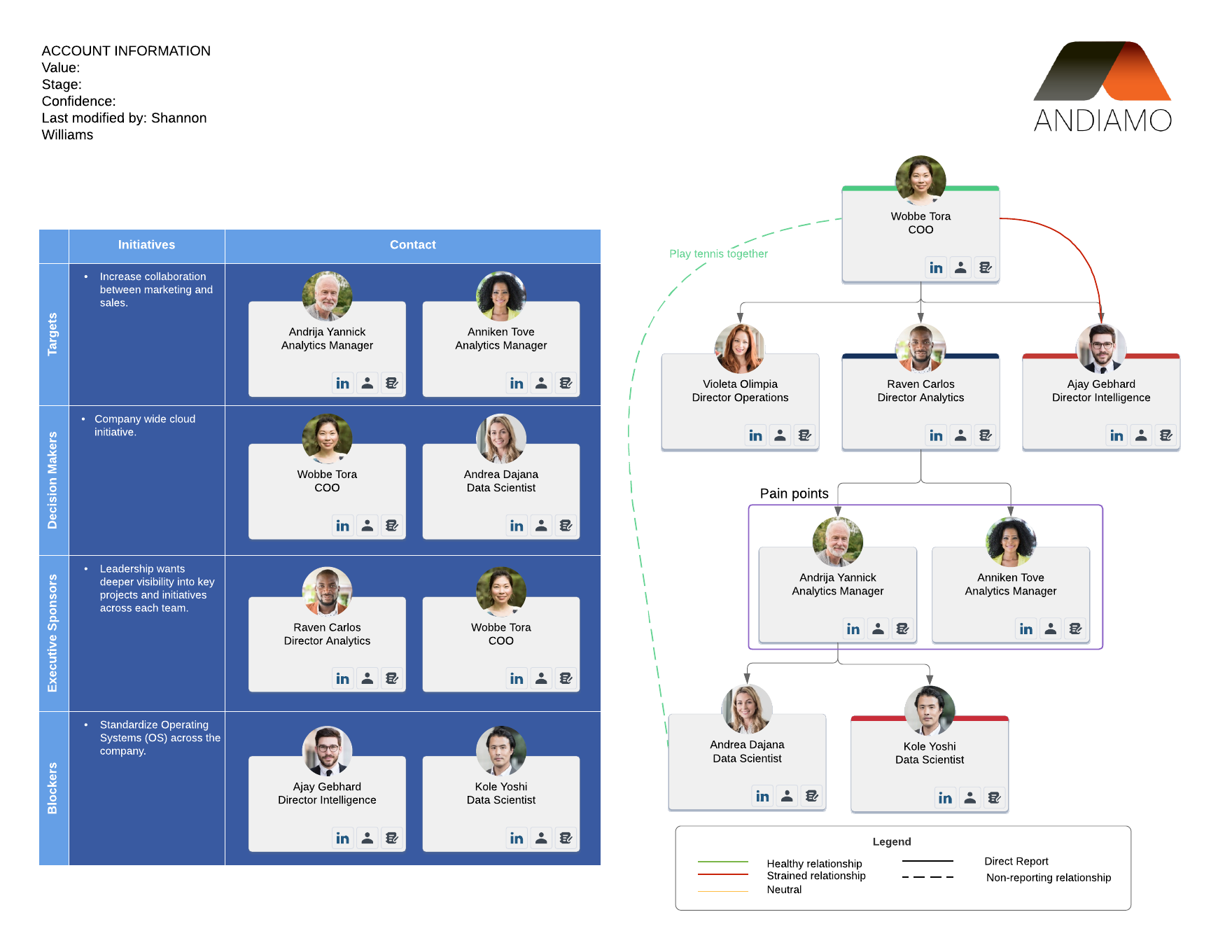 Leading a successful sales team requires a unique blend of patience, determination, and constant reassessment. Lucidchart can help you create, improve, and replicate the processes that function to increase business, satisfy customers, and unify your team.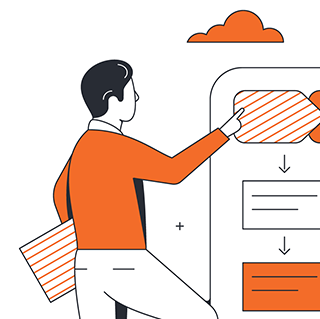 Become a more effective sales manager when you visualize your sales processes with Lucidchart.
Sign up now