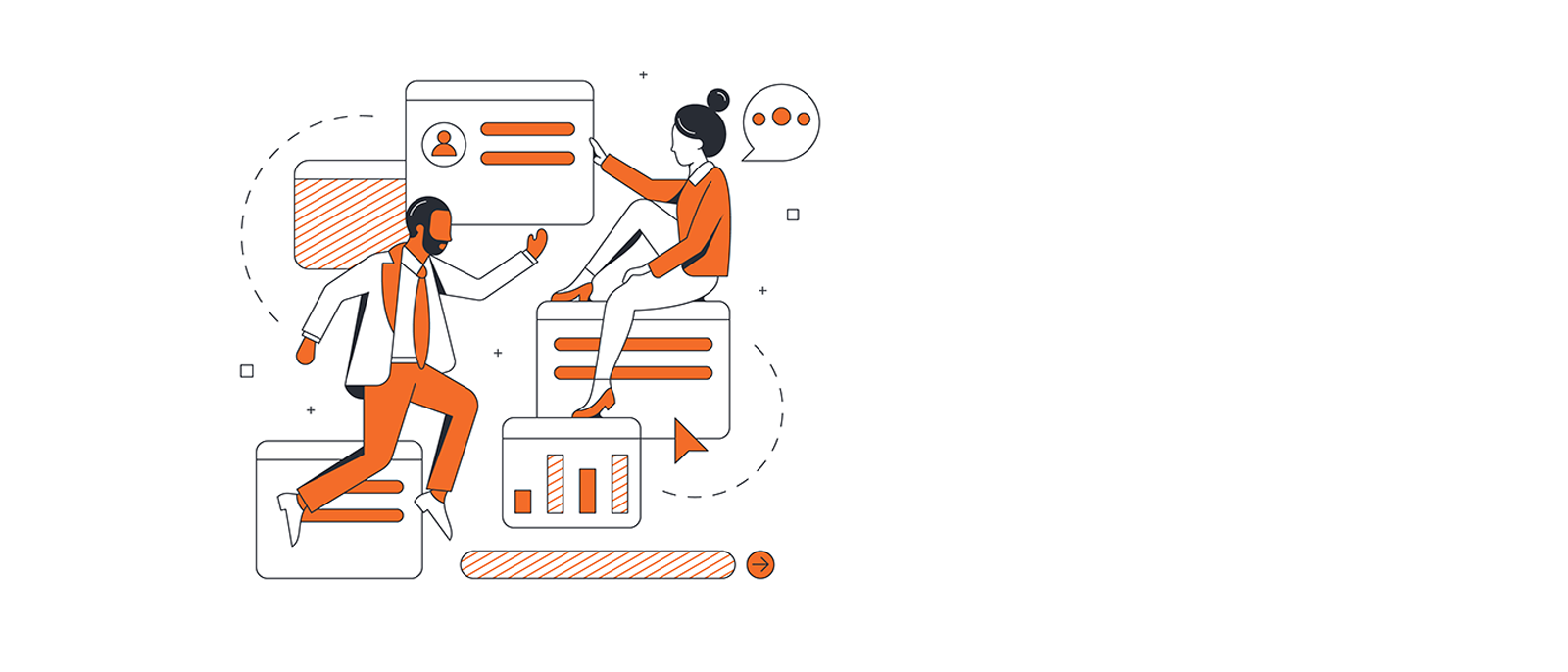 Remote strategic planning with Lucidchart
Reading time: about 12 min
Posted by: Lucid Content Team
Whether you plan on an annual, semiannual, or quarterly basis, leaders and teams regularly gather together to prioritize initiatives, set milestones and deadlines, finalize budgets, and start executing as soon as plans are finalized.
But strategic planning may look a bit different in a remote work setting. While many organizations have started to acclimate to operating remotely, strategic planning was hard before remote work, and now this already challenging and high-stakes process is even harder.
The reality is that strategic planning isn't newly broken by remote work and uncertainty. There have been bottlenecks, process gaps, and communication breakdowns deeply embedded in the "old ways" of strategic planning far before the remote work shift. We're just now seeing these flaws in a harsher, more apparent light than ever before.
We'll address these concerns in this article, as well as how to use visuals to adapt to a new (and better) version of strategic planning.
The challenges of strategic planning in general
Strategic planning is forward-looking, meaning as you plan, you can—and should—look ahead and anticipate the needs of customers. Maybe your company could see a surge in business if you create new features, fine-tune your customer service processes, or launch an entirely new product. All great ideas.
But turning passionate meetings into concrete plans that accurately account for the time and resources required months ahead isn't easy.
Even in a world not turned upside down, here are some common reasons why strategic planning can be so difficult:
Lots of preparation: Strategic planning requires tons of preparation, such as coming prepared with market position analysis and a solid understanding of your existing resources. 
Lengthy: Planning sessions can be several hours long.
Large scope: Strategic planning requires long-term thinking about your intended product offering, proving difficult to make decisions now that will impact products or services years down the road. 
Breaking focus: Because meetings are long, employees can become disengaged, can become tired, and may start working on other tasks during the meeting instead of the planning at hand.
Unknowns: While planning for the future, it can be challenging to account for unknowns, such as employee turnover, resource allocation, and market changes.
Limited visibility: Strategic planning accounts for multiple different moving parts, and it's hard to gain visibility into all the projects, dependencies, and timelines.
Little documentation: When great ideas are flying around the room, it can be challenging to get them down on paper. Or if they're being jotted down on a whiteboard and the board gets erased, then where will you be?
Few actionable next steps: You may manage to get some ideas on paper, but you rarely ever leave with a concrete action plan and understanding of what comes next.
More challenges could be added to this list—and these barriers to effective strategic planning existed long before a sudden move to working from home. 
How remote work has affected strategic planning
The global shift to remote work due to COVID-19 poses new challenges to our planning process, on top of challenges that already existed. Gone are the days of hashing out details and action items around the same table, in the same room, by swiveling your office chair, or by running into your co-workers in the hallway.
Employees now resort to countless video calls, late-night emails, reminders for colleagues to unmute their audio, or repeated conversations after one co-worker ushers their kids out of the room. There's no denying that employees are seriously burned out.
It's difficult to keep employees on the same page, especially across teams, departments, and the organization as a whole. Working from home may mean more distractions and less defined working hours for some. 
The nature and side effects of remote work could cause strategic planning to be a disengaging and ineffective use of time, resulting in underwhelming goals, half-baked execution plans, and failure to achieve your objectives, all of which ultimately harm your business and throw you back into the shadows of your competition.  
Ask yourself what is necessary to acquire new customers in this "new normal." How can you retain and nurture your existing customer base? Strategic planning helps you address these questions. And once you do, go deeper into strategy planning to: 
Identify a clear path forward.
Align your organization and teams.
Gain an edge on your competition.
Visualize what you can (and can't) accomplish in the next year.
Understand your market position, despite current uncertainties.
Turn motion into action.
So you understand why you need to dive into strategy planning in a remote world, but how? That's where Lucidchart comes in.
Use Lucidchart for strategic planning
A series of dense spreadsheets and a dozen (or more) faces on a conference call may look like you've accomplished your planning, but how does that translate into understanding and clarity about the next year? 
Your business's success is not dependent on if you conduct strategic planning sessions, but how you conduct them and what the outputs are.
Take advantage of the entire Lucid visual collaboration suite to make your strategic planning sessions more effective. To start, use Lucidspark for your first steps of brainstorming to get everyone working together on a single board, making everyone's voice heard and ensuring everyone comes to an agreement around high-level goals, objectives, and priority. 
Learn how to conduct a strategic planning session in this virtual whiteboard.
See our guide
From there, transfer your planned projects from Lucidspark into Lucidchart to create other assets such as deliverables, documentation, and action plans, including product roadmaps and Scrum boards, to hit the ground running.
Let's discuss all the ways Lucidchart helps you engage employees in effective strategy planning.
Understand projects at a glance
Most projects require cross-departmental coordination, multiple processes, a handful of systems, and quite a few sub-goals and sub-tasks.
With Lucidchart, you can create clarity around the entire project, from the high-level initiative to the depths of the weeds.
And while seeing the details is important for worker bees and project managers, high-level overviews are just as important as you begin to map out project specifications and start executing. 
Seeing high-level details of a project allows you to:
Take a step back from the natural chaos of the project lifecycle.
Keep the intended scope in sight and prevent scope creep.
Ensure a project is aligned with a larger organization goal, strategy, or plan.
Keep stakeholders and executives in the loop without getting too in the weeds.
With Lucidchart, you can even use Actions to hyperlink specific shapes or high-level initiatives to their more detailed counterparts, like process maps and timelines, for those who are involved or interested.
This way, even though remote work may phase out watercooler talk, you can still keep co-workers up to date on what you're working on—all of the context and none of the unnecessary details.
Create a single source of truth
Remote strategic planning can be challenging when documents and information are spread out across computers, flexible work schedules, brains, and time zones. Lucidchart is your single source of truth for strategic planning and execution, no matter when, where, or how your employees are working. 
Teams and stakeholders are able to access essential up-to-date information they need to get their job done, all in one place. Stay organized and informed with Lucidchart Team Folders, ample sharing options, and a cloud-based platform that works for everyone, no matter where they are or what operating system and browser they use.
Manage timelines
The trouble with text-heavy spreadsheets and DMs like "I'm on it!" is that you can never really plan or count on deadlines. They become abstract and hard to keep track of, resulting in dependencies that don't align, wasted time waiting, or having to compromise quality so certain tasks can get pushed through quicker.
Create timelines in Lucidchart to put plans in sequential order and a chronological flow. By doing so, you can turn prioritized projects into clean visuals that are easy to keep track of, plan around, and adjust if necessary.
With Lucidchart, you can build timelines that map out the entire year, all the way down to team and individual contributions. In either case, timelines make it easier to trace and track projects and collaboration from end to end.
Build out processes and project documentation
For a strategic plan to be properly executed, you need a process and documentation that gives context to your plans and paints a clear path forward.
Maybe your goal is to perfect your ITSM and ITIL processes. Or maybe you have big development goals, and you decided that this year, you're going to build and release faster than ever before. Maybe you are migrating from an on-prem solution to the cloud.
Lucidchart allows organizations to remove inefficiencies and scale by defining, optimizing, and sharing their processes in one central location. You can also map out how your systems interact with and affect each other as information and data flows through or if changes are made.
To effectively and successfully execute your strategic plans, create current and future state visuals to:
Lucidchart offers more than just the capability to build out your processes or systems manually. It also offers:
A template gallery: Access dozens of common processes and systems templated and ready to go—all you need to do is swap out the details and add your personal touch.
Data linking and conditional formatting: Link data to your workflows and systems and add conditional formatting to discover bottlenecks or performance red flags.
Compare versions: See changes across the lifetime of diagrams at a glance. Compare two versions of the same document, featuring the high-level and detailed differences between the documents, including changes made to styling, shape attributes, and linked data.
Advanced visual collaboration: Whether you're fine-tuning a step in your process or verifying system architecture, you can easily coordinate with remote teams by using real-time co-authoring, in-editor chat, shape-specific comments, and collaborative cursors.
Lucidchart also comes with a long list of powerful integrations that can uplevel your strategic planning and execution. Share and store all your project documentation by leveraging any or all of these notable integrations:
Atlassian: Add diagrams to Confluence wikis or Jira issues for visual context. Turn Jira issues into cards so you can visualize roadblocks, plan ahead, and keep teams in sync.
Slack: Get document notifications, manage document permissions, and use Slack shortcuts to start new Lucidchart diagrams.
AWS, GCP, and Azure: Automatically visualize your cloud architecture in minutes by connecting Lucidchart Cloud Insights to your cloud provider data.
LeanIX: Enterprise architects can enhance strategic IT planning by visualizing actionable solution architecture. Simply embed Lucidchart diagrams in LeanIX, or convert LeanIX diagrams into Lucidchart docs.
Microsoft: Add context to your diagrams when you integrate with Microsoft Word, Excel, and PowerPoint.
Clarify roles and responsibilities
Strategic planning sessions help establish what projects you need to accomplish—but how do you coordinate the folks who actually conduct the work?
When working as a remote team, and with fewer opportunities to collaborate in person, it's important that each employee knows what they should be doing. Without structure and clarity, steps will fall through the cracks—handoffs will be less effective, you may miss deadlines, or you may fail to achieve goals.
Lucidchart makes it easy to visualize roles and responsibilities according to quarter, team, and priority. Smart Containers do all the heavy lifting by automatically generating groups based on your imported data. They also provide the flexibility to quickly changing the layout to gain different insights about your data, such as:
What team is working on which project
Which individuals have been assigned to the project
How this project has been prioritized compared to others
How much time will it take them
You can also use swimlanes, which make ownership extremely clear—crucial for remote coordination—so the chances of someone missing a crucial step in the process decreases significantly.
Monitor progress over time
While many organizations strategy plan on an annual basis to reevaluate priorities and strategic position, you should also monitor project progress frequently to ensure that you stay on track for success in the long run.
Don't just operate on auto-pilot, assuming you got it all right the first time.
Conduct weekly or bi-weekly sprint planning with Scrum boards to keep close tabs on progress (or lack thereof), adapt to team capacity, maintain clarity, and discuss unforeseen limitations or changes in priority.
On a quarterly basis, revisit your KPIs and/or OKRs. Which goals have your teams and departments met? How can you continue to meet them? What changes need to be made? 
Track your progress using balanced scorecards to provide a comprehensive understanding of your business's performance. 
By maintaining end-to-end visual collaboration, your organization can power through the challenges of remote work and uncertainty, without ever giving up your competitive edge. And Lucidchart is the ideal solution to drive clarity and aligned action from your strategic planning sessions.
Follow through and make your strategic plans a reality. Register for a Lucidchart account to visualize the projects and processes necessary to hit your goals.
Sign up now
Start diagramming with Lucidchart today—try it for free!
Sign up free
About Lucidchart
Lucidchart is the intelligent diagramming application that empowers teams to clarify complexity, align their insights, and build the future—faster. With this intuitive, cloud-based solution, everyone can work visually and collaborate in real time while building flowcharts, mockups, UML diagrams, and more.
The most popular online Visio alternative, Lucidchart is utilized in over 180 countries by millions of users, from sales managers mapping out target organizations to IT directors visualizing their network infrastructure.