Keeping deals on track: How to nail the sales follow-up process
Reading time: about 7 min
Posted by: Lucid Content Team
Sales reps: Think about your last win, from first touch to closed deal. How many interactions, discussions, steps, and logistical pieces needed to come together for you to close the loop and win the business? Maybe it started with a cold outreach that turned into an informative discovery call. At some point, you had to deal with pricing discussions, negotiations with procurement teams, NDAs and other legal requirements, and of course, all of the documentation that needed to be signed.  
Through that whole process, you may have questioned the right time to follow up or offer a discount to secure the deal. The sales follow-up process and schedule can be tricky to navigate. Every deal is different, and the right follow-up schedule likely depends on a combination of timing, battle-tested practices, and the customer themselves. Whatever your process, there are plenty of checkboxes along the way.
Now, look at these steps from a project management perspective. Building an authentic, helpful connection with your prospect remains key. But seeing a full picture of exactly where you need to be at the end of the process will help you not only stay on top of each interaction but lead both you and your prospective buyer to the best possible outcome.
Let's dive into how to take hold of the follow-up process—and close better, more strategic deals for your business.
From cold call to closed deal
Be the right kind of caller
Simply put, very few prospects respond to a call or an email on the first outreach attempt. Good sales leaders know this and find a balance between persistence and annoyance in order to make contact with high-value prospects.
And the data shows that persistence pays off. In fact, research from Velocify shows that calling a new prospect three times is 68% more effective than calling once, and calling six times is 94% better calling once (at which point, the conversion rate starts to fall dramatically).
Keep them warm
Once you've established a connection, it's important to keep the lead warm—even if they happen to go dark—with a strategic lead nurturing plan. Providing every prospect with the content they need to learn more about your product or service on their own time will help your company stay top of mind and prime prospects for an educated purchase decision. The more information they have up front, the less work you have to do to sell.
Check their pulse
Once the conversation picks back up, whether it's on the same call or a follow-up phone call or meeting, be ready to listen. Ask if they have any concerns or see any red flags. The information you gather at this stage of the process will be hugely valuable as you move to close the deal and deliver great insight to inform conversations with future prospects.
Create a schedule
It's said that timing is everything—and that's especially true in sales. It's important to space out your follow-up communications to maximize impact and results. There is plenty of research out there around the best time of day to call or send emails. However, the ideal time will depend on the individual deal and the personalities involved. Use your best judgment, and determine a schedule that will work best for the deal at hand.
Once you settle on a follow-up schedule, it's important to document it. In a detailed diagram or chart, outline when each call and email follow-up should happen.
During a Sales Hacker webinar, Ryan Guptill, Enterprise Sales Manager at SurveyMonkey, explained how his sales team has used Lucidchart to coordinate account-based strategies:
"We've actually developed in Lucidchart a whole account plan that hordes the information from Salesforce from everyone we've worked with… so we can easily share the information back and forth."
From negotiation to signing: How to project manage your next deal  
Let's say you've made it past the early introductions and you're having real, substantive conversations about the value your product can bring to the table. The customer is excited—they see the vision and recognize it as a true solution. That's a huge win.
However, a lot can happen between getting buy-in and getting that final signature. Follow these tips to get you to the finish line.
The negotiation stage: Show your value, then show patience
When you've got a quota to meet, it can be tempting to do whatever it takes to close the deal. However, it's important to remember that you're a salesperson, not an order taker. You're selling value, not a commodity. And it's your job to assess your prospect's needs, address their objections, and deliver solutions to meet their specific needs.
So, whether you're selling into an SMB business or an enterprise organization, resist offering a discount right out of the gate. Make the connection, show the value—then pause. Give your prospect time to process the information you've told them. This gives you, the sales rep, time to process the situation, too.
Don't discount out of the gate.
Don't be an order taker. You're selling value, not french fries.
Whenever possible, connect in person.
Make verbal agreements over the phone.
Document the process on paper.
Be prepared to walk away.
Show your ROI.
Want to learn more about project managing the deal?<br>
Check out our on-demand webinar.
Watch now
The acronym stage: Lock down NDAs, MSAs, and SLAs
Many deals get held up—or die—at this stage. When it comes to locking down documentation, it depends largely on the nature of the deal and alignment with the organization's objectives and requirements.
Don't be afraid to ask the prospect about their buying and procurement process and any internal politics or internal dynamics to be aware of. If they're excited about the deal, they'll help you navigate any roadblocks. Ask it simply: What's your process? Identify who signs on the dotted line. Identify every contact who will need to be a part of that process. Determining all of the checkpoints that you need to hit will help you sail toward a signature well before your go-live date.
Pro tip: Understand the process, not just who signs on the dotted line.
The final stage: Close the loop
Once you understand your prospect's buying process, it's time to create a schedule to get the deal across the finish line. Make sure each step and each required signature is assigned to a specific person. Share those assignees and schedule with your prospect to keep the deal on track.
From there, create a Gantt chart or a diagram that outlines everything that needs to be done by the owner before the go-live date. Share this document with everyone involved in the process—this will help you keep tasks on track, people accountable, and ensure the deal doesn't lose steam right before the finish line.
Work backward from the go-live date.
Lean on internal resources.
Send daily updates.
For recommendations on every stage of your sales cycle, from lead generation to the follow-up, make sure to check out our templates from Winning by Design.
Map out your follow-up process with Lucidchart
As a sales leader, it's your goal to build incredible partnerships that drive amazing outcomes for your prospects and customers and bring revenue in for your organization so you can continue to build amazing products.
However, it takes a team to close a big deal. And it requires solid processes to keep those teams on track. Lucidchart provides diagrams and charts to help you build out an effective and collaborative sales follow-up process to keep deals moving. Lucidchart also allows you to import Salesforce data into your diagrams and timelines so everyone on the team is aware of the follow-up/closing schedule.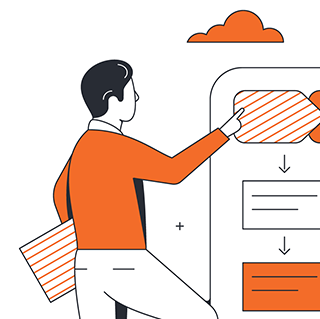 What are you waiting for?<br>
Start standardizing your sales processes for repeatable success and a healthy bottom line.
Try it now
Start diagramming with Lucidchart today—try it for free!
Sign up free
About Lucidchart
Lucidchart is the intelligent diagramming application that empowers teams to clarify complexity, align their insights, and build the future—faster. With this intuitive, cloud-based solution, everyone can work visually and collaborate in real time while building flowcharts, mockups, UML diagrams, and more.
The most popular online Visio alternative, Lucidchart is utilized in over 180 countries by more than 25 million users, from sales managers mapping out target organizations to IT directors visualizing their network infrastructure.