Your inbound marketing strategy worked. Leads are flowing in and new prospects are subscribing to your content.
Great… Now what? Bringing in tons of leads is awesome, but how do you convert those prospects into sales?
The answer is through lead nurturing.
A great sales process starts with a solid lead generation program, but it doesn't end there. To reap the rewards of your marketing efforts and capitalize on your investment of time and resources, you need a strong lead nurturing strategy. Use the following insights to nail the lead nurturing process and convert the best prospects.
What is lead nurturing?
Lead nurturing is the process of engaging and developing relationships with customers through each stage of the buyer's journey. The goal of a lead nurturing campaign is to further qualify leads and guide them to a successful sales solution.
Let's say a prospective client downloads an e-book. The content is geared toward top-of-funnel leads in the awareness stage. While they may be interested in your product or service solution in the future, they aren't ready to commit to a sale yet. They're still just learning about the market and the possible solutions. If this lead was passed on to sales right away, they would be unlikely to convert.
Lead nurturing acts as a bridge between marketing-generated leads and sales-ready opportunities. A lead nurturing campaign helps guide that prospect from the awareness stage through consideration and finally purchase.
Why you need a lead nurturing process
If you have a great lead generation process, why bother investing in lead nurturing? After all, with plenty of quality leads coming in, surely a good number of them will convert eventually, right?
Not exactly.
According to research by MarketingSherpa, a whopping 73% of B2B leads are not sales-ready—and many never convert into sales. In spite of these odds, marketing teams continue to send many of these unqualified leads to sales, where sales reps have an uphill battle trying to shoehorn unprepared prospects into a tidy deal.
This is where lead nurturing comes into play. A lead nurturing process takes unqualified marketing leads and warms them up for sales.  
And the results are impressive.
Lead nurturing leads to bigger sales and more revenue in less time. Forrester Research reports companies that excel at lead nurturing generate 50% more sales-ready leads at 33% lower cost. Not only does lead nurturing create more sales, but it also closes bigger deals. Nurtured leads spend as much as 47% more than non-nurtured leads, according to The Annuitas Group.
Lead nurturing is especially valuable for B2B organizations with complex sales and long sales cycles. When opportunities take weeks or months to develop, there's a lot of time for leads to go cold and drop off the sales wagon. But a strategic lead nurturing process can keep those prospects engaged over time so that when they're ready to buy, they come to you.
How to nurture leads
Lead nurturing is about building relationships and converting curious leads into happy customers. To do this, you will need a clear lead nurturing process with a multi-channel approach.
A good lead nurturing process should be:
Tied to a goal
Targeted to a specific audience
Personalized
Aligned with the sales and marketing teams
While many lead nurturing programs focus on email campaigns, a multi-prong approach is often more effective. Adapt your process to your leads. Where do they prefer to engage with you? What kind of content interests them?
In addition to email, consider connecting with your prospects on social media, through dynamic website content, or even direct sales outreach.
Wherever you engage with leads, be sure to connect regularly and develop a relationship with them based on their needs and interests. By personalizing the connection, and listening and responding in a timely manner, you will have greater success converting and delighting prospects.
Lead nurturing best practices
Use the following lead nurturing best practices to build stronger customer relationships and win more business.
Respond quickly
When it comes to lead nurturing, time is of the essence. One study by Harvard Business Review found that many companies were losing opportunities because they were too slow to respond to prospects. In fact, those companies that reached out to prospects within an hour were nearly seven times as likely to qualify the lead as those that tried to contact the customer even an hour later—and more than 60 times as likely as companies that waited 24 hours or longer.
In other words, be responsive to your leads—the sooner, the better.
Provide value
Help prospects move towards a sale by providing value to them upfront. This will build trust and position you as an authority and even advisor. How can you provide value?
One of the best ways is through relevant high-quality content.
Keep it relevant by providing content based on where the prospect is in the buying stage and what their specific pain points, questions, or concerns are. What kind of information or solutions are they looking for right now?
For example, a prospect who is just starting to research solutions is still at the top of the funnel. They are comparing options and evaluating solutions. At this stage, they are looking for more information, so e-books, webinars, or whitepapers are a great way to further educate them on the industry.
On the other hand, a prospect who is ready to commit to a solution, but isn't sure which company to go with, is at the middle of the funnel and would benefit from other content like video demos or case studies that position your solution as the best option.  
To ensure you provide the best value and most relevant content to your prospects when they need it, create a lead nurturing content timeline.
Set up a basic calendar that maps out what content to send and when to send it so you never miss an opportunity to connect.
Stay connected
Lead nurturing is not a "one and done" initiative. It's an ongoing process that requires multiple touchpoints before a prospect is ready to buy. In fact, on average, prospects receive 10 touches by the time they convert to a sale.
Plan your lead nurturing campaign accordingly. Use past sales data to map out a lead nurturing timeline that lines up with the typical sales cycle length. Make sure you connect with your leads regularly throughout the sales cycle to keep them engaged and keep your solution front of mind when they are ready to buy.
Automate
With long sales cycles and a healthy number of leads coming in that need to be qualified and nurtured, it is all too easy to drop the ball and let opportunities fall through the cracks.
To prevent this, look for opportunities to automate your processes. Automating your lead nurturing will help you time your touches perfectly, align your content with the prospect's buying stage, and move the prospect through the funnel more seamlessly.
Using Lucidchart to nail your processes
Lead nurturing can be a complex and lengthy process. Lucidchart can help you stay on track.
Lucidchart is a visual workspace that helps you map out your nurture campaigns so your entire marketing and sales team understands what content potential customers receive when.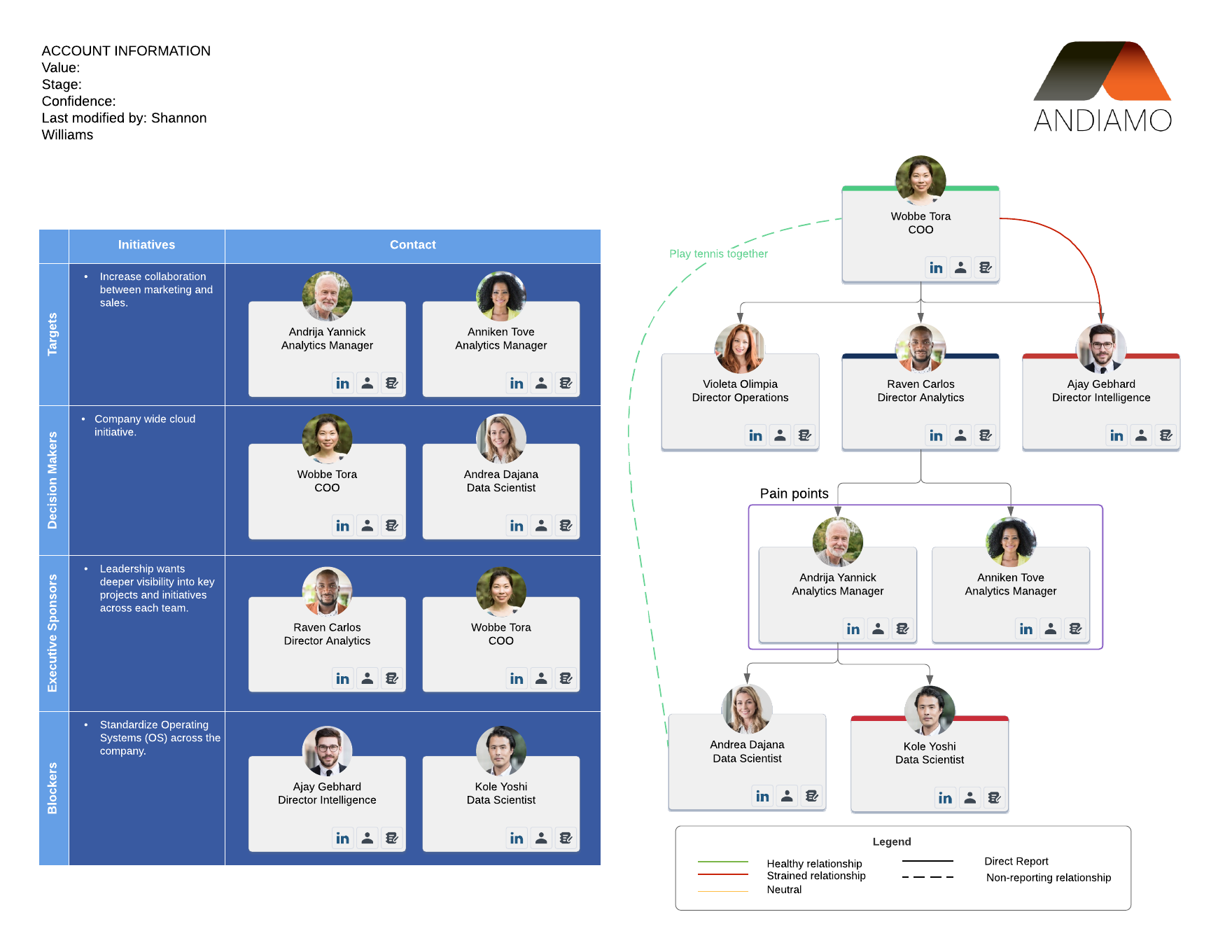 The Lucidchart Sales Solution also makes it easy to visualize account maps so you can identify relevant stakeholders and create tailored nurture campaigns that accelerate the sales cycle.
Stay ahead of the curve and never miss another opportunity—get started with Lucidchart today.