Strategic planning communication: 6 tips for getting your company on board
Reading time: about 7 min
Posted by: Lucid Content Team
If you make a strategic plan but no one hears about it, will it make an impact? By our estimate, the outlook is not so good. That's because a plan is only as good as its implementation. 
In other words, if you want to be successful, you must learn not only how to create a strategic plan for your business, but also how to communicate that plan effectively. 
Easier said than done. 
Use the following tips to improve your strategic plan communication and get employee engagement and buy-in from the ground up.
Why it's important to effectively communicate your strategic vision
Companies invest a lot of time in developing a strategic plan or vision for the business. However, all that time and resources are wasted if you can't successfully communicate your vision to the broader organization. 
Not only is that initial investment wasted, but if you can't align your company strategically, you're essentially leaving every team to guess at what work is important, what problems or goals to prioritize, and what their ultimate purpose is. 
A sure recipe for misalignment between departments and across the organization. 
This misalignment can cause confusion and inefficiency, competition between teams and departments, and burnout and disengagement among employees.
In other words, without a well-communicated strategic plan, the business cannot move forward effectively or efficiently.   
How to present a strategic plan 
Use the following tips and best practices to communicate your strategic plan effectively and get everyone is on the same page. 
Hold an all-hands meeting 
Announce your vision first at an organization-wide all-hands meeting. Ideally, you will be communicating your plans time and time again in the coming months through various meetings and formats. But it's important to communicate your plans to the entire organization first so everyone receives the same messaging. 
Telling everyone together will help prevent confusion or misinformation from spreading through the rumor mill and ensure that no one is left out. 
It also gives you the opportunity to answer questions and get initial feedback from the collective group. Be sure to leave time during your meeting to take questions and solicit feedback. Addressing those concerns together can reduce the burden on managers to answer difficult questions and ensures everyone is getting the same answers from the same reliable source.
Then, as you continue to roll out communication and implementation across departments, you can move forward more effectively on the initial feedback you received and address more specific questions case by case and team by team.
Explain the "why"
In your efforts to explain what is changing, don't forget to also explain why. Change isn't easy. When you unveil a new strategic plan, you are likely to disrupt your employees' processes and approaches to their work.
For example, let's say your new plan includes updates in technology or the adoption of new systems. While you may be able to see how those changes will make your employees' work easier or more efficient in the long run, they are the ones who will have to bear the brunt of learning a new system, changing well-worn processes that "worked just fine" before, and dealing with the growing pains of a learning curve—which could include lower productivity and even upset customers initially.
Show respect for your people by recognizing what you're actually asking them to do, and clarify why it's so important to move forward with the new plan.
As you outline the "why" behind these changes, make sure you do two things: 
1. Create urgency
Why change now? What is the rush? As you explain the purpose behind the new plans, you need to create urgency for why these changes are coming now. What is driving the need to change? 
This will help people both understand why you're making those changes and help them adopt the same sense of urgency in implementing those plans effectively.
2. Answer what's in it for "me"
Sometimes high-level strategy can feel irrelevant to the everyday work or processes teams and individuals are doing. As you communicate your plans and vision for the future, make sure you connect the purpose and benefits directly to your employees. 
How does the new strategy improve their work experience? What are the benefits to their team or department? For example, if the new strategic vision will lead to happier customers, explain how that translates to easier customer service calls or higher sales quotas. 
When people feel that change will be good for them (and not just a nebulous bottom line), they will be more engaged in making those plans successful.
Create a framework for teams to align their work with company strategy
Take the guesswork out of alignment by creating a company-wide framework for implementing the new strategy and keeping everyone's work aligned. A simple but effective approach is to create goals and projects based on the strategic plan. 
For example, Lucid uses OKRs (Objectives and Key Results), so each team's projects relate back to the company's main objectives. 
OKRs help you organize your goals around a strategy and track key results at the end of the period you're measuring. This process helps teams and individuals not only align their priorities and goals but also clarify ownership and accountabilities. 
When everyone is operating from the same framework, it makes it easier to implement company strategy broadly and consistently so that everyone is aligned. 
Reinforce the strategic plan in future communications
Follow up and follow through to keep the momentum going behind your new strategic plans. Too often, leadership makes the mistake of building up the new strategy on the front end without making that communication consistent throughout the rest of the year and beyond. 
Remember: Communicating your strategic plan shouldn't be a one-time big announcement. 
Building adoption and aligning your organization to a new vision or goal takes time. Reinforce your message by making your strategy an integral part of your company meetings, company newsletter, employee reviews, and one-on-one conversations. 
Celebrate successes along the way
Implementing a new strategic plan isn't as simple as checking off a to-do list. There will be questions to answer, problems to solve, and people to win over. This takes time and won't always be smooth sailing. That's why it is important to celebrate employee, team, or organizational successes along the way. 
Highlight these individual and collective wins in team and company meetings. Recognizing successes while your company transitions to a new strategy will drive engagement and adoption, leading to greater ownership and accountability throughout the organization. 
Clarify your message with visuals
Strategic plans usually involve lots of terms, projections, and parts. But these details can quickly get lost in translation if you don't communicate clearly. Help your audience stay engaged and on board by visualizing key information. 
Visuals are a simple but powerful way to support your presentation and clarify your messaging so that everyone understands your vision for the future. Use visuals like flowcharts, graphs, product roadmaps, and organizational models to clarify new processes, roles, and accountabilities.
As teams begin implementing the new strategy, use visuals to improve alignment within and across teams. Lucidchart makes it easy for teams to collaborate and innovate from a single application. Simple collaboration features let team members add feedback or ask clarifying questions around group projects. 
Visual collaboration and communication from the top down and within teams will help your company understand and adopt your new vision faster and more successfully.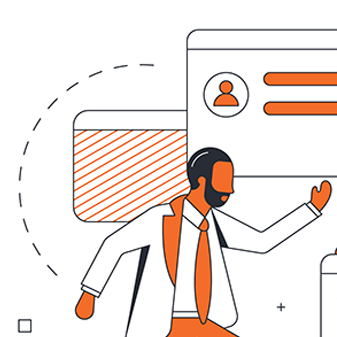 Dive deeper into how creating visuals in Lucidchart can improve your strategic planning.
Read now
Start diagramming with Lucidchart today—try it for free!
Sign up free
About Lucidchart
Lucidchart is the intelligent diagramming application that empowers teams to clarify complexity, align their insights, and build the future—faster. With this intuitive, cloud-based solution, everyone can work visually and collaborate in real time while building flowcharts, mockups, UML diagrams, and more.
The most popular online Visio alternative, Lucidchart is utilized in over 180 countries by millions of users, from sales managers mapping out target organizations to IT directors visualizing their network infrastructure.