Strategic vs operational planning: How to determine and execute on your vision
Lucid Content Team
Reading time: about 7 min
Strategic and operational plans go together—but for many companies, these terms seem interchangeable at first glance. The distinction is important because both of these plans are truly essential aspects of planning inside organizations. Without the big picture and the tactical details, you simply don't have a plan at all. 
What strategic plans and operational plans do within your organization makes a difference in reaching goals within your team, department, and company as a whole. 
What is a strategic plan? 
Strategic plans take a high-level approach to a company's vision and apply it to the external environment to identify the right priorities. Your strategic plan helps you develop goals and coordinate internal resources accordingly to achieve those goals, generally over a specific time frame.
Within a strategic plan, you'll typically find: 
Specific goals: Goals created from the mission and vision, directing organizational focus. 
Stakeholder perspectives: Input from people throughout your organization, bringing helpful and insightful viewpoints that shape the plan and content. 
Future projections: Overview of various scenarios you anticipate for the future and how the organization could respond. 
SWOT analysis: Strengths, weaknesses, opportunities, and threats that your organization faces. 
For example, a strategic plan may observe a threat such as a new competitor entering your market—in response to the increased competition, your plan says your organization will revise your current pricing strategy.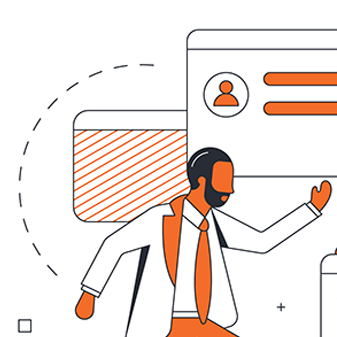 Learn how remote work has changed the way companies approach strategic planning—and why that's the better approach for the long haul.
Read now
What is an operational plan?
You can think of an operational plan as a "work plan" since it specifically directs work activities in your organization. Instead of working from projections and guesses about the future, your operational plan works within the present and serves to translate ideas from your strategic plan into action. 
Here's what you'll likely find inside an operational plan: 
Implementation tactics: With the strategic plan's goals in view, the operational plan has more concrete goals along with specific approaches to implement operational goals. 
Short-term emphasis: Instead of looking far forward, operational plans highlight what your organization can do today. Operational plans are written frequently to stay relevant. 
Detailed action items: Operational plans might have hundreds of items in them. 
For instance, an operational plan may explain how your organization will create and implement a new pricing strategy, such as appointing a department and a champion to lead the change and assigning deadlines for specific tasks to manage the transition. 
Key differences between strategic and operational plans
Many people believe they have a strategic plan when they are actually creating an operational plan and vice versa. 
Essentially, the biggest distinction is in application. Strategic plans stay big-picture, and operational plans are specifically focused on implementation. As such, there are significant differences in how strategic and operational plans are designed:
Specificity: Strategic plans must stay relatively vague, but operational plans can be highly specific. Your operational plan is written for a department within your organization.
Time: In contrast to strategic plans, operational plans are very tactical and short term in nature.
Budgetary focus: With operational plans, short-term, department-level budgets are considered. Strategic plans involve budgets for the entire company. 
Authorship and reporting: Generally, your senior management writes your strategic plan, and individual departments write their own operational plans with input from leadership. Similarly, senior management will ensure that the company is on track to meet strategic planning goals while departments will do the same for their operational plans. 
As you can see, strategic plans and operational plans have significant differences in form, function, and creation. Both are important and allow your organization to stay focused on valuable goals for the company.
When to use strategic vs operational plans
Because strategic and operational plans work well together, creating both for your organization is usually ideal. Your strategic plan guides the creation of your operational plan, so consider starting with a strategic plan first and moving on to operational plans for different departments. Your operational plan allows you to execute on your strategic plan. Develop operational plans once you've used the strategic plan to determine where your organization is headed. 
Why a strategic plan isn't enough 
If you're tempted to stop with a strategic plan, keep in mind that it's possible you'll create a strategic plan that masquerades as an operational plan or that becomes a merged strategic and operational plan. Strategies are only effective if they're implemented, and any tactics you develop for your strategic plan will just become an operational plan by another name. 
Or, worse, you could create a strategic plan and then create lists of implementation tactics without going through a systematic process of planning these operational approaches. 
This is risky for the following reasons:
Implementation uncertainty: With only a strategic plan, teams and individuals don't know what to do. 
Misallocated resources: Time and other resources are easier to waste without tactics that are well thought out. 
Risk of conflict: Leaving strategic goals open to interpretation without an operational plan can introduce unnecessary conflict. Everyone could implement the strategic plan as they see fit, without sticking to guidance from an operational plan.
No road testing: In a sense, your operational plan also serves as a feedback mechanism for your strategic plan. A bad strategic plan will lead to problems at the operations level during implementation, giving your organization a chance to revisit the strategic plan if necessary. 
That strategic plan has value, even if you prefer to think about implementation tactics instead of a big-picture view. The questions you answer while developing your strategic plan enable you to create a strong operational plan.
Why operational plans aren't enough either 
Similarly, your operational plan needs a strategic plan for guidance. Tactics should be directed towards specific goals that serve broader goals within your organization. 
With only operational plans, you may:
Win battles and lose wars: Tactics can work successfully and advance business goals, but without a compass, you may miss out on long-term steps your business needs. Strategic plans ensure your activities do lead somewhere beyond short-term planning. 
Collect KPIs without applying them: Metrics are important, but strategic planning helps to provide context that's sorely needed to make sense of this data. 
Miss out on cumulative progress: Over the course of five years, your organization can be in a very different place. Think of how competitive pressures, your industry environment, and other influences can shape your business over time. 
For these reasons, an operational plan that can support your strategic plan is essential for any business. 
How to begin strategic planning
Given the value to your organization that these plans provide, you should seriously consider creating both types of plans and keeping them updated. Beginning with the strategic plan, these steps can guide you along the process: 
1. Involve stakeholders: Strategic plan creation is generally an activity for your senior leadership. Have them kick off the plan and gather input, as appropriate, from the rest of the organization to help with identifying the right strategic priorities.
2. Create a SWOT analysis: Exploring your organization's strengths, weaknesses, opportunities, and threats will help you determine what should go inside your strategic plan. 
3. Develop your goals: By looking at your organization's mission and vision, determine goals that are SMART: specific, measurable, achievable, realistic, and timely. 
4. Determine your KPIs: Know how to measure your progress as an organization towards goals in your strategic plan.
5. Document your plan: Write down your strategic plan and decide how often you'll revisit it. 
6. Share with your organization: Be sure to share the strategic plan, as appropriate, with departments to help them develop their operational plans. 
After this process, individual teams can begin to create operational plans based on the strategy that's been laid out. Each team or department should have its own operational tactics so they can stay on target. 
Strategic and operational plans are better together 
Using strategic planning and operational planning, you can keep your entire organization on track. Success as a business doesn't happen by accident. The right plans allow you to measure your progress, set goals, and make important changes when necessary, helping your company stay competitive.
Take the first step by strategy mapping. We even have a Lucidchart template ready for you.
Read now
Lucidchart
Lucidchart, a cloud-based intelligent diagramming application, is a core component of Lucid Software's Visual Collaboration Suite. This intuitive, cloud-based solution empowers teams to collaborate in real-time to build flowcharts, mockups, UML diagrams, customer journey maps, and more. Lucidchart propels teams forward to build the future faster. Lucid is proud to serve top businesses around the world, including customers such as Google, GE, and NBC Universal, and 99% of the Fortune 500. Lucid partners with industry leaders, including Google, Atlassian, and Microsoft. Since its founding, Lucid has received numerous awards for its products, business, and workplace culture. For more information, visit lucidchart.com.
Bring your bright ideas to life.