Why visualizing internal processes generates more qualified leads
Tom Jenkins
Reading time: about 5 min
A guest blog written by Tom Jenkins, Content Writer at CloudTask
Generating qualified leads requires a set of internal processes that ensure every point of contact brings leads deeper into your sales funnel and ultimately towards a sale. The way you manage your marketing and sales strategies has a dramatic effect on the number and quality of leads that are generated.
One way to generate more qualified leads is to visualize your internal processes so your sales team can follow through with confidence and close more deals, more often.
Why?
Create a greater understanding between your teams
When individual team members and departments have a clear understanding of their specific roles in a process, that clarity eliminates conflicts and misunderstandings and improves internal communications. It also enables you to play to your strengths and reach your goals faster.
For example, some team members may be responsible for creating content such as blog posts, web pages, or marketing emails as their main function. Other individuals take on the follow-up activities necessary to move the lead further into the sales funnel and closer to a purchase. If these teams don't understand each other, you may have both marketing and sales contacting a lead in the middle of the funnel at the same time, with two separate messages, confusing, delaying or even stopping the sales cycle altogether.
Problems such as this arise when one individual or department has little idea what the others are doing and how their work relates to other positions and activities. When there are clearly defined roles, everyone knows their responsibilities and those of other departments and team members.
Your team members can more easily understand these roles and processes when you visualize them—visuals show handoffs in a digestible way and allow stakeholders to see the whole process at once.
Time-consuming and costly repetition of work and unwarranted competition is eliminated. Visuals can make everyone's job simpler and improve morale and productivity, which can help your company attract the best talent, all in one fell swoop.
At CloudTask, we have every stage of the sales process visually mapped from the first introduction to when the deal is signed. We can show interviewees where they'll fit into the process. When onboarding a new client account, we can show them the steps we take without them having to read 1,000 words, and in training, people can see where each department fits in.
Simplify lead generation
It's a common misconception that generating qualified leads is difficult, time-consuming, and expensive. The reality is, lead generation and lead nurturing is only as hard as you make it, and you can make the process easier by simply managing and understanding your processes.
It's about having the flexibility and forethought to incorporate new, more effective procedures that help you accomplish your goals. With the appropriate tools in place and a clear picture of how, when, and why to use them, it's easier for sales teams to find and nurture great leads in a shorter amount of time.
Faster lead generation, in turn, results in speedier conversions, lower expenses, and increased likelihood of making a sale.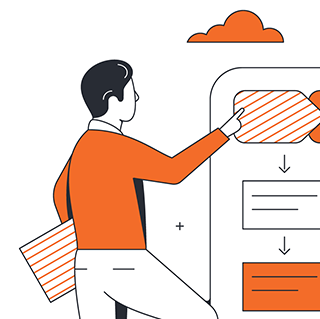 Establish your lead generation process and map it out to ensure repeatable success for your sales team.
Learn how
Nurture more qualified leads
Unqualified leads are a waste of time, money, and energy.
You cannot simply tell prospects about your company and expect to see results. Rather than going after customers and attempting to entice them to buy, you can make qualified customers come to you by offering them information they need through inbound marketing techniques.
Qualifying leads is also about collecting information and gaining insight into the prospect's desires and expectations. You have to ask the right questions so you both understand whether they're able to benefit from your services. By knowing what the prospect's pain points are, where they are on their buyer's journey, and what they hope to accomplish, you will increase your chance of success.
If you have the visual processes in place, it's easier to collect information and find qualified leads.
As an example, once your marketing team has generated a lead, one of their biggest pain points is that the sales team doesn't take the lead forward and nurture it effectively. However, the sales team often doesn't feel that the lead has been appropriately qualified in the first place.
What if you have a process that defines a lead as qualified before it's passed off to sales? If you create a process flow with each step to qualification at the start, you can then quickly and easily clone the process and map it to any other tool you have.
For example, in HubSpot, you could automatically set up a process to meet the agreed definitions. Say a prospect is a decision maker (defined by job title), works for a tech company with over 10 employees, and has engaged with a piece of your content.
Marketing then wants to make sure sales follows the processes to nurture the lead. If they have a time limit of 24 hours to contact the lead, the chances of success are greater, so you could include this time limit as part of the process.
Everyone wins!
Increase your conversion rate
Lead generation and nurturing is only a part of the overall sales process, albeit one of the most important. That said, no matter how many qualified leads you're able to generate, it will mean nothing if you're unable to close the deal and make the sale.
Closing is, perhaps, the most difficult step, especially when there is no step-by-step plan in place. When processes are precisely mapped and followed, the sales team can easily see when the time is right to make the final pitch and turn a prospect into a customer.
For example, as part of your process, you might want to include decision points that help you determine whether the customer is ready to close, such as:
Have they signed an NDA?
Have they confirmed the budget?
What's their timeline?
Simple, visual processes = success
Although processes and procedures appear, on the outside, to be complicated and difficult to implement, they are essential to the success of any organization.
Generating qualified leads and managing the sales process is no different. To successfully bring in qualified leads, you need to visualize not only where you want your company to be in the future but also how to achieve these goals day to day.
Use Lucidchart to visualize your processes and generate more qualified leads.
Sign up for free
About the author
Tom Jenkins is a Content Writer for CloudTask, a managed workforce provider for growing companies looking for B2B Sales, Sales Chat, and Customer Support solutions. Their mission is to find prospects, nurture leads, and satisfy customers to enable you to focus on what you do best.
Lucidchart
Lucidchart, a cloud-based intelligent diagramming application, is a core component of Lucid Software's Visual Collaboration Suite. This intuitive, cloud-based solution empowers teams to collaborate in real-time to build flowcharts, mockups, UML diagrams, customer journey maps, and more. Lucidchart propels teams forward to build the future faster. Lucid is proud to serve top businesses around the world, including customers such as Google, GE, and NBC Universal, and 99% of the Fortune 500. Lucid partners with industry leaders, including Google, Atlassian, and Microsoft. Since its founding, Lucid has received numerous awards for its products, business, and workplace culture. For more information, visit lucidchart.com.
Bring your bright ideas to life.