What is the most important thing to prospective clients?
Surprisingly, it's not the pricing or return on investment you offer.
In fact, even more than economic benefits, trust is the number-one factor when closing a deal according to the State of Sales 2017 report by LinkedIn. While both reasonable prices and ROI are important, without a foundation of trust, most deals will fail before they've gained any momentum.
As you nurture leads in your sales cycle, focus on building a trusting relationship with your prospects. Here's how.
Do your homework
The best sales reps are prepared. Your prospect's time is valuable, so don't waste it with questions you could find answers to yourself.
Research their business and the competitive market ahead of time to understand the challenges and pain points they are trying to address.
Are there trends you've seen before?
Are there problems you are uniquely qualified to solve?
Who are the key stakeholders and decision makers that should be included in this deal?
You might even be able to forecast potential trends or problems that your solutions could prevent. The better you understand their problems, the better you can customize solutions that work for them.
A great way to demonstrate your knowledge is through professional presentations. Use Lucidchart to visualize your prospect's process flow and highlight pain points or bottlenecks that you have solutions for.
Adding visuals to your meeting (or following a sales call) shows you've taken the time to understand your prospect's business and care about helping them. Plus, visuals are more effective than long emails or reports that take more time to read through. Not only will your knowledge show greater expertise, but your conversations will also be more efficient and effective, leaving the prospect with a more positive impression.
You don't have to have all the answers before you talk with your prospect. However, by preparing ahead of time, you can demonstrate a deeper knowledge and understanding of their business, which will build your credibility and their trust in you.
Ask the right questions
How you question your prospects has a huge influence on their impression of you and the company. Good questions build rapport and demonstrate your credibility; bad questions waste time and can expose your unpreparedness.
In order for a conversation to build rapport, you need to
Ask constructive questions.
Patiently listen to answers.
Avoid making assumptions.
Maintain a relaxed, interested tone.
As noted earlier, don't enter a sales call without doing at least some research beforehand. Even a few minutes of searching on the Internet can give you important information and insights into a prospect's business. Once you have a basic foundation, you can then tailor your script to best fit that prospect and the questions you still need to answer.
So what questions are good questions?
The most effective sales calls focus on three to four key business problems and objectives that the customer is trying to solve, according to the sales intelligence company Gong.
Tailor your questions to discover their pain points and focus on the desired benefits and outcomes. This process allows you to fully understand the problems to be solved and open up the conversation to the specific solution and benefits your company can offer them.
For example, you might ask, "I noticed that you specialize in large events. Can you tell me why you chose that niche?"
This question shows you know about the business and opens up the conversation to drill deeper into how it works and why. Questions like this build trust with customers because they allow you to discover and solve problems more effectively and they give the customer the opportunity to talk about themselves (and their business) at greater length.
Additionally, asking the right questions (and listening to the answers) helps establish you as a trusted advisor rather than a pushy salesperson.  
It takes a long time to build credibility and only a few seconds to destroy it. To ensure your sales calls and scripts are most effective, make sure they are carefully prepped, documented, and organized.  
Use Lucidchart to build account maps and share them with the sales engineers and implementation teams so everyone can see which prospects have been contacted and where they are in the sales process. (With our Salesforce integration, you can even import your contacts to build these account maps faster.) Account maps will help you avoid repeating discovery questions to the same prospect or losing them in the shuffle.
Take advantage of marketing resources
Today, more and more prospects rely on the Internet to research products and companies before buying. Content like blogs, videos, infographics, and white papers are increasingly valuable marketing tools to nurture leads and build their trust in you and your brand.
In fact, 70% of B2B buyers watch a video sometime during their buying process, according to a 2014 study by Google and Millward Brown Digital. The videos with the most traction cover:
Product features
How-tos
Professional reviews
As a salesperson, you can use this preference to your advantage.
Work with marketing to create and send prospects customized content like sales videos highlighting your products and solutions, a whitepaper or e-book demonstrating your expertise in a particular field, or a blog post with easy-to-digest visuals.
Visual content is especially attractive because it can often communicate points and data more quickly than a long text-heavy email or phone call. Plus, well-produced content increases your authority in their eyes and adds weight to your claims in a phone or email conversation.
Lucidchart helps you create professional-quality visuals to showcase important data and walk clients through complicated processes. Use Lucidchart to build diagrams or flowcharts to include in your blog, whitepaper, or video, or share a Lucidchart document directly with your prospect.  
Use referrals
One of the best ways to level up your sales process is to ask for and reference referrals. Referrals lead to higher conversions, shorter sales cycles, and greater customer lifetime value than any other type of lead.
One study found that 83% of customers would be happy to provide a referral after a positive experience. But if you don't ask, they won't bother.
Work with marketing and executive stakeholders to implement a referral program if you don't already have one. 84% of B2B decision makers start their buying process through a referral, according to a survey by Heinz Marketing and Influitive. That means if you aren't using referrals, you are missing out on the majority of B2B sales.
Use referrals to build credibility with your leads right from the start. Following each successful sale, ask your clients for a referral. People tend to trust the same people or organizations as their friends. In fact, a whopping 92% of buyers trust referrals from people they know.
As you nurture new leads from referrals, make sure to take advantage of that shared connection and build on it for a more trusted relationship with your prospect.
Increase your referrals by baking them right into your sales process. Use Lucidchart to create diagrams and workflows of your sales process and add a referral step to make sure you don't forget to make this important ask at the end of the cycle. From start to finish, Lucidchart can keep your account organized and make sure you don't miss any crucial steps in the process.
Building credibility and customer trust during the sales process can sometimes feel like luck. But by taking these steps and focusing more on the customer than on yourself, you'll have greater client relationships and sales success.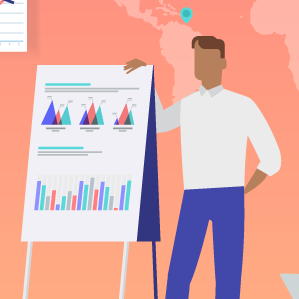 In addition to the tips above, see what else reps can do to improve the buyer experience and build credibility.
Learn more
Lucidchart
Lucidchart, a cloud-based intelligent diagramming application, is a core component of Lucid Software's Visual Collaboration Suite. This intuitive, cloud-based solution empowers teams to collaborate in real-time to build flowcharts, mockups, UML diagrams, customer journey maps, and more. Lucidchart propels teams forward to build the future faster. Lucid is proud to serve top businesses around the world, including customers such as Google, GE, and NBC Universal, and 99% of the Fortune 500. Lucid partners with industry leaders, including Google, Atlassian, and Microsoft. Since its founding, Lucid has received numerous awards for its products, business, and workplace culture. For more information, visit lucidchart.com.
Bring your bright ideas to life.