How to improve the buyer experience: Prospecting
Lucid Content Team
Reading time: about 7 min
The prospecting stage is a crucial part of the buyer experience—as you hopefully know by now, a buyer's initial impression of your company can push a deal forward or end your chances before the deal's really even started.
But because there are hundreds of prospects and only so many hours in a day, it can be tough to get that first impression right for your most qualified buyers. Take a look at what you can do to nail this first stage of the buyer experience.
Identify buyers and determine the best approach
The first step of prospecting is to identify your potential buyers and how best to reach and educate them on your product. During this stage, which includes touchpoints with marketing, website content, and sales, your potential buyer is trying to solve a problem, get an answer, or meet a need, and they are searching for the information that will help them do so. 
They likely don't know who you are or what you have to offer. What they do know is the information they are trying to obtain. It's important to ensure you're providing the optimal experience and the knowledge they need to avoid discouraging and consequently losing out on potential buyers. 
As you start out, you need to identify your buyers, as they are at different levels of awareness. Make sure that the needs of buyers in each category are properly addressed. You have buyers who:
Know what problem they have and are actively looking for a solution.
Have a solution currently but don't know that your product/service is the better option.
Don't know if they have a problem.
Each of these situations will require a different approach and different content—you will need to draw in those who don't even know they have a problem, while those who have identified a problem will need help scoping it. Make sure you understand where your buyers stand—create buyer personas so you know how to provide a tailored experience, and then map out the outreach each should receive. 
Once you've properly identified your buyers, you're ready to start educating them. The strategies you take will depend largely on whether you have an inbound or outbound sales motion.
Inbound: Sync with marketing
According to HubSpot, one of the most common challenges inbound teams face is a lack of cohesion between marketing and sales. These two departments need to constantly be in sync—marketing should hand off information about their buyer personas so sales can understand their prospects and provide a tailored experience. 
SDRs should not start their interactions with a prospect blindly. Reps need to be aware of what interaction prospects have already had with a product or service through inbound marketing efforts and how they reacted to it. Reps need to understand what potential buyers already know; otherwise, buyers will feel like the content is aimed at someone else. Map out the nurture flows so that your sales team can see the journey from the very beginning and customize their approach with a prospect accordingly.
Stay in sync to close more deals. Find other suggestions of how to improve communication between sales and marketing.
Read now
Inbound: Enable prospects to find their way to you
72% of buyers turn to Google during the awareness stage. It's all about the self-educating buyer these days. Today, 81% of shoppers conduct online research before making a purchase. 
In other words, buyers do their homework before they come to you, and your job is to align closely with marketing to make it easy for them to do so. Their purchase decision is largely influenced by who enables them the most, so if you don't make it simple for prospects to find what they're looking for, you can lose potential buyers to competitors. You can work with marketing to implement time-saving tactics for buyers, such as placing a cost-savings calculator on your website or categorizing website content by specific persona types.
Even as buyers are self-educating at this stage, make it easy for them to interact with you when they are ready. For example, placing a chatbot on your website can be a non-intrusive way to reach out to potential buyers while they browse.
Outbound: Take a holistic approach
For outbound sales, awareness and education might be a single motion. There are plenty of arguments about how cold calling is dead and social selling is on its way out, and that might be true if you compartmentalize these tactics. But if you can make each part of a more strategic and holistic approach to outbound selling, they are very much alive and can provide buyers with the exposure and education they need. For example, use social selling to drum awareness for your product or service, and then use an email campaign to provide education around it. 
Outreach separates prospects into three tiers and offers an example of a winning sales sequence formula for each—all of which take this holistic and personalized approach. 
Tier 1 consists of sales sequences for marquee accounts. This tier applies to prospects who have decision-making titles like VP of Sales, Sales Development Manager, Marketing Manager, etc. and are from companies that use complementary products, have a sales development team, stay competitive with successful customers, and operate in target industries. 
20 emails
12 calls
10 LinkedIn touches over 90 days 
Tier 2 applies when you're not sure if the prospect is a decision-maker and the company is missing one of the Tier 1 criteria, but the company is a great fit.
10 emails
6 calls
5 LinkedIn touches over 33 days 
Tier 3 applies to prospects who are influencers but not decision-makers and are from companies in a vertical you are exploring. 
6 emails
1 call
Back to marketing over 20 days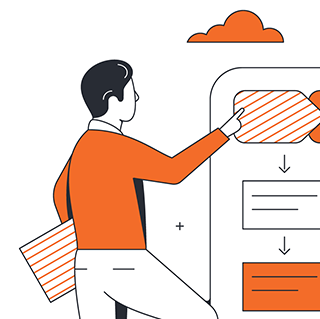 Standardize your sales processes for repeated success.
Learn how
Outbound: Focus on your buyer
In today's world of information overload, you can't just throw content at the wall and hope it sticks. 76% of buyers prefer to receive content unique to their buying stage, which means you need to determine the content appropriate for this specific stage. 
Too often SDRs are focused on pushing their solution. However, awareness content should be focused on the buyer and their pain points, not your product or brand. The information you provide at this stage should provide value, not be a hard sell—making it one will simply annoy the potential buyer. 
As your content continues to educate the potential buyer and you identify what content they consume and how they react to it, reps can follow up with buyer-centric information, when appropriate. Do your due diligence so you have an in-depth understanding of the common pain points in their industry and can speak to them intelligently. Collateral should support specific pain points rather than be based on industry buzzwords. Use data—74% of business buyers are inclined to purchase from sellers who provide a new insight about their business. 
Also, make sure you are getting the appropriate types of content from marketing to send to prospects. Content at this stage should be educational and in the following formats: 
E-books
Whitepapers
Analyst reports
Blog posts
Tutorials
Videos
Social media 
Content should avoid using too many technical terms or industry jargon. It shouldn't explain concepts that prospects likely already understand. And don't overload buyers with so much information that they become paralyzed.
When it does come time for your SDRs to distribute content themselves, make sure it's easy for them to find the appropriate collateral. Set up an internal wiki that houses every available piece of content and categorizes it. For example, store everything in Confluence and sort it by content type, topic, and persona. You can also set up an experience in PointDrive, available through LinkedIn Sales Navigator, so reps can send users to a single source instead of sending an email full of attachments. 
Nailing the prospecting stage sets you up for success throughout the rest of the buyers' journey. Because when it comes to deciding whether to buy, the prospect's overall buying experience often outweighs price and the product itself.
Once you have found the ideal prospects, continue to create a positive buyer experience during the discovery call.
Learn how