You did it. Another deal closed, another client signed. Now it's on to the next prospect, right?
Well, not so fast. The sales cycle doesn't stop once the deal closes. 
When the contract is signed and the solution agreed on, the sales potential has only increased. Now, you have the opportunity to upsell and renew those clients when you provide them with exceptional customer experience.
But what makes for a great customer experience—and, more importantly, how can you create that experience every time? 
Here are six customer retention strategies that work and tips on how you can apply them to impact your bottom line.
Why customer retention matters
Existing customers are your business's greatest asset. While new leads are important, existing customers are much more valuable and represent a greater return on investment.  
For instance, acquiring a customer is five to 25 times more expensive than retaining an existing one. And according to research by McKinsey, satisfied customers are also more likely to upgrade or add services and are less likely to cancel. 
In other words, customers aren't worth just what they spend on your business today. They have future value if you can engage and retain them for years to come. And the longer you can retain them, the higher their lifetime value to your business.  
6 essential customer retention strategies 
So how can you keep your clients happy and unlock that future value? Use the following strategies and tips to engage and retain satisfied customers every step of the way. 
1. Implement an onboarding program
A robust onboarding program is one of the most important ways to engage your customers and ensure they don't fall through the cracks. 
A good customer onboarding program:
Introduces your product and company to the client
Educates the client on how to use and implement the solution effectively
Ensures client expectations are met and even exceeded
Opens a channel for communication and customer feedback
The onboarding process can have a significant impact on your customer experience—positive or negative. Make sure the experience is positive by working closely with your sales team to transition the client seamlessly from their account manager to customer success. 
For example, the AE should brief the customer success rep on the account details beforehand. The customer success manager should know the client's priorities, concerns, and their decision-making journey to this point so that they don't have to waste the client's time by asking them for this information again. This allows them to go into the first conversation post-sale ready to address the client's next steps. 
If your AE created an account map, have them share it with the customer success team. Account maps outline the key stakeholders, champions, and decision-makers on the account. This information can be crucial for understanding the customer and personalizing the onboarding approach to find and secure buy-in from the right people.
You can also leverage visuals like flowcharts and process maps in your onboarding and education programs. Visuals are a simple way to communicate ideas and plans quickly and clearly, either internally or with your customers. They can help you set expectations and clarify solutions (such as product implementation steps), which all contribute to higher customer trust and a better overall experience.  
2. Develop a relationship with your customer
Customer relationship management plays an important role in customer satisfaction and retention. There are many ways you can build trust and develop a relationship with your customers, including: 
Regular and personalized communication and check-ins
Customized solutions 
Clear expectations that are met or exceeded
Knowledgeable customer service
Loyalty rewards
Customer appreciation 
This is another place where account maps and process flowcharts can prove invaluable. 
Initially, the information from your sales team's account maps can tell you which people to contact and who the key decision-makers, blockers, and champions are. As you continue to develop the relationship, you can track your progress directly on the account maps so nothing falls through the cracks.
3. Create a communication calendar
This strategy is a simple one, but it's powerful. Clear, regular communication is crucial to building a relationship of trust and ensuring you understand and are addressing client concerns throughout the customer journey. 
The easiest way to keep your finger on the pulse is to create a communication calendar that tracks customer interactions with your company. 
A communication calendar will notify you when a customer contacts you and alert you if a customer hasn't interacted with you recently. Based on your knowledge of each account, you can also schedule check-ins via phone or email to stay updated on each customer's needs. 
Tracking customer interactions helps you communicate proactively so your customers remain engaged and no one falls through the cracks. A calendar can also help your team create opportunities to upsell, cross-sell, or renew contracts, further increasing your customers' lifetime value. 
4. Get feedback from your customers
In a similar vein, as you communicate with your customers, don't be afraid to ask for feedback. Feedback and reviews are a great way to understand exactly what is working well and what needs improvement with your product or customer service. 
For example, during one of your regular check-ins, send out a customer satisfaction survey or questionnaire. This will help you gauge not only how happy your customer is, but what you can do about it. 
The key here is to act on the feedback you receive. While some problems may take longer to solve, strive to address concerns immediately. The more responsive you are to your customer's needs, the happier they will be with their overall experience. 
5. Make your product essential
To keep customers, you have to ensure that they know and love your product. It needs to be an integral part of their processes and daily routine so that it becomes both normal and essential to their work. 
To make your product essential, you have to build buy-in and widespread adoption. With high adoption rates, the customer will be more likely to retain your services and look to you for future solutions.
You can increase adoption and user engagement through robust onboarding, customized training, and in-person visits to improve communication and address questions and concerns. You should also identify product champions and develop user groups who can encourage adoption and provide on-the-ground support. 
6. Provide customer success resources
Customers appreciate brands that invest in their success. One way to demonstrate you care about your customers' ongoing success is to provide resources that anticipate and address their questions. 
Help your customers find answers to questions and solutions to problems through education and a comprehensive knowledge base. Provide resources like regular blog posts, how-to guides, e-books, free training videos, webinars, FAQs, and community forums. These resources show that you are committed to your customers' success (and help them find answers themselves). 
Final thoughts: Focus on the friction
If you're feeling overwhelmed by this to-do list, don't fret. You can still create a successful customer retention program by implementing even just a handful of these tips. 
The key is to focus on the biggest pain points for your customers. In other words, what are your customers' biggest complaints? What frustrates them? When and why are they leaving? 
Examine the touchpoints in your sales cycle to identify areas of friction. These are the places you need to work on and that can have the most immediate impact on your customer satisfaction, retention, and lifetime value.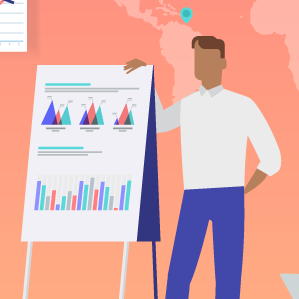 Learn other ways that your team can improve the buyer experience post-sale.
Read more
Lucidchart
Lucidchart, a cloud-based intelligent diagramming application, is a core component of Lucid Software's Visual Collaboration Suite. This intuitive, cloud-based solution empowers teams to collaborate in real-time to build flowcharts, mockups, UML diagrams, customer journey maps, and more. Lucidchart propels teams forward to build the future faster. Lucid is proud to serve top businesses around the world, including customers such as Google, GE, and NBC Universal, and 99% of the Fortune 500. Lucid partners with industry leaders, including Google, Atlassian, and Microsoft. Since its founding, Lucid has received numerous awards for its products, business, and workplace culture. For more information, visit lucidchart.com.
Bring your bright ideas to life.