If you've ever given the absolute wrong gift to someone, you know how important it is to know your audience. Furthermore, if you've ever been given a terrible present, you know what it feels like: it's disappointing and a bit insulting. 
When marketing to your customers, if you don't understand who they really are and what they truly want, they're likely to feel just as disappointed as you'd be receiving a cat sweater for your birthday when you own a dog. Developing buyer personas is the first step to understanding your audience so you can make more sales and close more deals.
What are buyer personas?
Buyer personas are segmented descriptions of your target customers. These personas detail common character traits and demographics like:
Income
Age
Education
Favorite stores
Internet habits
Relationship status
Beyond the one-dimensional descriptions, though, buyer personas also dive into your customers' pain points and needs. They should answer three questions:
Whom are we targeting?
Why should they care about our product or service?
What's relevant to their lifestyle?
Buyer personas really help you picture the people behind the data and develop strategies to speak directly to their needs. These personas help inform marketing strategies—everything from the tone used on your website to the copy used in your ads—and also guide the evolution of your products while helping to position them in the marketplace. 
They're also used by sales teams for prospecting and pitching the product the correct way, and they help generate higher-quality leads. Buyer personas are a vital component of the path-to-purchase—without knowing your customers, there's no way your product will succeed in the market.
How to create buyer personas
1. Gather information
The first step to creating buyer personas is gathering information and data points to draw from. Get started with these methods.
Invest in market research and surveying 
Your target customers will look similar to your current customers. So, to learn more about your current customers, survey them. You can either contract with a professional questionnaire company or develop your own, but either way, the information gleaned from your current customers will be invaluable in defining your buyer personas. 
Pro tip: When asking your customers to answer a survey or questionnaire, always reward them—think gift cards, discounts, or free products. Not only will it incentivize more people to respond to the survey, but it will also yield more honest answers if your customers feel they're being compensated for the answer.
Conduct personal interviews
There's a reason companies invest huge amounts of money in focus groups: They work. Being face-to-face with a person yields insights that simply can't be gleaned from surveys. You'll be able to probe a bit deeper into questions and your customers may offer up information and perspectives you hadn't yet considered.
Dig into the data
Data is currency for a reason: It gives factual information about customers. Sometimes your survey may yield one result while the data gleaned from cookies and your website analytics may give a different story. There are also dozens of people-based marketing tools that will guide you through gleaning information from both your current audience and from your target audience. Data is great for breaking assumptions and providing clear, quantitative information.
Ask your support team
Discuss customers with the people who interact with them the most. Consider surveying customer-facing support teams or having one-on-one conversations with them to discover insights into your current customers.
Collect more information about what your customers need through these Voice of the Customer techniques.
Learn more
2. Analyze the results
Start grouping your data into common themes. Pay special attention to patterns. You may find a group of 30-something females and a group of males in their 20s who really love fishing. The largest groups of data will be the most important to you, and so will the personas of people who  commonly converted from visitors to paid customers. The most common traits will be the characteristics of your personas.
3. Fill out the template
Build out a persona card to document each persona (use our user persona template!), including their daily habits, behaviors, motivations, and pain points. These traits will be backed by the research you've done: Again, look at the largest segments of data and rely on those.
4. Share the persona
Now it's time to share your personas to the marketing and sales teams so they understand to whom they're selling and speaking. It's smart to hold a persona meeting where you can "introduce" the personas, and it's also a good idea to keep the personas readily available in an internal wiki. Share the link often and reference personas regularly so all that research is put to good use. 
Conducting interviews for buyer persona research
As stated above, interviews can be invaluable when doing buyer persona research. But to ask buyer persona questions, you'll need to have interviewees. There are four main places to locate interviewees:
Customers: Customers like to feel like they're being heard, and they're likely to agree to an interview if you reach out directly. Sweeten the deal with a gift card or free product, and they'll find an interview irresistible. Be sure to reach out to satisfied customers as well as unsatisfied customers or customers who never decided to buy. Both can yield important information. 

Prospective customers: These interviewees have never bought from your company and likely don't know much about it, but do fit into your potential target personas based on information from data capture forms or website analytics. 

Referrals: If you're so new to market that you don't yet have customers or leads, referrals are a great way to gather information. Employees can refer their friends or family (again, sweeten the deal for your employees by thanking them with cash or gift cards for referrals). You can also use the power of social media to recruit for interviews.

Third-party networks: Some companies will locate interviewees for you. You won't have as much control over the interviews being conducted, but you also won't have to do any work. 
Questions to ask
The questions you'll ask your interviewees depend on what information you're hoping to gain. However, here are some ideas of questions to ask to get you started:
What's your age?
What's your gender preference?
How much money do you make per year?
Who lives with you?
Do you live in an urban, suburban, or rural area?
What do you do in a typical day?
Who are your heroes?
What do you love to read?
What's the highest level of education you have attained?
What do you do for work?
What are your biggest work challenges?
What are your career goals?
What was the last purchase you made?
Do you research products and services before purchasing them? If yes, where do you do your research?
Bear in mind, these are simply starting questions. You'll want to probe deeper into the answers given. Be sure to ask "why" often throughout the buyer persona interview to understand the interviewee more.
How and where to apply your buyer persona research
Once you have your buyer personas, you'll be able to let them guide you throughout the organization. Here's how:
Sales
Sales teams can use buyer personas to better position their products to respond to pain points and address common customer needs. This persona information can also help sales reps prepare responses in advance. 
For example, let's say one of your personas is Tommy the Tech Geek. Tommy is an early adopter, but he struggles with getting other people to use new software. As a result, he's now hesitant to sign up for new products, knowing that his team will be reluctant to embrace them. Knowing this about Tommy, your sales team can prepare responses in advance to objections buyers like Tommy will have. 
Product development
Buyer personas can guide design and product development. For example, if a common theme that arises from your Betty Boss persona is that she hates video, then your product may need to adjust for that. 
Marketing
Marketing needs to know how to talk to buyers. They will need to develop different tactics for resonating with each buyer persona and develop ad campaigns that grab their attention. For example, if one of your personas is Maggie the Mom and she is super into cats, marketing may need to have a cat-based ad campaign for the holidays. 
Buyer persona templates and examples
It's important that your buyer personas feel like real people with real needs and pain points. Check out these templates and examples to give you an idea of great buyer personas. 
In addition to creating a buyer persona card, you might also want to use customer journey maps or empathy maps in order to better consider your customers' feelings throughout the buying process.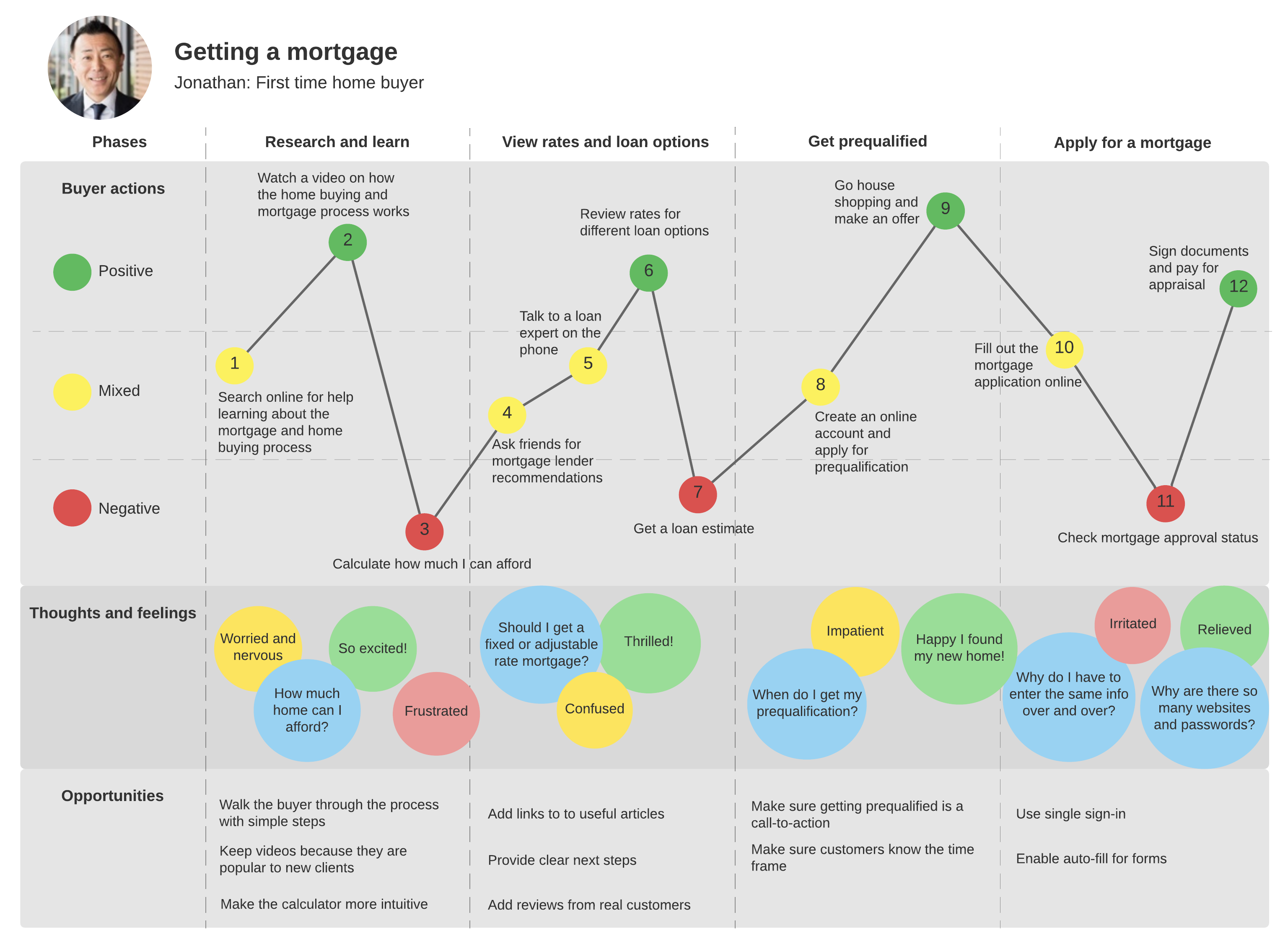 With the templates above, you'll be able to create buyer personas that give sales reps a shared understanding of what pain points your ideal buyers struggle with and how your company can best serve them. But remember—each customer will be different, so it's also important to go beyond these buyer personas and learn more about individual customers to find the real value your product or service provides and close the deal.
Learn how to conduct a discovery call that delivers the information you need and improves the buyer experience.
Read our tips