How to know if your processes are working
Reading time: about 6 min
Where processes are concerned, there's often room for improvement and increased efficiency.
In this article, we discuss some of the things to look for when determining how well your processes are working. And we'll give you some steps to help you design effective processes.
The process of process improvement   
The steps below will help you to determine if your processes are working and ultimately lead to developing more effective processes.
Step 1: Map out your current process
To begin, you'll want to choose a process to analyze. It doesn't have to be a complex process. In fact, the process might be one step of a much larger process. Starting with a smaller process can help you practice as you work toward improving bigger or multi-step processes.
Choose something that isn't ideal in your current workflow, such as a task that you think could be done faster or an area where mistakes often occur. 
After you've chosen a process to analyze, you need a full understanding of how the process works. The best way to do this is to create a process map. A process map is a visual representation of what the process does. The map gives you a detailed overview of the process and lets everybody understand the flow, who does what, how it gets done, and when it gets done.
To make the process mapping job easier, try using a Lucidchart template to draw a BPMN diagram, flowchart, value stream map, or any diagram that helps you understand the process you want to analyze. These documents can be accessed from anywhere at any time for real-time collaboration no matter where the members of your team are located.
Being able to visualize the process gives you clarity and lets everybody involved look at the process objectively from many different perspectives. This helps everybody to think through the workflow so you can see what's important and needs to stay, what works, and what needs to be fixed.  
Step 2: Get feedback from the people involved
Getting feedback is a great way to determine how well your processes are working. And it's a great way for team members to determine how well they are performing their assigned tasks within the processes. 
Getting feedback from employees who work with the process every day is important because these are the people who understand the process the best. If they feel like they are not included, it can lead to pushback and frustration when you try to implement changes. On the other hand, if you show that you value their input, they are more likely to execute your changes. 
To get their feedback, you'll want to ask the people involved questions like:
Is the process consistent across the team?
Is the process clear?
Is your busywork automated?
How long does it take to complete tasks?
Do you face recurring bottlenecks?
What is the goal of the process, and is it being met?
As you collect feedback and evaluate current processes, you might want to use a start, stop, continue template to help you to determine which steps or tasks are working well and which could use some improvement.
Step 3: Identify how long each step takes
The idea behind process improvement is to increase efficiency. So you're going to need to understand how many tasks, subtasks, and steps there are in the current process. How long does it take to complete the tasks in each step? 
This information gives you a baseline so you can set goals that will help you to find and eliminate redundancies, get rid of unnecessary steps and tasks, and streamline necessary steps. As you develop a new process, this information will also help you to determine if what you've done is actually an improvement. 
If your new process ends up taking a longer amount of time than the original process, you're not really improving anything, and you'll need to do some further analysis.
Step 4: Decide how you're measuring process improvement success
Again, if your goal is to reduce time or eliminate steps, a good measurement might be the amount of time it takes to complete the process compared to your current baseline. If the goal is to increase the amount of products manufactured or the number of customers helped, your success might be measured against the output of the current process.
Other measurements could include:
How effectively the process meets customer requirements
How reliable the process is in functionality and its capacity to meet supply and demand
Does the process reduce or increase the cost of the product or service?
Does the process adhere to industry standards and compliance?
How well the process uses resources compared to assets consumed
Step 5: Design your improved process
Based on your process map, brainstorming sessions, and feedback from everybody involved, you should have a pretty good idea of what works and what doesn't. If you mapped your current process using Lucid, your team can collaborate on the changes and get immediate feedback with the in-editor commenting feature. 
The improvements could include reassigning people to different tasks, adding new software, acquiring new equipment, hiring new employees, and so on.
Step 6: Test the new process   
You'll need to test your process before implementing it to make sure it works. You might want to consider creating a process simulation to see what works and what doesn't before the process is put into a real-world situation.
Testing will give you valuable feedback and help you to fix problems before implementation so that process improvements do not have a negative impact on current productivity. If the test does not perform as expected or does not improve on any of the current processes, you'll need to revise and find what works best.
Step 7: Communicate the changes and implement the new process
When testing is successful in real-world situations, and the process performs as expected, it's time to implement the changes. Communication is key in implementation. You need to let your team know that a change is coming and that you have a plan for putting the change in place. Nobody likes to be caught off guard. So if employees understand the plan and know when the change will happen, everything should run more smoothly.
Also, be sure that you have documented everything to ensure that everybody follows the standard procedure. This ensures consistency and quality of products and services. And thoroughly documented processes are great for training new hires and ensuring that everybody understands their roles as they are reassigned to different areas or given different tasks.
Step 8: Monitor and revise as necessary
After you've improved a process, you're done, right?
Not exactly. Process improvement is an ongoing process. You'll need to closely monitor and manage the process to ensure that it's effective. When you find areas that can be streamlined or improved, you'll need to start the process over again. Don't worry, it will be easier the second time around because most of the work is already done for you. You will likely only need to revise current flowcharts and maps as you determine where changes should be made.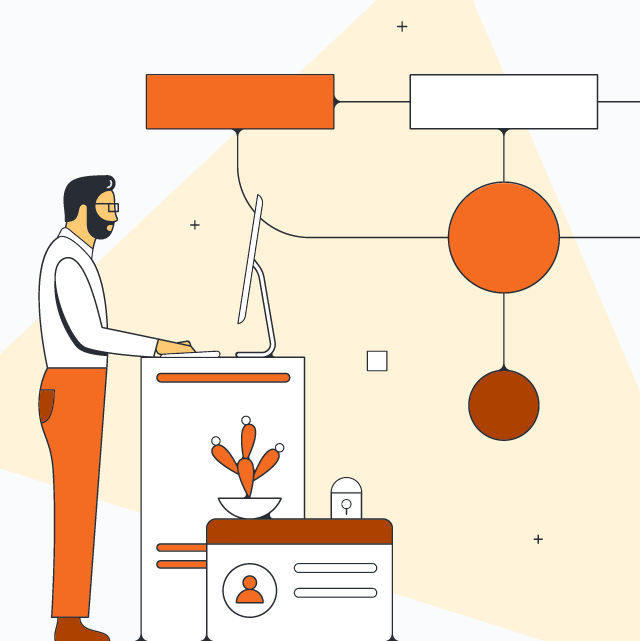 Don't want to start process mapping from scratch? Browse our template gallery for ready-to-use examples.
Go now
Alec Sharp, senior consultant at Clariteq, offers advice for process improvement.
Read more
About Lucidchart
Lucidchart is the intelligent diagramming application that empowers teams to clarify complexity, align their insights, and build the future—faster. With this intuitive, cloud-based solution, everyone can work visually and collaborate in real time while building flowcharts, mockups, UML diagrams, and more.
The most popular online Visio alternative, Lucidchart is utilized in over 180 countries by millions of users, from sales managers mapping out target organizations to IT directors visualizing their network infrastructure.