A Quick and Dirty Guide to the Business Model Canvas
Jackson Carpenter
Reading time: about 8 min
When my wife and I decided to start a side business from our kitchen table, I wasn't sure where to start. We had a great concept and several pages of disorganized notes, but we lacked the clarity we needed to effectively prioritize our efforts.
That's when I discovered the Business Model Canvas.
What is a Business Model Canvas?
A Business Model Canvas is an easy-to-digest one-page document that succinctly summarizes a testable hypothesis of how your business should work based on the best information you currently have.
Created in the mid-2000s by business theorist and Strategyzer founder Alexander Osterwalder, it's a strategic management and lean startup tool that condenses your strategic planning onto a single page. It's used by successful innovators around the world like Intel, Panasonic, 3M, and Mastercard.
It's like a mini business plan, but it's much faster to put together. A business plan, on the other hand, is a detailed projection of what your company hopes to achieve and how it hopes to achieve it. 
And when I say detailed, I mean it. The Small Business Administration says that a business plan should typically be between 30 and 50 pages long. The dear wife and I had no interest in writing a novella before starting our business, so we knew we weren't going to go down that path. The Business Model Canvas fit our needs much better.
Need an even simpler, quicker way to visualize your business strategy? Learn more about the Lean Canvas model.
Benefits of using a Business Model Canvas
At that point in our planning, we weren't sure how our business would actually look once it was up and running. We had some ideas, but a lot of them could be wrong. There are risks to plunging ahead without making a plan since, according to Gallup, 50% of businesses fail within their first five years. 
Whether or not you make a profit depends on how well you design and implement all the activities and resources that make up your business. Like us, you can use the Business Model Canvas to avoid getting overwhelmed by these pressures and get going on your new business.
Plan your strategy: The Business Model Canvas helps you plan and evaluate your assumptions quickly and efficiently so you can spend more time growing your business.
Be flexible: It makes it much easier to change things on the fly since you write down just the essentials.
Find gaps: It gives you a bird's-eye view of your business so you can quickly see where you need to focus your energies.
Drive innovation: It encourages understanding, discussion, creativity, and analysis within your team.
Share your vision: It helps you create a complete pitch for potential investors or partners.
Develop a plan for achieving your organizational goals through the strategic planning process.
Read how
Key elements of the Business Model Canvas
The Business Model Canvas consists of nine areas of strategic planning. If you're starting a new business from scratch like we were, don't worry too much about the details––just get your vision down so you can get moving.
Value proposition
Your value proposition should be easily communicated in a single sentence, and it should inform everything you do. What's your mission? What problem are you going to solve, and how are you going to solve it? What products and services will you offer to meet customers' needs (these may vary by customer)? 
Most importantly, you want to define how your brand will be different from what's already out there. I'm a huge fan of the book Made to Stick, and I'd suggest applying the SUCCES acronym here to really make your idea memory.
Customer relationships
Think about the kinds of relationships you want to establish with your customer segments. How will you communicate and build rapport with your customers throughout their journey? Will you offer personal assistance, create a community environment, or present a self-serve model?
Consider too how and where your customers like to communicate. Every communication should drive home the problem you solve and why your solution is the best (or, better yet, only) one around. 
Customer and market segments
These are the people and organizations for whom you create value. Who could really use the solution you're offering? If there are multiple groups, list them all out.
You may need to investigate potential buyer personas, find niche markets that fit your offerings, or come up with a multi-sided market strategy that brings together different groups of customers.
Channels
Channels are the points at which you interact with customers to deliver value. How are the people who need your solution going to buy it? Take a look at your customer segments. Where do they spend money right now? Try to make it as easy as possible for a customer to say "yes" to buying your solution.
Key partners
You'll probably rely on other people––suppliers, distributors, etc.––to create and deliver value to your customers. What individuals or entities outside of your business will you need to work with in order to produce, market, and deliver your solution? What key activities or resources can someone else take care of so that your business can focus on your value proposition?
Key activities
If an activity isn't directly tied to delivering on your value proposition, then it isn't key, and you probably shouldn't be doing it. So what do you absolutely have to do in order to produce, market, and deliver your value proposition? 
Key resources
If the resource isn't necessary to delivering on your value proposition, ask yourself if you really need it. What do you absolutely need to have in order to produce, market, and deliver your solution? These could be human, financial, physical, or intellectual resources.
Cost structure
This should be a description of the costs of operating your business. How much will your key activities, resources, and partners cost you? At this point, it may be a good idea to take a second (and a third) look at each of these categories and cut out everything that isn't absolutely essential to delivering on your value proposition.
Pay attention as well to any fixed costs you'll have to incur, variable costs you'll need to keep an eye on, and changes in costs as you scale.
Revenue streams and pricing model
Decide what customers will pay for and how they will pay you. How much do you need to charge? Keep in mind that you need to make enough to cover your costs and have something left over to grow your business and reward you for your efforts.
Additionally, will your solution be subscription-based? Will you offer individual purchases? Choose a pricing model that will fit best with your customer base and your cost structure.
How to use a Business Model Canvas
The main goal for using the Business Model Canvas is to validate your business model. By laying out all the components, you can find simple, small-scale ways to test each aspect of your business model in a cycle of improvement.
1. Fill out the canvas
Filling out the canvas is quick and painless, and it should give you a lot of clarity. Try to finish it in just 30 minutes. Start with the value proposition and then proceed in the order outlined above, moving from the theoretical to the more concrete aspects of your strategy.
To demonstrate what a filled-out canvas might look like, imagine that a seventh-grader named Timmy wants to start a neighborhood lawn mowing business over the summer. His Business Model Canvas might look something like this: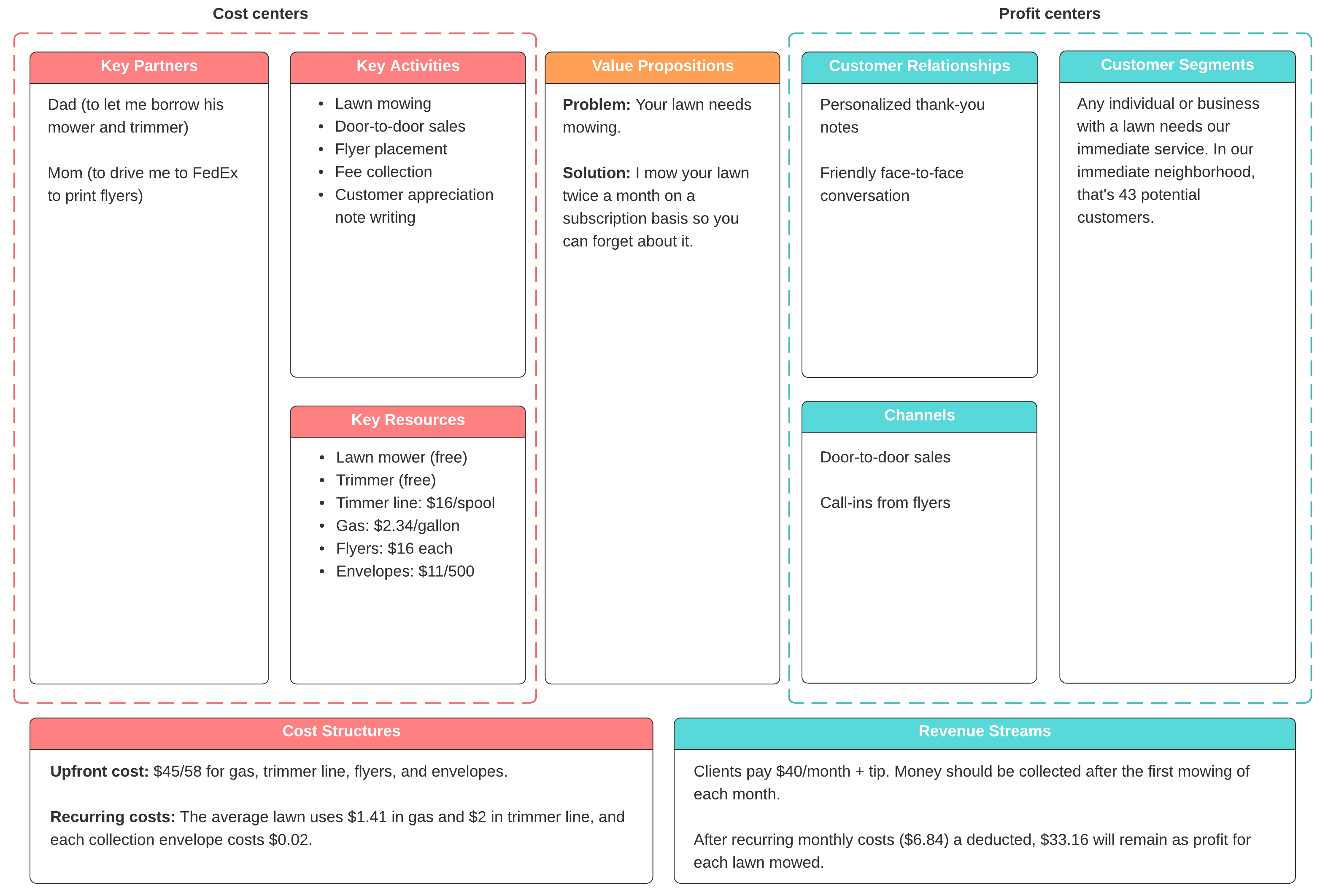 2. Identity and test your assumptions
It's smart to have a plan. It's even smarter to make sure that it actually works. You might think that offering a subscription plan is the best pricing model, but once you run an A/B test, you might realize that your customers prefer paying each time for your services. 
Find the key metrics that you can track to better understand your customers and your success in reaching them. If you aren't doing well, these metrics will also help you understand why.
3. Adapt your strategy
Once you test your assumptions, make the necessary tweaks to your business strategy. You could even fill out a new Business Model Canvas to keep track of your changes and have a visual reminder of what you're aiming for.
For example, I've made multiple copies of my canvas document in Lucidchart so I can explore potential future iterations of our business model, highlight areas where costs can be reduced, and map out relationships between key partners and their various functions.
4.  Repeat the cycle
The best way to grow your business is to continually reexamine your vision and performance. In effect, your Business Model Canvas should be a living document that represents your best hypothesis in an evolving landscape. Markets, customers, and trends change, and you need to be able to change with them. 
Whether you write your Business Model Canvas in the kitchen or the boardroom, you're ready now to come up with a clear and effective business model. You can get started on your Business Model Canvas quickly in Lucidchart. 
See another way to define your business with a strategy mapping template.
Learn how
About the author
Jackson Carpenter is a former content writer who went rogue and became a PR flack. These days, he's pushing the finest PR for Lucid Software. When he isn't slinging stories, you can probably find him in the kitchen or on the trail enjoying the great outdoors of Utah. He performs all his own publicity stunts. Follow @MrPropagandizer on Twitter.