Simple concept map template
Our concept map software makes it easy to understand complex ideas, but it's also a great tool to bring the simplest concepts to visual life. Try this simple concept map template out for size.
Bubble concept map template
You'll see traditional concept maps drawn out in squares or rectangles. For more variety, use this bubble concept map template to visualize those same concepts and their relationships instead. In Lucidchart, you're not limited to certain types of shapes. Map out a diagram with any and all icons from our extensive shape library or import your own!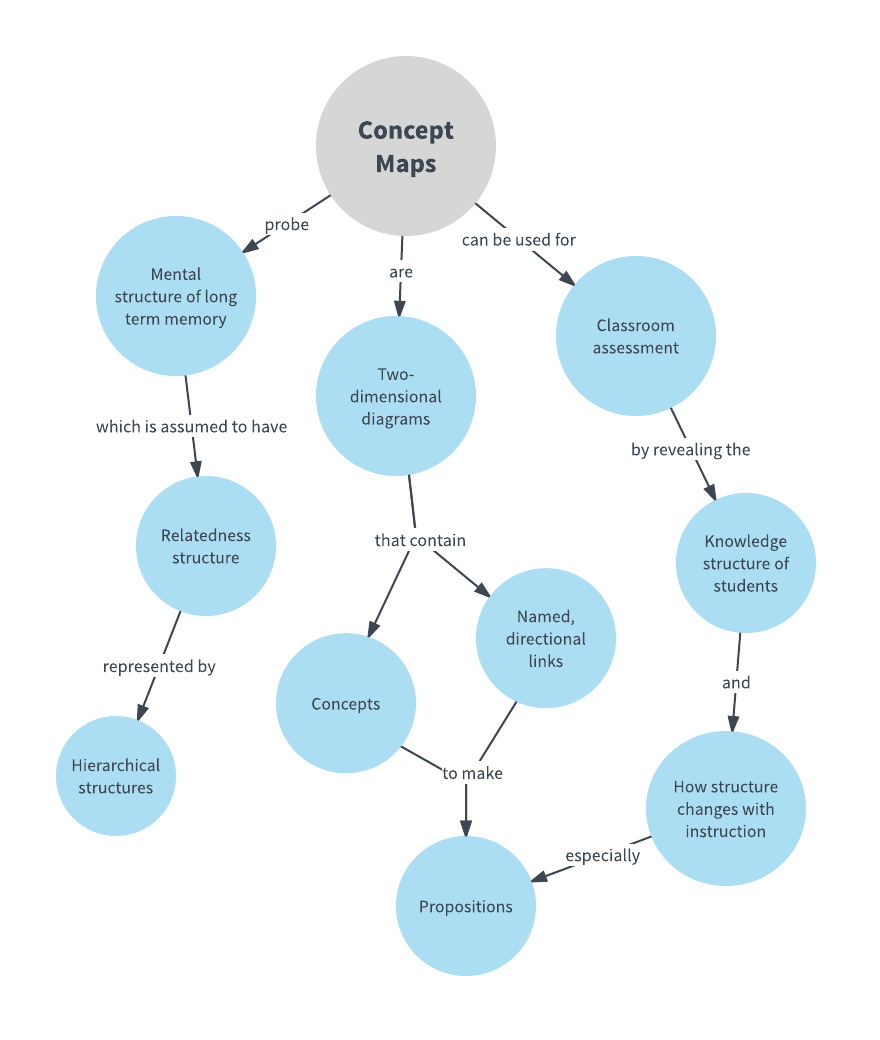 Brand concept map template
For a business to be successful, it's imperative that all employees has the same understanding of the company brand. Use this brand concept map template we've created (using Lucidchart as an example) and include the elements that make your brand unique. Import your own business logo, change the colors, and most importantly, add the ideas, features, and goals that exemplify your brand.
Vocabulary concept map template
Technical writers, educators, and students will appreciate this concept map template for vocabulary lists. You'll find that learning and memorizing vocabulary lists becomes much easier when you take a visual approach when you use a concept map. Customize this vocabulary concept map with your own vocabulary list.
Nursing concept map template
If you're a nurse, therapist, or specialized health care professional, use a concept map to prioritize and evaluate a specific action plan for a medical scenario. Start with this nursing concept map template, and use as a guide to understand the ways to diagnose, assess, or better evaluate a unique situation in healthcare.
Water concept map template
Understand the different states and properties of any element using a concept map. We've already created one for you as an example that explains breaks down the properties and states of water. This water concept map template is a great example to start with. Take this water concept map template, add your own element of choice, and include related characteristics and facts before you share with others.
Math concept map template
This math concept map template shows divisions of mathematics, including alegbra, calculus, and geometry, so students can easily see the differences. If you work in education, you can adapt this template to show various math courses at your school. Hang it in your classroom or share it with students as a helpful guide.
Chemical bonds concept map template
If the subject of chemistry leaves you feeling confused (or if your students have been giving you blank stares), try explaining complex scientific processes with a concept map. Use this chemical bonds concept map template as an example and customize with your chemistry concept of choice.
Protein synthesis concept map template
Synthesis is the process of combining two or more compounds to create something new. No matter what synthesis process you need to describe, concept maps can help students visualize the steps involved. Start with this protein synthesis concept map template, and adapt it according to the material you want to share.
Biology concept map template
As you explain any topic within the field of biology, consider using a concept map. This biology concept map template shares the relationships and ideas that factor into the study of biodiversity, but you can easily customize it to apply to any concept, including anatomy, molecular biology, evolution, or ecology.
Digestive system concept map template
We've shared how Lucidchart concept map templates can show specific systems and processes in health and science, and this digestive system concept map template is no exception. Use a concept map to better understand and memorize any of the 11 major systems in the human body.
Nervous system concept map template
Similar to the template above, this concept map template details the human nervous system. With this nervous system concept map template, you can offer an interactive experience and add links or specific images to give viewers a more visual understanding of the concept.
Pneumonia concept map template
Concept maps can help you understand all aspects of a specific disease or disorder, including symptoms, causes, processes to diagnose, and treatment. Whether you're studying medicine, taking a first-aid course, or trying to understand a condition you've been diagnosed with, display the concepts visually to gain a better understanding. Use this pneumonia concept map template as an example and customize it to your subject.
Hypertension concept map template
Update this hypertension concept map template to show concepts related to any ailment or disorder you would like to learn more about. Change up the fonts and colors or add links or imported images to offer a visual deep dive.
Didn't find the subject you needed? Check out our full library of concept map templates, or we can show you how to make a concept map from scratch.
How to add a concept map in Google Docs
Once you've created a concept map, you can easily share it with others—even those who don't use Lucidchart—by adding your diagram to Google Docs. Our Lucidchart add-on makes it simple to insert diagrams and update them with one click. Send around a brand concept map to make sure your marketing team uses consistent messaging or attach a protein synthesis concept map to help a classmate out.
How to add a concept map in Word
Visuals can add life into reports and other documents, but unfortunately, it takes a lot of time and a few grey hairs to create a polished concept map in Microsoft Word. Never fear—with the Lucidchart add-in, you can easily insert professional diagrams from your account into your word document. Leave the words to Word, and leave the visuals to Lucidchart.
How to add a concept map in PowerPoint
Make a concept map part of your next class or corporate presentation. Download the Lucidchart add-in for Microsoft PowerPoint, add visuals to your slides, and wow your audience!
Visualize any concept to understand it faster and retain information more effectively. Sign up for your free Lucidchart account to build a concept map today!