Why visuals are the best method of process documentation
Reading time: about 7 min
Different organizations may have varying attitudes toward process documentation. 
Some organizations require everything to be documented, including any minor change. Some companies believe that documenting processes is the right thing to do, but they may not spend too much time maintaining the documents after the initial process is documented. Others don't document anything because they think it's a waste of time and money. 
Let's discuss the purpose of process documentation, the benefits of maintaining and updating process documentation, and why you should create visual business process documentation.
What is the purpose of process documentation? 
All businesses have processes that are essential to how they get stuff done, but sometimes their processes are not adequately documented or updated. 
This can place a burden on current staff to teach the procedures to new employees—not to mention that it increases the risk of someone misunderstanding the process or performing it wrong. And when teams inevitably alter the process, introducing new steps or improvements, it complicates matters further.
If processes are not documented and improvements are not captured, crucial knowledge could be lost. Documenting business processes helps you:
Retain institutional knowledge when employees leave the company.
Create a single source of truth.
Reduce misunderstandings and confusion because the team has agreed on the process.
Improve the onboarding process and simplify new employee training.
Ensure consistency when developing or manufacturing products.
Easily introduce process improvements.
Keep all staff on the same page, completing processes the right way.
Reduce errors and defects so you can deliver higher quality.
Effectively manage projects and evaluate processes while looking for improvements.
Create a culture of knowledge that encourages more employee engagement.
Reduce knowledge gaps so that anybody can step easily into a new role if necessary.
Even if you have been completing a task the same way every day for years, it's still important to have the process documented. 
Think of airline pilots. After thousands of flights, they still run through a documented checklist as part of their process before takeoff. Relying on memory could lead to serious problems if even one checklist item is forgotten.
Why are visuals the most effective form of process documentation?
People learn in several different ways. Understanding how people learn can help you to develop more effective and engaging documentation that your intended audience may actually read. 
According to William Glasser, an American psychiatrist who studied human behavior and developed reality therapy and choice theory, we retain:
10% of what we read
20% of what we hear
30% of what we see
50% of what we see and hear
70% of what we talk about with others
80% of what we do
95% of what we teach to others
From this, you can see that people learn a lot from seeing, hearing, and doing. Research shows that visual communication and documentation provide an extremely effective way to share ideas, information, and processes. When you use visual process documentation, you can increase your team's ability to synthesize information with ease, grasp ideas faster, and keep projects running smoothly.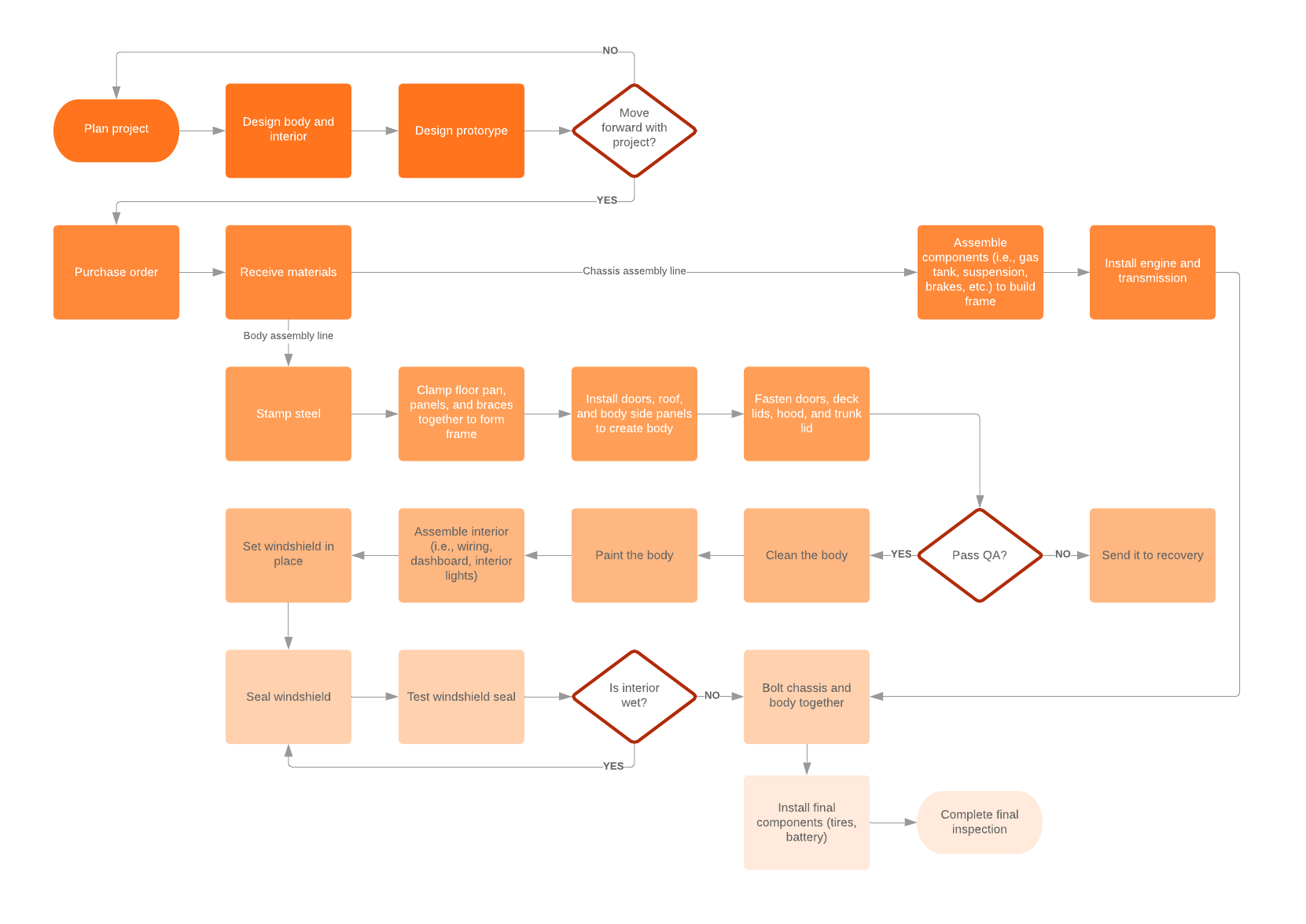 Benefits of visual process documentation
If you have put together a LEGO® set, the building instructions are a good example of a visual process document. Using a series of graphics, the instructions detail the steps you need to take to complete the set with little to no words. You learn how to do everything from visual cues.
Chances are, you would not be able to create process documentation that relies solely on visuals for your organization's processes. But a good combination of graphics and text will go a long way to helping your staff and new hires to quickly learn how things are done at your company. 
People usually learn faster and retain knowledge longer with visual content. In addition, visual process documentation can benefit you in the following ways:
It's easy to digest and understand at a glance. This point is pretty self-explanatory, but the human brain can process visuals much faster than text, meaning that text-heavy documentation will take longer for employees to interpret.
It motivates employees to learn about subjects beyond their specific role. A text-heavy document can be boring. Appealing visuals can grab attention, reduce boredom, and invite the reader to explore beyond the subject they were initially interested in. 
It's easier for employees to understand complex concepts. No matter what their level of technical knowledge is, visuals can simplify even complex procedures, making it easier for new employees or contractors to step in and be productive right away. This benefit is especially important when training on and implementing new work processes.
It's easy to display where employees can see it. Depending on the size and complexity of a process, you may be able to easily post it or display it in high traffic areas. Employees can easily refer to it as needed to do their jobs. For example, if you are documenting workflows, you can display the workflow in a highly visible location so employees always know what to expect next.
You can use this documentation to find bottlenecks and other problem areas. A document of a visual workflow can help you find and diagnose problem areas that may be impeding processes. This can help you as you look for ways to make improvements and reduce errors.
Gain a better understanding of how to document and analyze your as-is process visually to remove bottlenecks and improve efficiency.
Learn more
Visuals, especially when they are stored in a single location, encourage better collaboration. A visual process document that is stored in the cloud is easily accessible to project managers, executives, and other stakeholders. The document can be opened and worked on at any time from any location in the world, where people can add comments and make revisions as needed.
Visuals increase knowledge retention. Visuals help employees to memorize processes and retain knowledge for longer periods of time. According to a learning and memory study, the memory of a 27-minute movie that participants watched persisted for months after the study. 
It's easy to show process changes. Using visual process documentation makes it easier for your staff to see changes that are made to the process. This is especially true when comparing current state vs. future state.
Visuals clearly delineate roles and responsibilities. Visual workflows, especially those containing swimlanes, make it easy for employees to see who is responsible for doing what and when. It also helps them to understand where they fit in the process and to know what needs to be done before and after their part of the process.
What makes visual process documentation more effective?
If you're going to move toward more visual documentation, you want to make sure you create them in the right way. 
Effective visuals in documentation: 
Integrate with and enhance the material explained in the text
Are placed logically in the document and don't interrupt the flow
Explain important or complex information that can't be easily explained with words
Don't detract from the information you want to communicate
Don't include bold, clashing colors
Are well designed, easy to read, and understand
Follow your company's style guide and branding documents
Are labeled correctly so readers are not confused
To be successful, it is important that your organization has well-designed and well-written business process documentation and workflows. Making your process documentation visual can help everybody learn processes and understand and accept standards faster than text alone. Process documentation helps you to retain important knowledge, facilitates smooth onboarding, and encourages employee engagement.
Use Lucidchart to make your process flowcharts as effective as possible. 
Learn how
Lucidchart
Lucidchart, a cloud-based intelligent diagramming application, is a core component of Lucid Software's Visual Collaboration Suite. This intuitive, cloud-based solution empowers teams to collaborate in real-time to build flowcharts, mockups, UML diagrams, customer journey maps, and more. Lucidchart propels teams forward to build the future faster. Lucid is proud to serve top businesses around the world, including customers such as Google, GE, and NBC Universal, and 99% of the Fortune 500. Lucid partners with industry leaders, including Google, Atlassian, and Microsoft. Since its founding, Lucid has received numerous awards for its products, business, and workplace culture. For more information, visit lucidchart.com.
Bring your bright ideas to life.