"It's not personal; it's strictly business."
There are many things to love about The Godfather, and we could probably write a whole article about lessons gleaned from the Corleone "family business." But when it comes to sales, Michael Corleone couldn't have been more wrong. Because, in fact, sales—and particularly enterprise sales—is all about nurturing personal relationships.
From the discovery stage to closing, enterprise selling relies on a sales rep's personal attention and customized solutions to close a deal. This level of care and curation helps sales teams close high-revenue deals with long-term corporate partners and clients.  
But what exactly is enterprise sales, and how can you leverage the process to close more deals?
Let's break it down.
Complex sales vs. transactional sales
There are two main types of sales: complex (or enterprise) and transactional (or SMB). Most people are familiar with transactional sales—they are the everyday, straightforward buying and selling of products and services to an individual or small group of individuals (think Mom and Dad purchasing a lawnmower at Sears).
For the most part, these types of transactions are low risk with a short sales cycle. Many startups focus on transactional sales early on in their business. These sales typically have a sales cycle of 60 days or less with relatively few touches.
In contrast, enterprise sales represent months of communication between the sales rep and the prospect, resulting in larger-scale corporate solutions.
While there is some debate on the exact definition of a complex sale, there are a few key distinctions between the two.
An enterprise sale is marked by:
High risk
Many stakeholders
A long sales cycle (6+ months)
High investment
Complexity
In contrast, a transactional deal:
Is lower risk
Has few stakeholders
Has a short sales cycle
Sells single products and services (or small bundles)
Is driven by marketing and sales rather than by relationships
With higher investment comes higher risk and greater complexity. The sales rep must balance the needs of the organization with the capabilities of the product or service to deliver a custom large-scale solution. These sales take months to process as the client considers the proposed solutions and weighs their options against competitors.
Evolution of sales strategy
Because of this added complexity, enterprise sales reps take a different approach to sales strategy. But sales methodology isn't stagnant, and enterprise best practices have evolved.  
Presentation
In the 1950s, enterprise sales relied on scripted presentation. The salesman researched the client, drafted a proposed solution and presented their pitch to the client. This strategy was product-focused, rather than client-focused. The salesperson would outline the product's offerings and defend its ability to solve the client's problems.
Conversation
Through the '70s, this strategy fell out of favor for a more collaborative approach. Rather than telling the client what they needed, sales reps would take the time to listen to the client describe their pain points and use those conversations to develop solutions.
Process analysis
Today, the best enterprise salespeople have taken this approach one step further to act as business advisors to the client. While they continue to listen to the customer to gain insights into their business, they no longer assume the client fully understands what their problem is.
Often, clients miss the underlying problem for the negative symptoms it creates. The most successful sales reps act as business process analysts, learning the client's business and operational processes to provide solutions that address the root problems.
The stages of a complex sale
You can break down the sales process in a few ways, but the basic enterprise funnel comprises these four key steps.
Discovery
Discovery is the preliminary stage where the sales rep researches the prospect's business, talks to them about their needs and requirements, validates the business case, and customizes it to the client.
The rep asks the client questions about their organization, pain points, and expectations to get a clearer picture of how they can address their problem and create a satisfying and enticing solution.
How can you find this information? Ask!
As you build your relationship, ask the client:
What are the steps we'll have to take to close the deal?
Who are the stakeholders that will be involved?
What do we need to do to get buy-in from each team or leader?
Ask the client to guide you through a virtual roadmap to close and document that process in detail. By investing in the discovery stage, you can set your sales process up to succeed because the client gave you those answers. If you can nail down the company's buying cycle, you can map out a clear sales process from start to close.
Develop a better relationship during the discovery process to improve the buyer experience and learn what stakeholders need.
Learn how
Diagnosis
Though a longer sales cycle can be challenging, it also provides an opportunity for the sales rep to conduct thorough research to more fully understand the client's business needs and buying cycle. The better he or she follows their pain points, the better he or she can customize a solution to address them.
Once you've completed a thorough discovery process, you should have a good idea of the gaps in the client's business and their goals to fix them. That leaves you with the task of evaluating their "symptoms" and outlining a diagnosis. In other words, what are the core issues, and how can your product or service meet their needs? How will you customize your offerings to provide a personalized solution?
Note: As you learn about the client's current processes and technology stack, map out those processes in Lucidchart. When you share a simple diagram with the prospect, you can confirm your understanding of the business problem, and at the next stage, you'll be able to easily compare current and future states with your solution implemented.
For an example of this use case, see how Okta uses Lucidchart.
Design
This is the stage where you combine your knowledge and understanding of the client's pain points and consult with them on possible solutions you can provide. Because enterprise sales are so complex, the solutions are unlikely to be straightforward.
By working closely with the client to create a custom solution tailored to their specific organization, you'll be more successful in creating a proposal that will be accepted and effective.
Delivery
The final stage of a complex sale is implementation. Once the customer has accepted the proposal, your team can deliver the outlined solution and track and measure its value.
Using account maps to navigate complex sales
Complex sales require the help of multiple members of your sales team as you discover how to win over stakeholders. Lucidchart helps you create a holistic view of an account, outlining key influencers, blockers, champions, and buyers, so anyone can quickly see the status of a deal. By mapping out organizational relationships and the sale's current progress, you can identify the best paths to sale and ensure no details get lost.
If you use Salesforce, you can import your contacts directly into Lucidchart and start building account maps right away. Learn more about our Salesforce integration, or create your account map manually with the template below.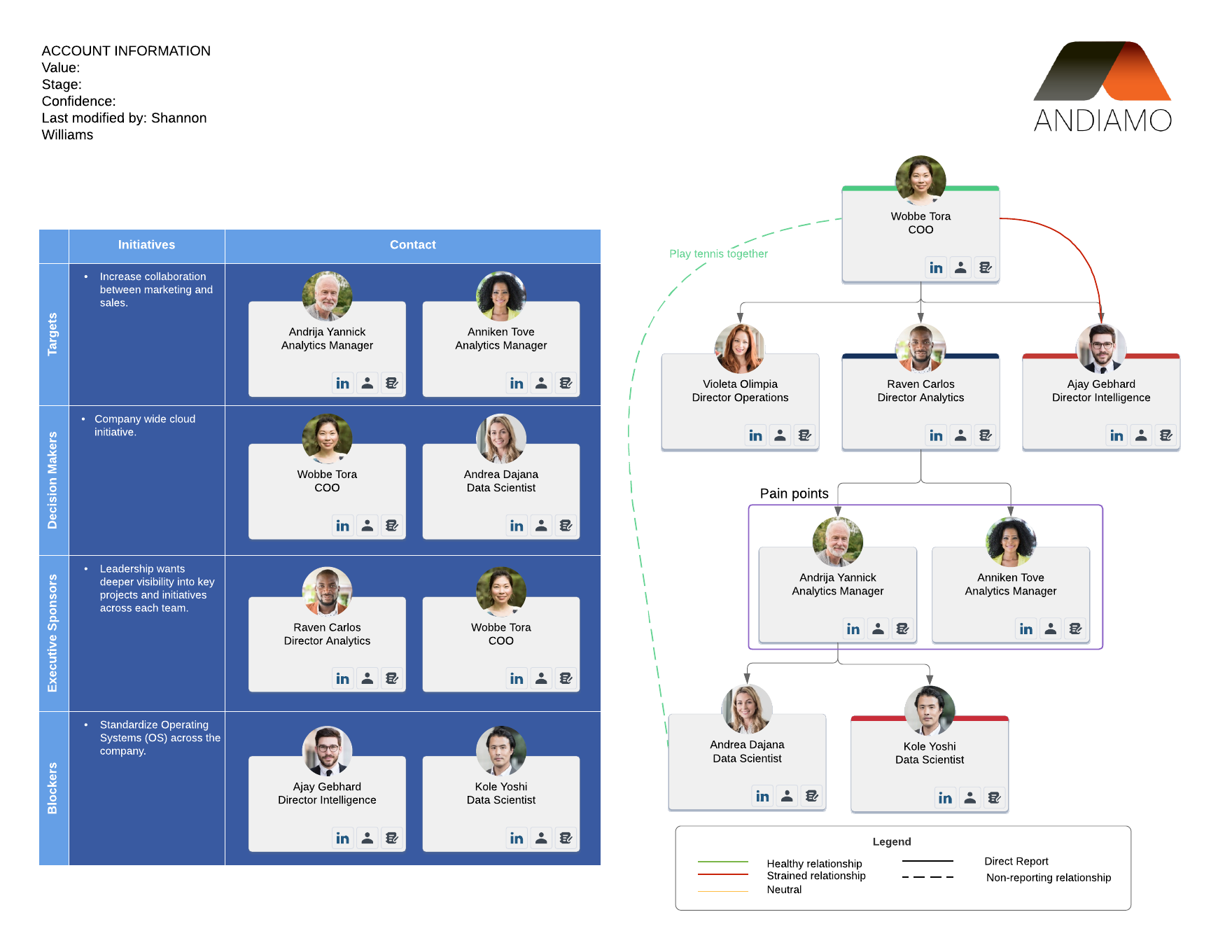 This process is especially important in long-term enterprise sales, where sales team turnover could set you back on deals as new reps get oriented to the account. By using an account map that tracks the sales cycle and relationships at a glance, the sales team can prevent costly delays or missed opportunities in the sales process, resulting in stronger relationships and more closed deals.
Take a deeper dive into how account maps help teams navigate complex sales.
Learn more
Lucidchart
Lucidchart, a cloud-based intelligent diagramming application, is a core component of Lucid Software's Visual Collaboration Suite. This intuitive, cloud-based solution empowers teams to collaborate in real-time to build flowcharts, mockups, UML diagrams, customer journey maps, and more. Lucidchart propels teams forward to build the future faster. Lucid is proud to serve top businesses around the world, including customers such as Google, GE, and NBC Universal, and 99% of the Fortune 500. Lucid partners with industry leaders, including Google, Atlassian, and Microsoft. Since its founding, Lucid has received numerous awards for its products, business, and workplace culture. For more information, visit lucidchart.com.
Bring your bright ideas to life.