Have you nailed down your SaaS sales process?
Lucid Content Team
Reading time: about 7 min
You have probably noticed that we are in the midst of a rapidly growing Software as a Service (SaaS) boom. In a 2017 report published by BetterCloud, 73% of IT professionals surveyed said that 80% of their organization's business applications will be delivered as SaaS products by 2020. As of 2017, the SaaS industry generated $46 billion annually. That number is expected to grow to $76 billion by 2020 and continue growing at a rapid rate.
It appears that SaaS is here to stay. As more executives and organizations recognize the benefits of SaaS, the development of traditional "on-premises" enterprise software is expected to decline. According to a 2018 SaaS Industry Market Report, 80% of end-users in the United States prefer cloud-hosted and SaaS apps for communication and organization purposes compared to 51% in 2016.
So if you have landed in an organization that offers cloud-based software solutions as a service, it is very important that you have a well-defined and planned-out SaaS sales process in order to successfully sell those services.
SaaS sales definition
So what is SaaS sales?
In simple terms, SaaS sales is the process of selling your company's web-based software to clients. Your clients may include individuals as well as other organizations and companies. Business-to-Business (B2B) focuses on selling services to other companies rather than individuals.
Salespeople who sell SaaS software focus on acquiring new customers and retaining or upselling current customers. It is important that your salespeople clearly communicate the benefits and features of your product. They must also be very well versed with the software so demonstrations run smoothly and they can answer customer questions.
A brief history of SaaS
You may be surprised to learn that centralized hosting of business applications dates back to the '60s. Companies like IBM provided mainframes offered services that included computing power and database storage to banks and other large organizations.
In the '90s, the popularity and expansion of the Internet brought a new class of centralized computing called application service providers (ASP). An ASP provided individuals or enterprises access to applications and services over a network, usually a local area network (LAN) or a LAN with access to the Internet.
Software as a Service is basically an extension of ASP. However, with ASP, the focus was mainly on hosting third-party applications. With SaaS, vendors typically develop and manage their own centrally hosted applications.
SaaS sales models: Which is right for you?
Have you ever been hiking and found a shortcut that got you to your destination faster than if you had stayed on the marked path? In your excitement, you probably tell all your friends about how much more efficient the shortcut is. As more people learn of your shortcut, they will travel the path until the shortcut becomes the new "official" path. Some people may branch off onto other paths in search of another shortcut or in an effort to find different and more interesting scenery.
Just like there is not just one path to take when you go hiking, there is not just one "right" SaaS sales model that leads to success. As Jeffry M. Kaplan wrote in E-Commerce Times, "...just as the overall technology and software industries have produced varying paths to success, so are the SaaS and cloud computing segments evolving in a variety of directions, requiring varying sales techniques."
Deciding on the SaaS sales strategy that will work for you depends on where your company is currently in its SaaS adoption and development. For example, if you are a startup or an established company that has never developed cloud-based software, you may want to look at some startup SaaS and B2B software sales strategies that have worked for other companies.
Selecting the SaaS sales model that is right for you will tell you how many salespeople you need to hire, how you will contact and interact with customers, who your potential customers are, and how you can successfully close the deal.
The following are three common SaaS sales models that you can choose from to help you plan your strategy. Each model considers price and complexity—more complex services have a higher price than less complex services.
Customer self-service
This model has the potential to bring in a lot of revenue while keeping costs low. In a self-service model, your customers understand what value your product offers, how to buy it, and how to use it without consulting a salesperson or customer service rep.
The self-service model keeps the price and complexity low because you don't have to hire as many developers to create the product or salespeople to sell it. However, in order to reach your revenue goals, your sales volume will need to be very high.
Characteristics of customer self-service models include:
Sales: Involves little or no sales.
Marketing: Creates awareness through easily accessible educational content and automation that drives the entire purchase process.
Support: Includes automation and tools for easy onboarding and updating. In addition, templates and educational content allow customers to resolve issues on their own.
Transactional sales
This sales model raises complexity and price. You may need to hire more people to develop and sell the product, increasing your costs. As the price increases, your customers' expectations increase. Before parting with their money, they may want to ensure that there will be more of a business relationship.
The transactional sales model is characterized by efficient, high-volume sales and support operations, short sales cycles, and rapid onboarding. Customers may expect to sign contracts, receive periodic updates, comprehensive documentation, and access to service reps when problems arise.
Transactional sales models tend to be high-risk and high-reward with a higher volume of sales. Characteristics of this model include:
Sales: Inside sales reps are supported by online content and automation. Additional tools, training, incentives, and metrics increase efficiency and transactions per sales rep.
Marketing: Highly qualified leads are fed to the sales team to build a pipeline and improve efficiency. Educational content and automation are marketing trends that remove complexity from the purchase.
Support: In addition to customer self-service tools, templates, and educational content, customers have access to customer service representatives as needed.
In either the customer self-serve or transactional sales models, it's important to visualize your efforts to ensure that you provide a seamless buyer experience. In Lucidchart, you can easily create and collaborate on customer journey maps, process flowcharts, email flows, GTM plans, content marketing funnels, and other visuals to better understand and improve the SaaS sales process.
Enterprise sales
As the name implies, this model is intended for B2B enterprise sales. Offerings tend to be very complex and include a feature-rich suite of solutions that address strategic, core business processes. These products and services tend to offer so much value that the natural target audience is mid-to-large enterprises.
Characteristics of this model include:
Sales: Territory sales reps focus on a narrow set of target prospects directly supported by product marketing and sales engineering resources.
Marketing: Relationship-building, trust, education, and brand awareness is dealt with through high-end marketing. More complex sales tools such as product roadmaps and ROI calculators are used to more efficiently target and acquire potential customers.
Support: High-priority technical and sales support, including onsite issue resolution, in addition to hands-on training and other educational tools tailored to the specific needs of the customer.
Particularly for enterprise sales, the path to selling SaaS isn't typically linear. In the past, salespeople have been able to sway a single person to close the deal, but now they have to create consensus among a group of decision-makers with buying power.
So how can you effectively navigate this complex world of modern sales? Use our web-based software to help you more effectively sell your web-based software.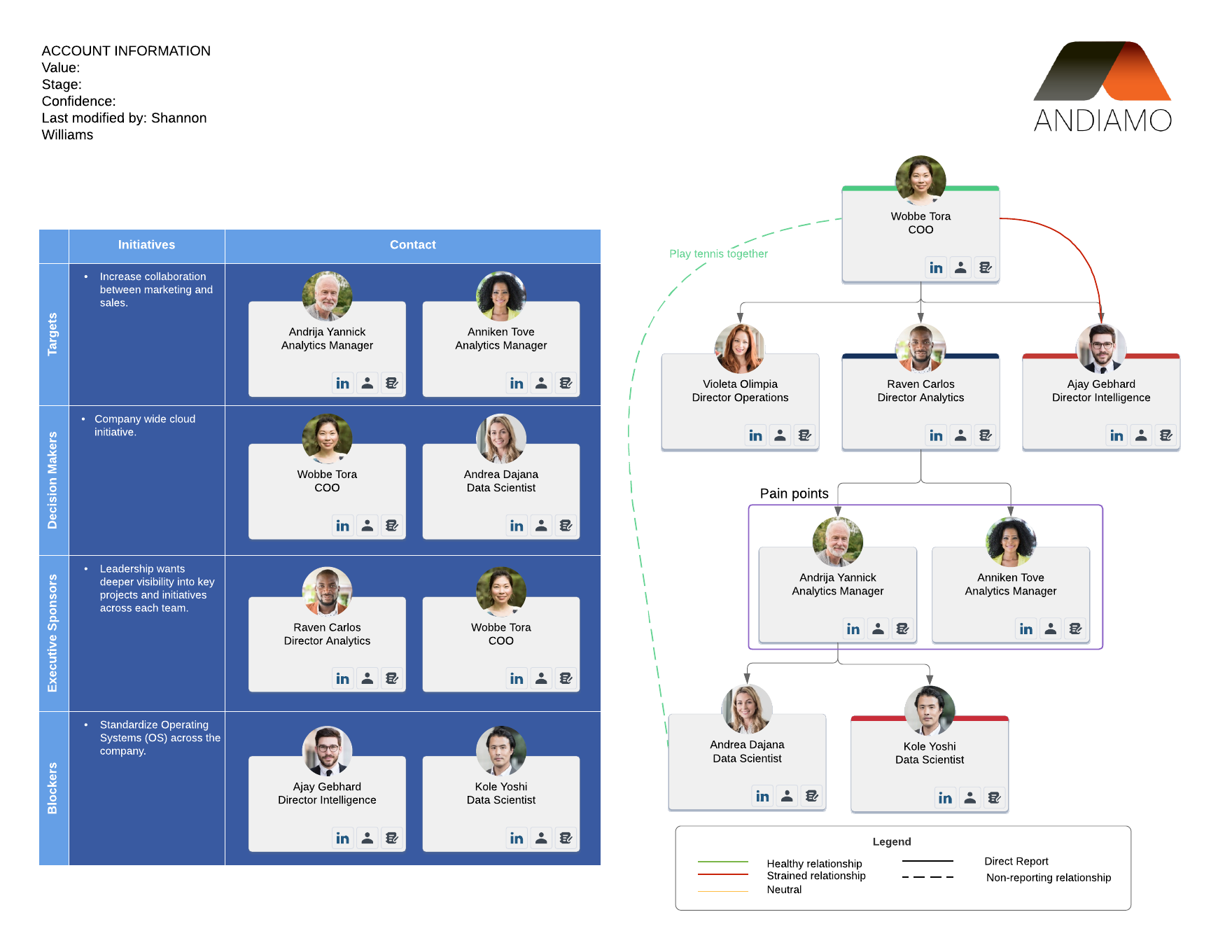 With Lucidchart, sales reps can build account maps from their Salesforce contacts. These visual tools will help reps identify key decision-makers and determine the best path to sale. Once created, account maps are centrally managed and stored in Salesforce so anyone working the account can access them and quickly review a deal's status.
Whatever SaaS sales model you determine will work best for your company, Lucidchart will help you win new clients, retain existing clients, and grow revenue among existing accounts.
Learn how account maps can become a pivotal part of your SaaS sales process.
See the benefits
Lucidchart
Lucidchart, a cloud-based intelligent diagramming application, is a core component of Lucid Software's Visual Collaboration Suite. This intuitive, cloud-based solution empowers teams to collaborate in real-time to build flowcharts, mockups, UML diagrams, customer journey maps, and more. Lucidchart propels teams forward to build the future faster. Lucid is proud to serve top businesses around the world, including customers such as Google, GE, and NBC Universal, and 99% of the Fortune 500. Lucid partners with industry leaders, including Google, Atlassian, and Microsoft. Since its founding, Lucid has received numerous awards for its products, business, and workplace culture. For more information, visit lucidchart.com.
Bring your bright ideas to life.