There's no "I" in sales: How to close more deals with team selling
Lucid Content Team
Reading time: about 8 min
Today's B2B sales environment is increasingly complex—for both the buyers and the sellers.  One of the best ways to cut through the noise and distinguish yourself from the competition is to make the buying process easier for your prospects. 
One way to do this is through team selling. 
Team selling leverages the expertise and skills of a cross-functional sales team to hone in on a buyer's unique concerns and address those pain points clearly and effectively.
Here's how.
What is team selling?
Team selling is a sales strategy commonly used in account-based selling to close more deals. Simply put, team selling is a collaborative sales approach where two or more team members work together to win business—rather than work those accounts on their own.
Team selling may be as simple as bringing on another sales member or specialist from another department on a call to address specific concerns a client may have (e.g., manufacturing, customer service, or technical questions). 
Other times, team selling is applied as a more comprehensive strategy to handle complex deals, which might include building a more formal cross-functional team with representatives from sales, marketing, customer service, and senior leadership to collaborate throughout the sales cycle.
Why team selling works
Sales has traditionally been a culture of competition—with team members pitted against one another, their stats and rankings displayed on leaderboards for everyone to see. 
But while competition has its merits, collaboration may be your new secret weapon. According to research by Gong.io, team selling increases your chances of closing a deal by up to 258% compared to selling solo. 
There are a few key advantages of team selling that make it such a powerful sales strategy.
1. Strengthens relationships and business partnerships through collaboration and communication
One of the biggest strengths of team selling is its ability to bring people together—both within an organization as well as with its prospective clients and partners. 
Often, sales teams are siloed from the rest of the operations in a company. This situation is even more likely in larger companies with big teams and departments that might be housed in different parts of the building or in different offices altogether. As a result, interactions and communication between teams may be uncommon or sporadic. 
However, when organizations take a team selling approach, they build or repair those internal lines of communication, increasing trust between teams and making it easier for information to flow between departments. 
With lines of communication open across teams, there are greater opportunities to collaborate and improve processes throughout the sales cycle as teams share insights and feedback. These opportunities lead to better information, resulting in better sales pitches and shortened sales cycles as you build stronger partnerships with your prospective clients.
2. Engages customers on a personal level rather than just on pricing and terms
Team selling gives you better insight into your buyer's unique needs and expectations because you have the advantage of multiple perspectives and expertise. When you can anticipate buyer needs (and even provide new insights they hadn't considered), you become a trusted advisor and partner in the process. 
Suddenly, the sale isn't just about price and contract terms, it's about the quality of the relationship.
This aspect is especially powerful when you collaborate with senior leadership. Executives can lend weight to your offerings and give you long-term perspectives you may not have been aware of that can strengthen your bid and lead to larger deals.
See our tips for building a better customer relationship in the discovery process.
Read now
3. Demonstrates your company's expertise and leadership in the field
When you involve specialists from other teams or departments to answer the buyer's questions, you are more likely to address their unique concerns with clarity and expertise. 
Presenting the buyer with this expertise increases your credibility and builds trust in your ability to meet their needs, further setting you apart as a leader in your industry.
4. Ensures you have a clear understanding of the client's needs and expectations
In a similar vein, as you lean on the expertise and insights from other team members in your organization, you ensure you ask the right questions and gather the information you need to develop a clear and full picture of your client's needs and expectations. 
You can drill down to the client's main concerns and identify any blocks faster, shortening the sales cycle while improving client satisfaction along the way.
5. Provides flexibility to make better offers
The team selling approach also gives you greater flexibility to adapt your offer to a buyer's unique requirements with non-standard contract terms.
When you work with other departments, everyone is invested in the sale. It will be easier for you to develop and get sign-offs on non-standard terms that better address your client's expectations. 
Flexibility on price, deliverables, and other terms improve your chances of closing the deal and satisfying the client.
6. Builds the buyer's confidence in your organization and differentiates you from the competition
As you seek out and rely on feedback, insights, and support from other team members and departments, you can develop stronger sales pitches, build a more personal rapport with your buyers, and understand and address their needs more fully.
All these advantages work together to build your buyers' confidence in your organization and to differentiate you from your competitors.  
How to implement a team selling approach effectively
Team selling can be a powerful sales strategy with big returns, but only when implemented effectively. If you decide to use a team selling approach, apply the following best practices.
Clarify team member roles
Team selling isn't about having just any two people on a call. To be successful, you must have a strategic and deliberate sales structure. To that end, you must define each team member's roles clearly before collaborating on a deal.
For example, before moving forward, you should clarify: 
Who will be the client's point of contact
What each person's assignment or responsibility is (e.g., who will take lead on a call, who will take notes, who will lend support on questions)
When team members should be introduced or leveraged in the sales cycle 
How and when team members are introduced in the sales cycle can impact their effectiveness. For instance, you probably don't want to bring on a sales engineer or SME during the prospecting phase. You need to first qualify and evaluate the client's needs. But the technical expertise of a sales engineer or other team member can lend invaluable insight and credibility to your call during a demo or closing phase. 
By clarifying each person's role and responsibility on the account, you can ensure a smoother sales process and seamless handoffs. 
See our blueprints from Winning by Design for ideas on how to effectively structure your sales org.
Choose team members strategically
As you build your team, choose people with the right mix of skills, experience, and personality—both for the client and the team itself. Team selling works best when team members have skills and personalities that complement one another and support the greater goals of the account. 
Establish a clear reward system
One of the challenges of implementing a team-based sales structure is determining how to fairly compensate each team member. 
In traditional sales structures, competition is the name of the game. Typically, these teams reward reps with individual commissions for each deal they close. In a team selling environment, each member's contribution is less clear. 
You have to get your sales compensation plan right in order to effectively motivate your team. Without it, your team selling strategy won't have legs to stand on. 
Use account maps
Team selling is often implemented to handle complex deals. With a lot of moving parts and contributing players, accounts can quickly get messy and confusing. 
To avoid this, use account maps to visualize your accounts for each client. Visualizing your accounts helps your entire team understand the account and all its moving parts, identify gaps in data, contribute their own expertise, and avoid duplicating work. 
Account mapping gives you a clearer picture of your accounts while making the sales process more efficient.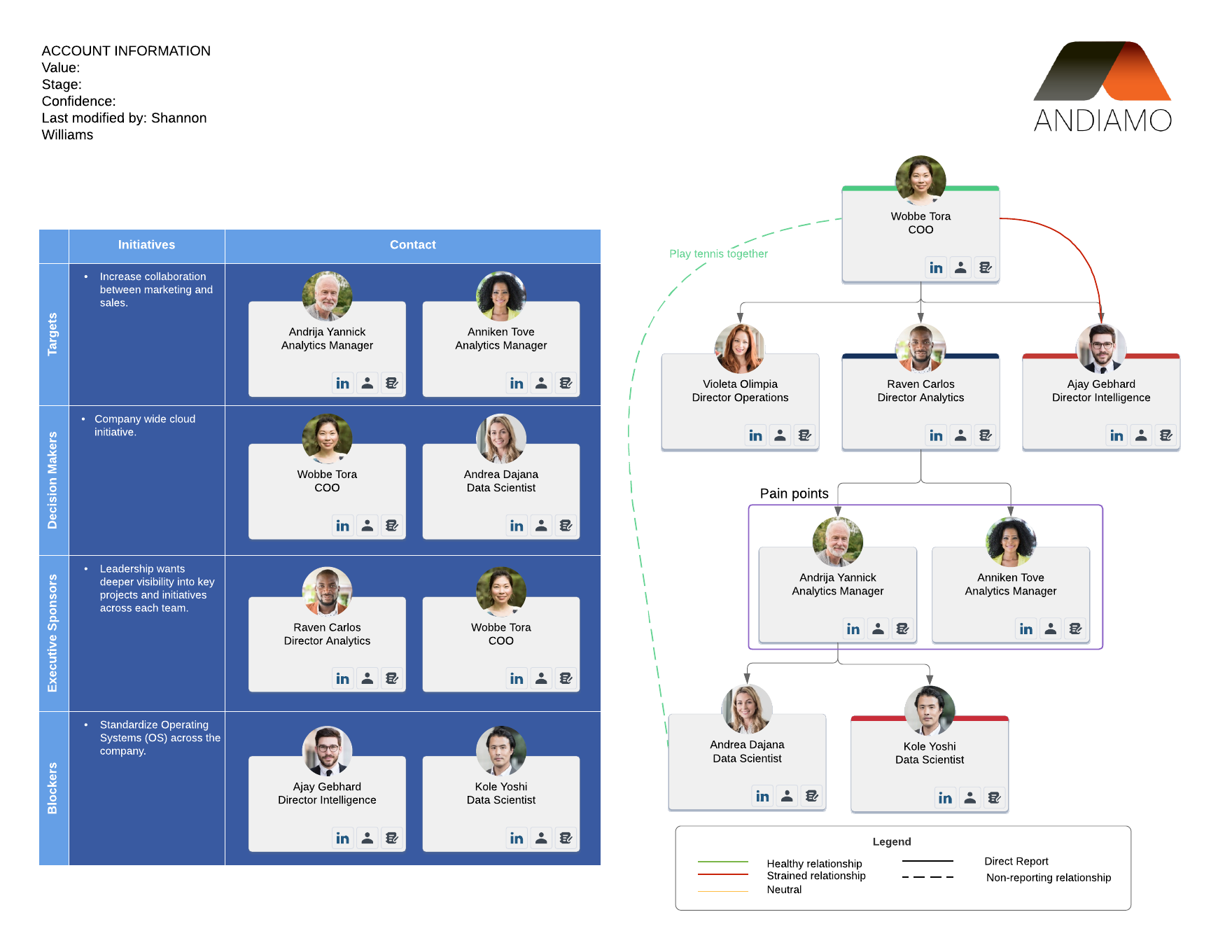 Remove data silos
One of the biggest potential benefits of team selling is better information-sharing. However, team communication won't be effective if you aren't working from one source of truth. To create a successful environment for team selling, you need a central place for documentation. 
Make sure all key players have access to the same information, a process that can be as simple as documenting and sharing files from Google Drive or integrating data on a platform like Lucidchart.
Hold regular deal reviews
Feedback from a cross-functional sales team is one of the biggest advantages of team selling. Regular and timely feedback throughout the sales cycle helps sales organizations pinpoint what works and what doesn't for each account. It contributes to a culture of continuous learning so that your sales team adapts and improves with every account.  
Formal deal reviews (including executive, team, and individual reviews) are a great way to ensure the team is functioning smoothly and the deal is on track. Combined with regular sales call reviews and informal brainstorming and feedback meetings, you can create a culture where everyone is looking for ways to improve and support each other in the process.
Gain the insights you need to close deals faster.
Read more
Team selling can be a successful strategy for many teams and situations. As you consider a team selling approach, keep in mind that team selling is only as successful as your foundation. 
Use these tips and best practices to ensure you build a solid sales structure based on trust, collaboration, and communication and you will close bigger and better deals together.
See how our solution can remove data silos, align your revenue team, and find the best path to sell.
Learn more