What Is a Workflow? Benefits and Examples of Repeatable Processes
Lucid Content Team
Reading time: about 7 min
According to Wikipedia, a workflow "consists of an orchestrated and repeatable pattern of business activity enabled by the systematic organization of resources into processes that transform materials, provide services, or process information." Maybe Wikipedia meant to say, put more simply, "a workflow defines the steps involved in the process of getting work done."
A business workflow is a repeatable process that consists of a series of tasks that generally need to be completed in a specific sequence. Think of it as work flowing from one stage to the next until it is finished.
Workflows are useful for ensuring that important processes are done the right way every time. For example, you may want to define a process workflow for onboarding new employees to ensure that all new employees get the information, policies, and resources they need to do their jobs.
In this article, we will explain why your business needs efficient workflows and show you some workflow examples to help you get started. (Want to just skip forward to the workflow examples? You've got it.)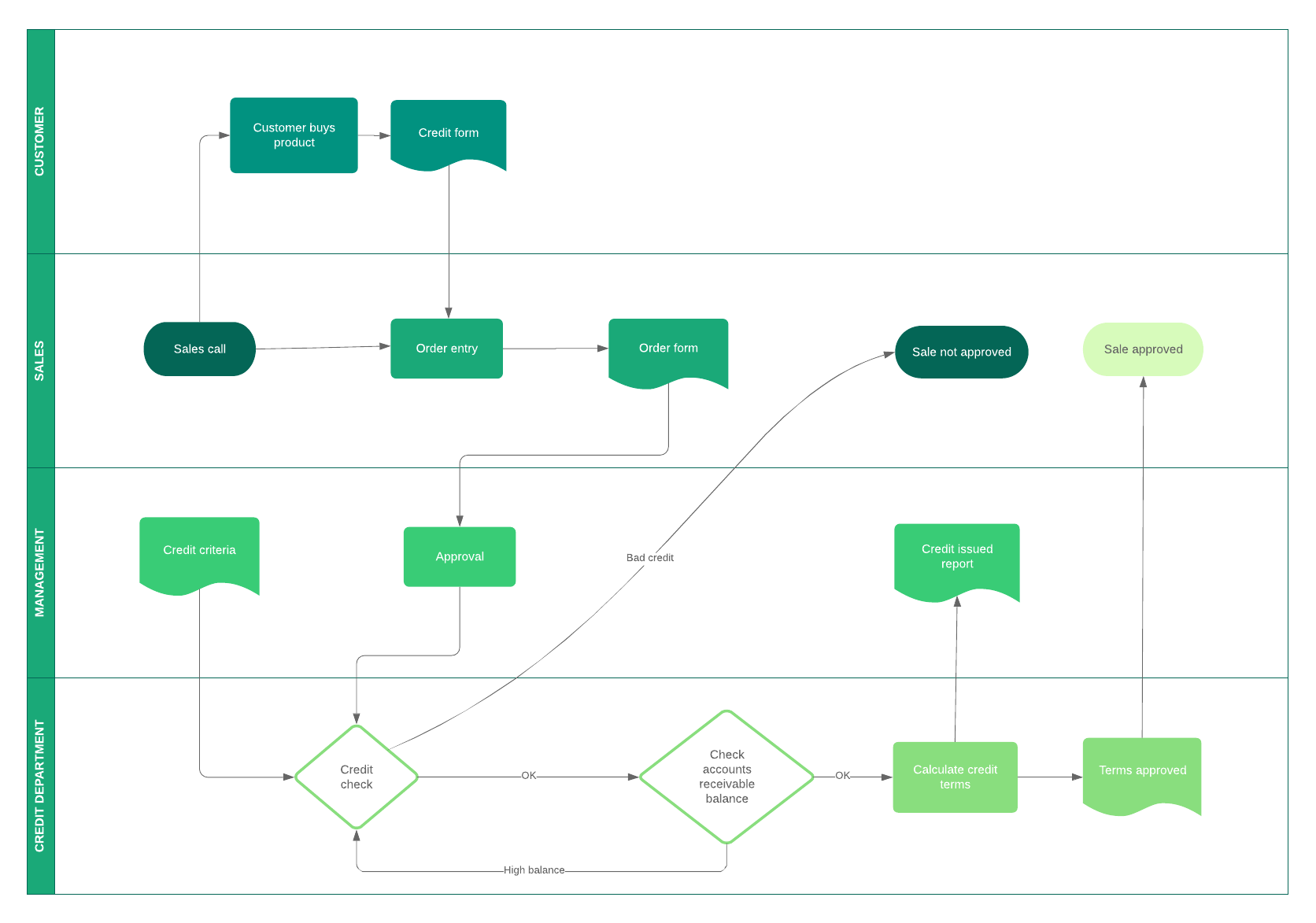 A brief history of process workflows
The concept of workflows can be traced to Frederick Taylor and Henry Gantt, two mechanical engineers in the early 20th century who sought to improve industrial efficiency. Their work led to time and motion studies, which measure the time it takes employees to complete a task or a series of tasks in order to find ways to eliminate redundant or wasteful motion, thus defining a process that employees should follow to perform their jobs as efficiently as possible.
Additionally, Henry Gantt created the Gantt chart—a bar chart used to visually track tasks and milestones in a project schedule. Gantt charts have been used for decades to manage major projects, including the construction of the Hoover Dam and the Interstate Highway system.
As industry and manufacturing grew, so did the workforce. The Gantt chart helped business managers and owners to figure out the most methodical and streamlined ways to get work done. Working with Gantt charts, managers were able to understand and track:
What tasks needed to be completed
Who was responsible for each task
How long it takes to complete each task
Understanding this information made it easier to streamline processes and to ensure that the right people were assigned to the right tasks and that there were enough resources to complete the task.
Why do you need workflows?
You may have a good idea of what you need to do to get your job done, and you might be resistant to being tied to a strict process. That is understandable because people generally don't like change. Often people get locked into thinking that what they are doing is the best way because it's the way they've always done it.
However, it's a good idea to look at creating a workflow for common procedures that are repeated often for the following reasons.
Improve business operations
By defining specific steps and sequences needed to complete a task, you can improve business operations by ensuring that the job is completed by the proper people, in the proper order, and within a specified timeframe.
A workflow can be designed for one person or for a group of people whose roles and assigned depend on each other to complete the project. For example, a simple workflow could describe the process for approving content in a software installation guide:
A technical writer documents the installation instructions based on information gathered from subject matter experts.
The document is sent to subject matter experts for review.
The writer incorporates changes based on the review.
The document is sent for final review.
Document is approved or rejected.
(Rejected) Writer revises draft and submits again.
(Accepted) Document is published.
Writing down the steps is not exactly a workflow, but it is a good start. Formalizing and visualizing these workflows, like the example shown below, will help others understand these processes and make your business more efficient. We'll show you how to diagram a workflow a little later.
Eliminate redundant processes and activities
Startup companies are usually small and have fewer processes and activities in place than more mature enterprises. Using workflow diagrams and updating them as the company grows can help you more easily detect redundancies and eliminate waste better than simply observing and trying to track workflows with your eyes.
Implementing workflow management into your daily activities allows you to see the entire operation from beginning to end. And it becomes easier for you to incorporate changes to improve workflow and get rid of unnecessary steps, roles, and activities.
Reduce operational expenses
A workflow diagram can help you define best practices and streamline your business operations. As processes are streamlined and work gets done faster, you may find that you need fewer resources to get the job done. This can lower your costs as your profits increase because you can still meet the same goals and objectives with fewer resources.
Quickly respond to issues or problems
In the old days, like the '80s, workflow diagrams (or flowcharts) were drawn on paper, if they were drawn at all. It was a real chore to update these diagrams to address changes in processes. Because of this, some businesses were "set in their ways" and were inflexible and slow to respond to changing markets and evolving customer demands.
As the economy became more global and companies expanded beyond their native borders, it was more important to understand business processes and workflows so they could stay relevant in their markets. But the process of creating a workflow diagram was still very tedious and still on paper, meaning that workflows could become outdated very quickly after publication and implementation.
In the '90s, workflow management software was created to replace the paper-based workflow diagrams with electronic-based flowcharts that could be saved on a computer and updated with a few clicks. By the year 2005, software-based workflow management systems became more robust with the addition of Business Process Modeling and Notation (BPMN) tools.
Moving the workflow and business modeling tasks into software-based systems made it much easier for managers to make changes to the diagram and respond to changes with just a few mouse clicks.
Automate processes
Business process workflows can help you see places in your operation that can be automated. For example, customer care procedures can trigger certain actions, such as emails and special offers, that will encourage customers to buy again. This type of automation can free up salespeople to concentrate on finding new customers and leave customer care associates to address any issues or problems that customers may face.
A workflow can help you see where to automate simple tasks such as sending work items from one employee to the next in a process that requires several people to complete specific tasks in a specific order. Automation makes it easy to analyze business operations, see trends, prepare for risks, and plan for expansion.
Examples of workflow
Mapping out a process workflow is not limited to certain roles or organizations within an organization. Workflows can be useful to any department that is interested in getting work done as efficiently as possible, including engineering, marketing, production, HR, sales, IT, and operations.
When you sign up for a free Lucidchart account, you can diagram any kind of business process, data process, and workflow that you need. Our extensive template library includes workflow examples for recruiting processes, IT project management, manufacturing flows, processing and qualifying leads, customer support processes, and much more.
Use the templates below as a starting point for defining your own processes, and sign up today for even more templates.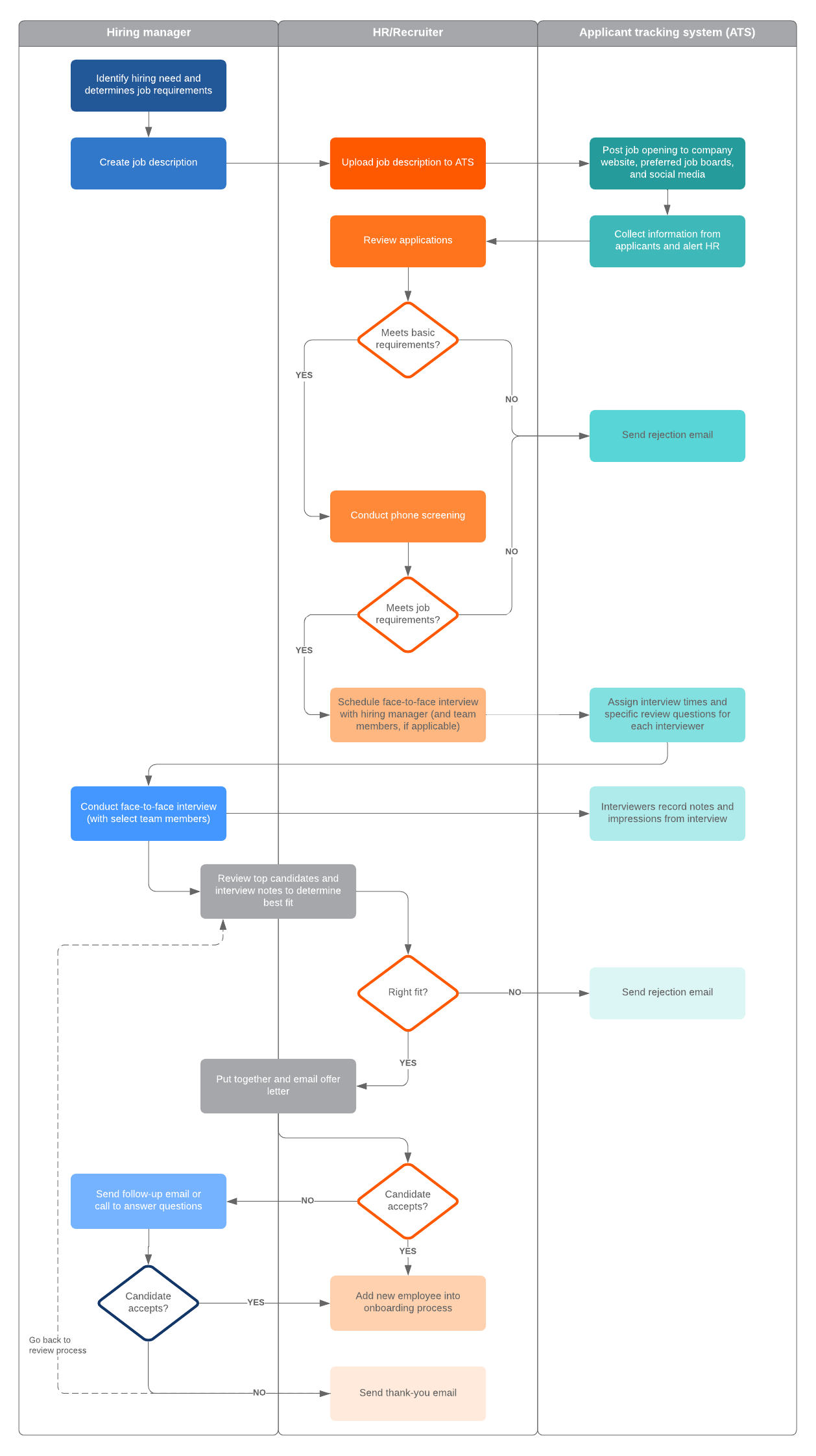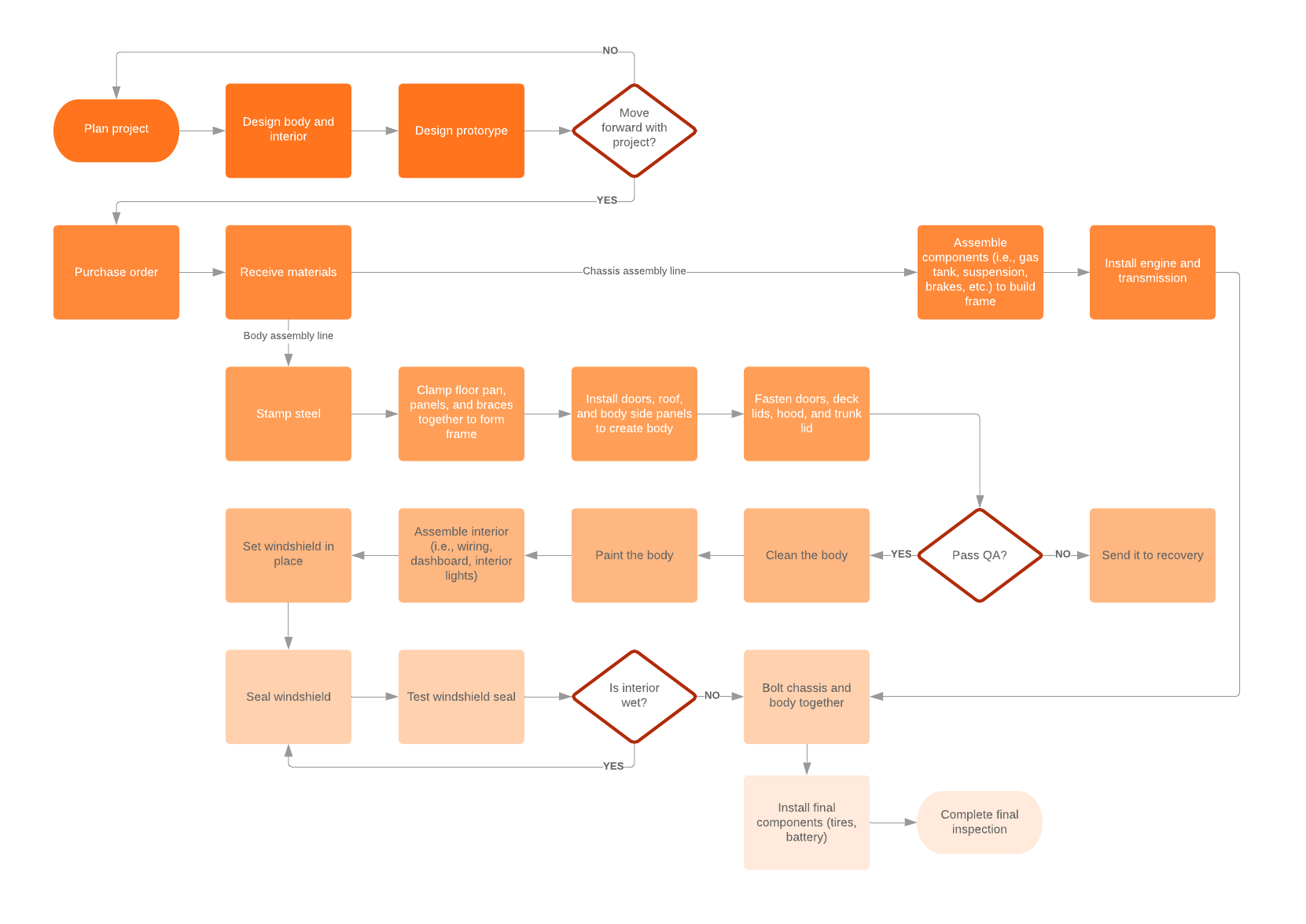 Getting started with Lucidchart
Lucidchart templates are web-based and easy to use. Because these documents are stored in the cloud, they can be accessed from anywhere and any time. You and your team members can work on the same document at the same time from anywhere in the world. Lucidchart gives you real-time collaboration and promotes effective teamwork.
Visit Lucidchart and sign up for a free account so you can get started diagramming your important processes today.