Block diagram maker
Visualize systems and how they interact with Lucidchart. Create a free block diagram online with our intelligent diagramming software and get an overview of your entire system—no matter how complex.
Make a block diagram
See why millions of users across the globe choose Lucidchart.
Block diagram software made simple
Learn how our block diagram generator can help you create block diagrams, including functional block diagrams, with ease.
Use built-in shapes
We make building a block diagram easy—our shape libraries include hundreds of industry-standard symbols and notations for things like electrical components, audio systems, and more.
Try a block diagram template
For an even faster start, begin with one of our customizable templates. Once you've built your diagram, use our intelligent formatting features to arrange it to your liking.
Collaborate with ease
Block diagrams help you communicate a high-level overview of your system to less technical stakeholders. Take advantage of powerful collaboration features like in-editor chat, comments, and @mention notifications to enable teams to work together in real time.
Work anywhere
Our block diagram software is cloud-based. Make your block diagram from anywhere, no matter what browser, operating system, or device you prefer to use.
Leverage Lucidchart's integrations
Insert block diagrams that you have created in Lucidchart directly into Confluence wikis and Jira issues using our Atlassian apps. Include a link to your live Lucidchart document to provide more context for pull requests within GitHub. Thanks to integrations with platforms like Google Workspace, Microsoft Office, Microsoft Teams, and Slack, you can access, edit, and share your diagrams from anywhere.
Trust our excellent reviews
Need a second opinion? Take a look at our reviews on third-party apps like Capterra, G2, and TrustRadius. We have thousands of five-star ratings and glowing reviews.
Just 3 minutes to learn to use Lucidchart
Create your first block diagram. You can start from a blank canvas, or you can get a head start by using a template or importing a document.

Fill out your diagram with shapes and connecting lines, then write in text to describe what they represent.

Format your diagram and adjust the styling to make it look just right.

When you need to find a feature, use Feature Find to locate it right away.

Share your diagram with your team to get their feedback, or invite them to collaborate on it with you.
Block diagram templates
Use a free template from our gallery to start working on your block diagram.
Lucidchart integrations
Connect Lucidchart to your favorite industry-leading apps.
See why teams use Lucidchart as their block diagram maker
Diagram, visualize data, and collaborate all in one platform.
Collaboration
Use Lucidchart on any device with ease. Lucidchart helps teams collaborate in real time from anywhere in the world. Enhance productivity while working with your team to achieve your goals.
Clarity
Lucidchart brings clarity to the complex. Intelligent diagramming allows you to quickly visualize projects and processes from start to finish.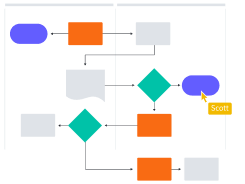 Alignment
Drive alignment with your team by collaborating in the same space. Quickly map out processes and ideas together in real time so that you never miss a beat.
Better together
The Lucid Visual Collaboration Suite transforms the way you work from ideation to project completion. Brainstorm and plan in Lucidspark, then map it out in Lucidchart. Create a living blueprint of your organization.
What is a block diagram?
A block diagram is a specialized flowchart that engineers use to visualize systems and how they interact. Block diagrams give you a high-level overview of a system so you can account for major system components, visualize inputs and outputs, and understand working relationships within the system. Use Lucidchart's block diagram creator to tackle complex system overviews when designing hardware or software and implementing process improvements.
How to make a block diagram
Start to visualize the system

Begin with a blank canvas or one of our templates. Identify the components, inputs, and outputs of the system you're diagramming.

Add symbols

Drag and drop symbols and notations from Lucidchart's shape library onto your canvas. Connect the shapes in your block diagram with arrows to indicate the flow of data.

Label inputs and outputs

Identify and label the input at the beginning of your block diagram and do the same for the output at the end.

Present, publish, or share

Present your block diagram directly from Lucidchart with Presentation Mode or share it. You can send it to others as a published link or by using one of our supported integrations.
Frequently asked questions about block diagrams