In our webinar last week, Angie and Jorge shared ten Lucidchart features that can work wonders for increasing productivity. They offered tips and tricks for making your work easier as you build, share, and present diagrams around ideas, processes, and systems. You definitely want in on these, so in case you couldn't make the webinar, here's a little recap.
1. Easily style shapes
When creating a diagram, chances are you've got specific fonts and colors in mind that you want used throughout. You could go back and update these preferences for every single shape—but that would be a) decreasing productivity and b) a royal headache. Instead, before you drag any shapes onto the canvas, choose the font, font size, font color, and line style from the Properties bar at the top of the editor. After doing so, the styling you've chosen is automatically applied to every shape you drag and drop onto the canvas.
2. Create clean diagrams
You may notice that as you drag shapes around, sometimes the connecting lines have a mind of their own. Angie has an easy hack for getting lines to make the most efficient (rather than the most creative) connections between shapes: smart lines.
To create a smart line, rather than dragging and dropping a line directly to the edge of the next shape, pull the line just past the edge until the shape gets the blue "halo" effect. Release your mouse, and you've got yourself a smart line that will make smart connections.
3. Work faster
Make life easier with our nifty keyboard shortcuts. We've got quite a few, all of which you can find in the editor by selecting the Help menu and choosing "Hotkey Reference." Angie shared two of her favorites during the webinar.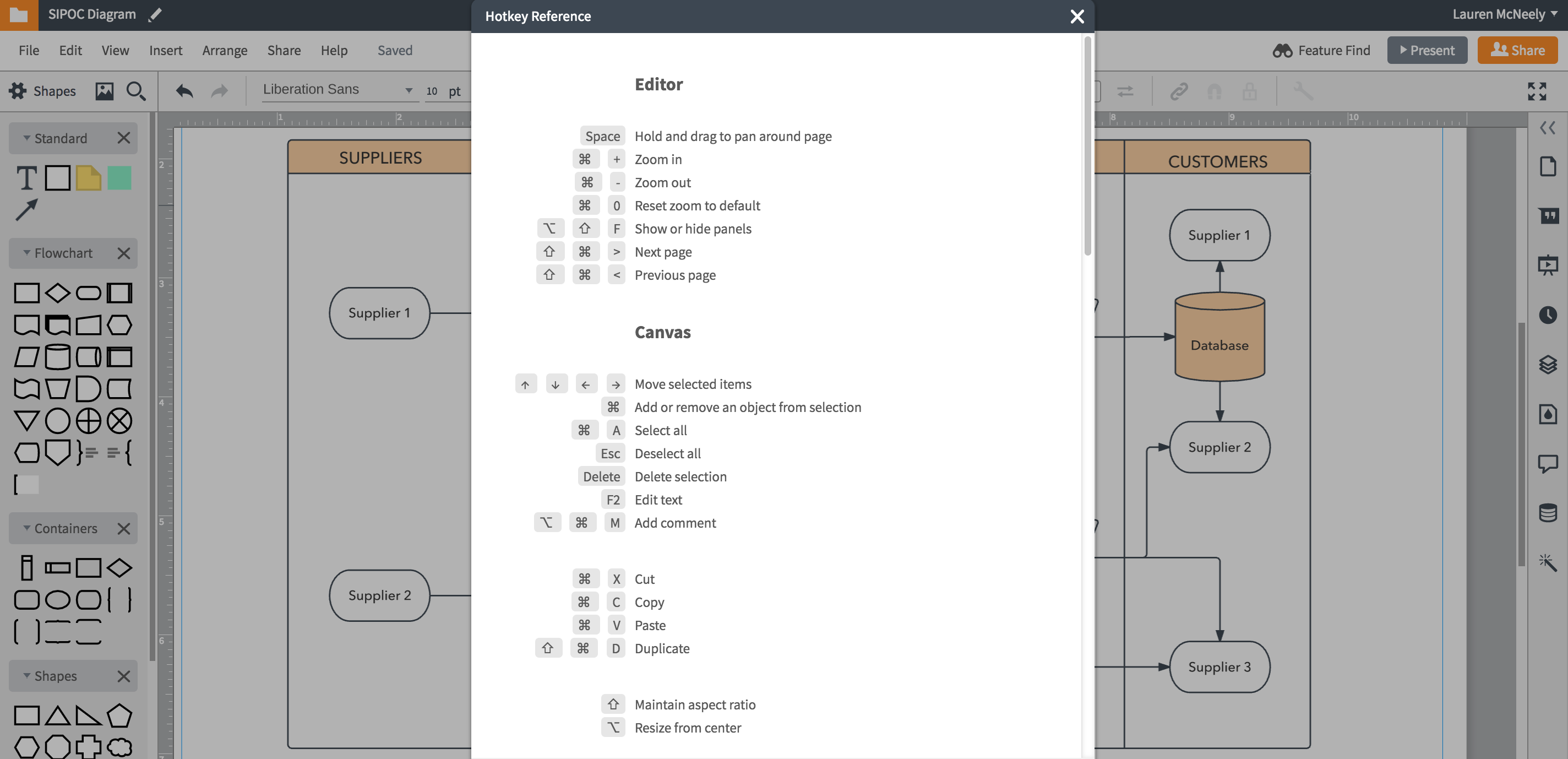 To easily zoom in and out of your diagram, hold down the space bar and scroll up and down with your mouse—this is especially helpful when you're dealing with large diagrams.
To make more precise adjustments to your shapes, select the desired shape, hold down the Shift key, and use the arrow key for subtle movements that get your shape just the way you want it.
4. Expand your canvas
You can make some pretty big diagrams in Lucidchart, and things can start to feel pretty cramped on your canvas. Good thing there's a one-click solution for that. Select the full-screen button in the top right corner—all the panels in the editor will disappear, leaving you with an enlarged canvas for fleshing out all those ideas. Anytime you need to access the Toolbox, Properties bar, or any other feature, you can activate it by hovering over where it would normally appear in the editor.
5. Organize your diagrams
Diagrams can get very complex as they involve more steps and people. An easy trick for keeping these diagrams organized and easy to read is to use swimlanes. In the example below, each lane represents a different department. Any step in that lane must be completed by that specific department. Instead of making your diagram a color-coded rainbow to indicate who owns which step, you can simply place your shapes in the appropriate swimlane container.
To access swimlanes, click the search icon at the top of the Toolbox and search for "swimlanes." You can then pin the swimlane shape library to your Toolbox for easy access. Swimlanes are smart shapes, which means that when you drag and drop one onto the canvas, a gear icon appears in the top right corner of the shape. Click the icon to increase the number of lanes or adjust the orientation of the shapes and labels.
6. Keep diagrams easy to read
There's always additional detail you could add to a diagram. But what's the point of creating a visual if you stuff it full of text? Provide all the necessary info while still keeping your diagram clean and easy to read using shape actions. Select a shape, click the link icon in the Properties bar, and select an action for the shape. You can toggle, show, or hide layers, link to another page inside the document, link to an external page, or link to an email. For example, if you choose "External Link," you can link the shape to a Google Doc containing additional context needed for that particular step.
7. Collaborate without leaving Lucidchart
Once you've got a diagram built, you'll want to gather feedback from others. Avoid giant email threads that lose or construe information by having these conversations without ever leaving Lucidchart. With our commenting feature, you can leave comments on specific shapes or the document as a whole. To make a shape-specific comment, select a shape, choose "Comment" from the right-hand Dock, and select the "+" symbol. You can even @mention in your comment to alert certain people that feedback or review is needed. To find the location of a comment, click the pin icon in the top left corner. You can also use Lucidchart's chat feature to converse inside your document or even start a Google hangout.
8. Add necessary context
When you have thoughts or feedback that needs to stay permanently attached to a particular shape, use the Notes function in Lucidchart. Right click a shape, choose "Add Note," and include whatever information is needed. A grey icon indicates that a shape has a note.
9. Present your diagram
Once you've received feedback and finalized your beautiful diagram, it's time to present the system or process and get the buy-in you need to move forward. Instead of presenting the diagram all at once, use presentation mode to break your diagram up into a polished slides presentation.
Click the slides icon from the right-hand Dock and click "+ Slide." A yellow box will appear on the canvas—anything within that box will be included in that slide. Click "Present" to view your presentation. Presentation mode lets you craft the story around a diagram and leaves you in control of your presentation.
10. Publish your diagram
Make your diagrams public by clicking the share button and choosing "Publish." If you choose full document URL, you can generate a URL that provides a view-only experience that anyone with the link can use. They can't edit the diagram, which means you can make it available to as many people as you'd like while still controlling the state of your document.
And that's a wrap. Ten ways to instantly make work easier. Give these features a try, and be sure to share them with your entire team so you can get the productivity level at your organization on a whole new level!
Ready to give these tips a try?
Try Lucidchart today!