Network diagram templates and examples
Lucid Content Team
Reading time: about 5 min
Sample network diagram template
No matter your experience with network diagrams, if you want to map out a full network, use this sample network diagram template and add the custom shapes and devices to represent each entity that interacts with your network. Drag and drop shapes from our network diagram shape library, and when you're finished, you can publish or share your diagram with everyone to reference.
AWS architecture network diagram template 
Try this AWS architecture network diagram template to map out your AWS network when transitioning to the cloud, meeting PCI compliance, or creating a visual reference for team members. Save time and use Lucidchart Cloud Insights to build your AWS architecture diagram automatically.
Azure architecture diagram template 
Do you use Azure for your cloud infrastructure? Try templates using our Azure architecture diagram tool and visualize your cloud environment so you can troubleshoot problems, document compliance, and understand your current and future states of your architecture. Use Azure icons in Lucidchart to build your architecture diagrams from the ground up.
GCP architecture diagram template
Keep accurate documentation of your GCP cloud environment with a template using our GCP architecture diagram software. Whether your organization is transitioning to the cloud or looking for ways to track changes to network architecture, Lucidchart comes equipped with Google Cloud icons to make your job easy.
Bus topology network diagram template
One of the easiest network topology options is a bus network topology diagram. By starting with a central medium, you can then connect all the nodes and entities that function along the same "bus," or backbone of the network. Try this bus topology network diagram template and customize it for your network scenario.
LAN network diagram template
IT professionals find LAN network diagrams most useful for outlining the ways different components interact with each other. If you need to map out the network infrastructure of a smaller local area, use this LAN network diagram template. It's free when you sign up, and it can be useful when shared company-wide to answer related network questions.
WAN network diagram template
Use this WAN network diagram template to map out a computer network that might cover wide geographical areas. If your network extends into multiple states or even countries, start with this WAN network diagram template to easily visualize how each component interacts and operates.
Internet network diagram template
Different devices might require different processes to connect to the Internet. Use this Internet network diagram template to chart out the unique interactions between various devices and keep your Internet connections running smoothly at your company.
Wireless network diagram template
This wireless network diagram template already showcases how various devices connect to a wireless network. Use this network diagram template as a starting point and remove excess devices or add more. Then share it for future reference.
Home network diagram template
The office isn't the only place where you might experience problems with network connectivity. A home network diagram will help you understand how your home devices, like laptops, WiFi routers, and VoIP phones, connect and better prepare you to troubleshoot any issues. Try out this home network diagram template for free!
Security network diagram template
One of the best ways to determine the effectiveness of your network security system is by mapping it out. With this network security diagram template, you can better visualize how devices interact to identify and improve weak points, demonstrate security compliance, and ultimately protect your data.
Logical network diagram template
Logical network diagrams describe how information flows through a network, as opposed to physical network diagrams that show how networking devices connect with wires and cables. Try this logical network diagram template to optimize your network—just customize the template to add your own subnets, routing protocols, and network devices.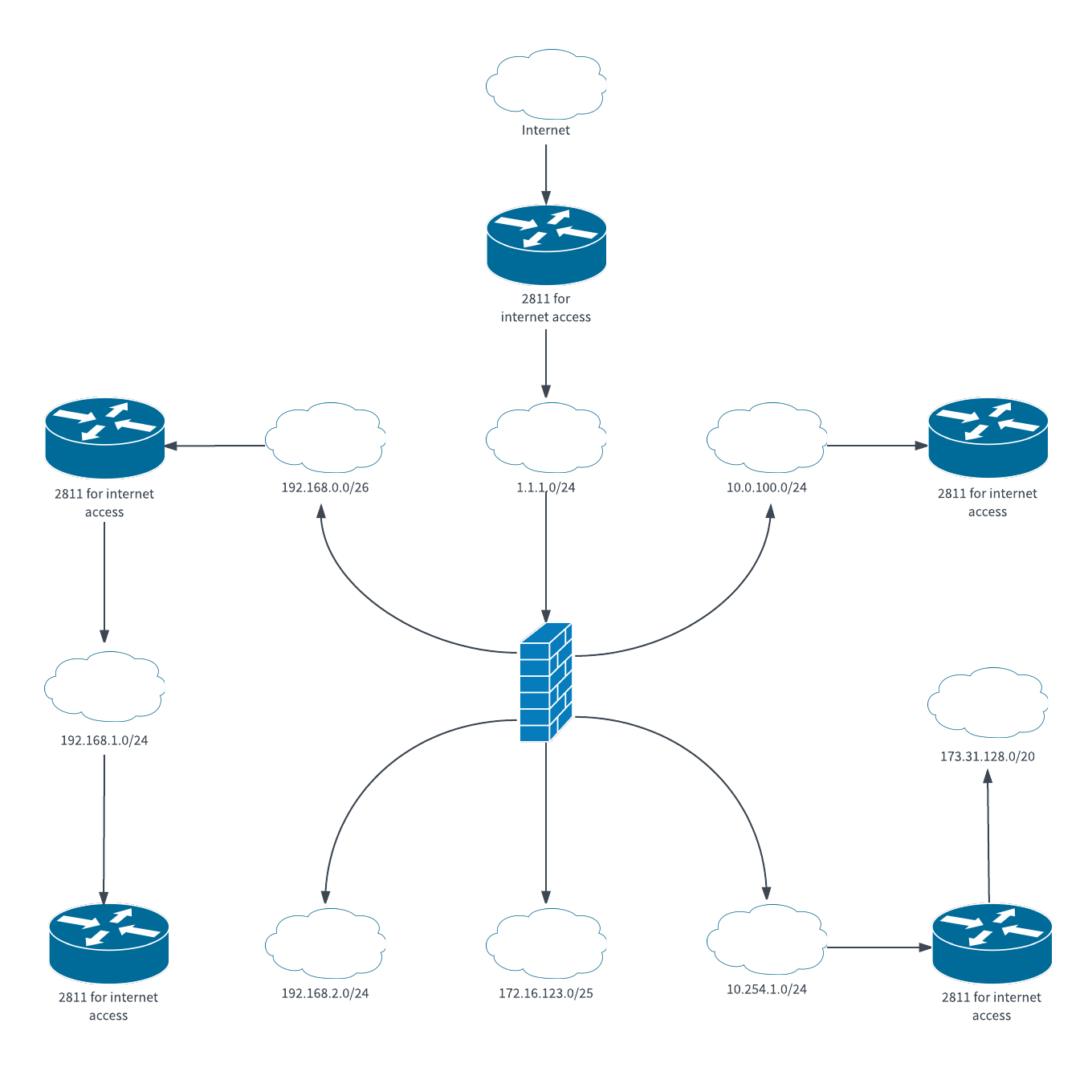 Server network diagram template
Try this server network diagram template to map out your servers and the way various components interact with users and their data. This template is ideal for IT teams trying to gain or share a better understanding of how the servers perform at a company.
Sign up for your free account and reap the benefits today.
Get started
Lucidchart
Lucidchart, a cloud-based intelligent diagramming application, is a core component of Lucid Software's Visual Collaboration Suite. This intuitive, cloud-based solution empowers teams to collaborate in real-time to build flowcharts, mockups, UML diagrams, customer journey maps, and more. Lucidchart propels teams forward to build the future faster. Lucid is proud to serve top businesses around the world, including customers such as Google, GE, and NBC Universal, and 99% of the Fortune 500. Lucid partners with industry leaders, including Google, Atlassian, and Microsoft. Since its founding, Lucid has received numerous awards for its products, business, and workplace culture. For more information, visit lucidchart.com.
Bring your bright ideas to life.