We rely so heavily on technology today that any network problem can halt productivity and cost your company if the issue isn't dealt with quickly. Prevent losses and eliminate frustration with a comprehensive network diagram of your space. You'll be able to pinpoint the issue with one glance at Lucidchart and take off to resolve it.
Haven't tried Lucidchart yet?
Sign up and increase transparency at your company by 57%.
Network diagrams display the components of a computer or telecommunications network, including routers, firewalls, and devices, and show how those components interact. They vary greatly depending on the type of network, but you will likely want two diagrams, a logical network diagram and a physical network diagram.
Why create a logical network diagram
First, illustrate how information flows through your network with a logical network diagram. These diagrams could describe:
Wide area networks (WAN)
Local area networks (LAN)
Virtual private networks
DSL network connectivity
AWS network architecture
You can make this diagram as detailed as you want—it could include just a broad overview or consolidate all of your information, such as IP addresses, in one spot.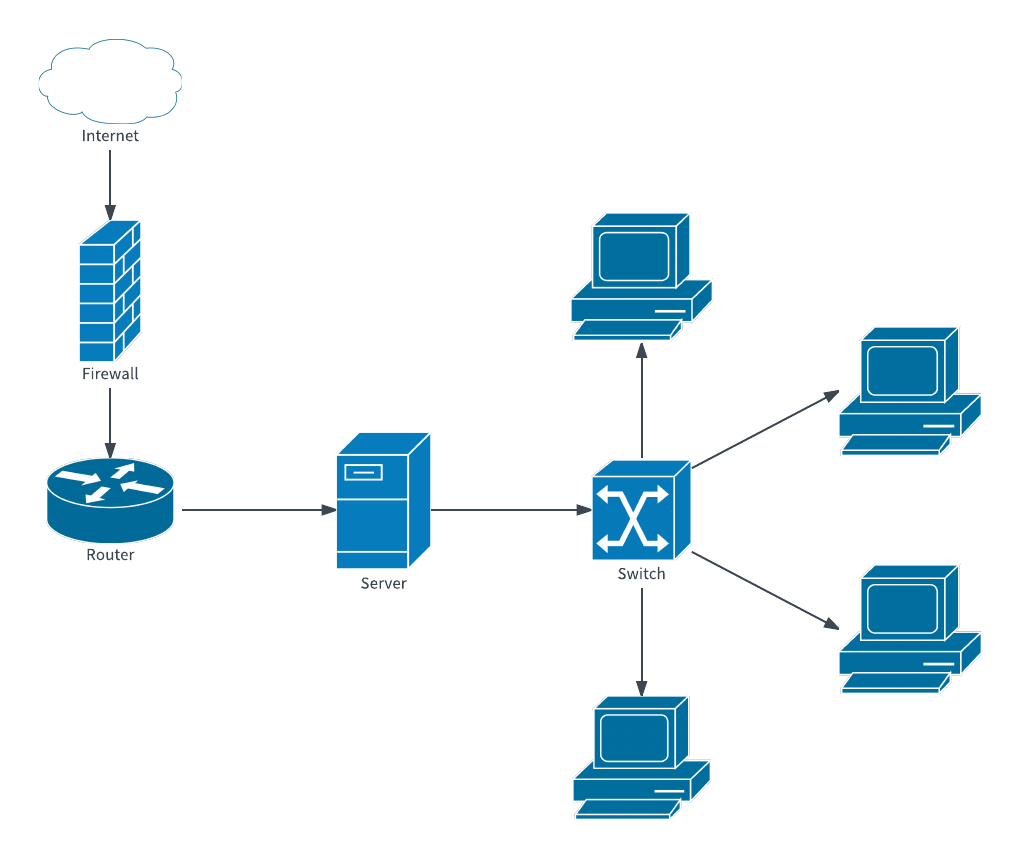 Use this network diagram as a template
Why create a physical network diagram
When you experience an issue with your office or data center network, we're not always talking about a breakdown somewhere in the recesses of the Internet. We're often talking about physical objects that are no longer functioning as they should. Network engineers need a visual presentation of this space to understand where the source of the problem may lie.
Within Lucidchart, you can create a physical network diagram to solve this type of issue. An effective network diagram could display:
Wi-Fi access points and their corresponding channels/frequencies
Wi-Fi coverage mapping to avoid cross-talk between domains
The location of phones, computers, printers, and other devices
A layout of the server rack
Labeled ports to show where computers and other devices connect to the server
The more information you provide within the diagram, the better prepared you will be to solve network issues as they arise.
Use this server rack diagram as a template
Bonus: Other uses for network diagrams
Aside from offering a simple visual for pinpointing possible issues, network diagrams provide many other benefits for your company. They can help with:
Planning network updates
Anytime you need to make a change, refer back to your network diagram. For example, do you need to add more devices to your network? Figure out where you have port space available, how this device will connect to the Internet, etc.
Keeping track of PCI compliance
If you collect credit card information from customers, make sure you have the proper firewalls and access control measures in place and have followed the requirements for physical security. Learn more about how you can make network diagrams to meet compliance standards.
Onboarding
Everyone should be on the same page as far as how the network functions and how all the elements connect. Bring new IT engineers up to speed quickly with thorough documentation.
How Lucidchart can help
As we've hinted, Lucidchart provides the best solution for logical and physical network diagramming. The following features within Lucidchart will strengthen your network diagrams so you have enough information at your disposal to diagnose and troubleshoot errors.
AWS import
If you host your systems on Amazon Web Services (AWS), you can map out your infrastructure right in Lucidchart. Enter your credentials or run a bash script to import all your AWS data, including appropriate shape types, names and relationships between components. When you click a node, Lucidchart reveals all of its connected components so you can draw your network expertly with less hassle.
And guess what?
Our AWS import is now included on all Lucidchart accounts!
Network shape libraries
Lucidchart offers templates for generic network and server rack diagrams, as well as templates specific to Cisco and AWS. If none of the templates match the framework of your office or data center, Lucidchart still has all the shapes you need so you don't have to completely start from scratch. Open our shape libraries for clean, simple symbols to represent your computers, servers, firewalls, etc.
If you are building a physical network diagram, we also have floor plan templates for recreating your office space.
Use this floor plan as a template
Interactive features
With Professional and Team accounts, you can use layers and hotspots to make your diagram's elements easier to see and find.
Layers: You need quite a bit of information to form an effective diagram, but that diagram could become less effective if you dump all of the necessary details in one tight spot. With layers in Lucidchart, you can separate different types of information, such as Wi-Fi coverage mapping or additional details about each port. Just toggle the layers and find the exact information you need.
Hotspots: If your network diagram involves multiple pages, you can use hotspots to show the user where to look next. Hotspots allow you to link to other pages within the document or show, hide, or toggle layers.
Learn more about these features
Collaboration
Your ability to diagnose and troubleshoot issues later on depends on the accuracy of your network diagram now. Confirm that you have complete, correct information with these collaborative features:
Real-time editing with multiple users
Chat and comments
@mention notifications
Support for all operating systems and devices
As your company grows and as you add to your network, you can make changes to your diagram in Lucidchart for all collaborators to see.
Start your network diagrams or switch over your existing diagrams to Lucidchart today!