14 remote team building ideas for the distributed office
Reading time: about 9 min
Today, with virtual and distributed teams being more common in the workplace, managers will need to get creative to build tight-knit, collaborative teams.
Despite the benefits of remote work (e.g., higher productivity, greater job satisfaction, and reduced employee turnover), it can be difficult to build relationships from afar. There is no watercooler to gather around, and you can't strike up a spontaneous conversation at your co-workers' desks.  
So how can you bridge the virtual gap and bring your team together?
Use the following tips and virtual team building activities to increase trust, collaboration, and employee engagement from anywhere.
Why remote team building is important
Employees who work in an office together build relationships naturally through face-to-face interactions, meetings, lunches, and office events. Remote teams don't have the advantage of in-person face time to build those bonds, so companies need to facilitate those interactions virtually through remote team building activities, games, and exercises.
Virtual team building games and interactions help remote workers feel included and connected to their team and the overall company culture. These activities result in happier and more productive employees, more effective teams, and a stronger company. Win-win!
Check out our on-demand webinar with Bryan Stallings for additional tips on how to bring back the fun and build team relationships in a remote culture.
Watch now
What you need to get started
Remote team building doesn't have to be expensive or time consuming, but you will need effective ways to communicate. If you haven't already, invest in the following tools and technology to keep your team connected:
Video conferencing
Group chat
Visual collaboration platform
Video conferencing adds the visual element that is often missing between remote team members. Video helps people understand body language, see visual cues, participate more interactively, and put a face to their co-workers.
Group chats facilitate casual conversation and virtual office banter, giving employees the opportunity to naturally develop relationships with their co-workers.
Visual collaboration software like Lucidchart and Lucidspark make it easier to work together so teams can communicate efficiently and creatively.   
Virtual team building games and activities
Use the following remote team building ideas to foster stronger relationships on the team.
1. "Watercooler" breaks
Because your team doesn't have the luxury of a physical watercooler to gather around and chitchat, you need to provide those opportunities virtually.
An easy way to do this is to set aside a few minutes before a Zoom meeting or dedicate a short team break during the day to just shoot the breeze.
Let your team talk in a natural, unstructured way before jumping back into work. If they need a little nudge, invite them to share what they did over the weekend, or ask about their pets, families, or hobbies.
A little small talk goes a long way to growing relationships and building trust among team members.
Need help coming up with topics? Try out this watercooler topics template.
2. Share your favorites
Sometimes small talk isn't enough to break down walls. If your team needs some more direction, try an icebreaker activity.
One effective icebreaker is "sharing favorites." This activity can be applied to any number of categories (work related or not), making it a great game for any team.
Invite your team to share their favorite thing (via video conference, email/chat, or a shared doc)—the prompt could be anything from favorite ice cream to favorite company product. Have each person submit what their favorite thing is and why. It's a fun way to get to know your team better and jump-start their creativity.
3. Dedicated Slack channels
Use Slack (or your preferred chat solution) to create dedicated group channels for office chat.
You could dedicate one channel for general work collaboration (e.g., the practical communication thread) and others for more fun chats, like funny gifs, pictures of team pets, or fandom discussions.
Team chat threads are a simple but effective way to build camaraderie among remote workers. Get creative and encourage your team to share their own ideas for office group chats.  
4. Team building scavenger hunt
Help your team learn more about each other and discover shared interests or connections with a team building scavenger hunt.
In this remote team building activity, the team won't look for random objects but for the team members who fit each clue or description. For example, your team could search for:
A co-worker with a baseball card collection
The co-worker with the most tattoos
A co-worker with a pet tarantula (or fill in the blank)
A co-worker who goes to Harry Styles concerts every year
A co-worker with the most siblings
The co-worker who's visited the most countries
You can make the clues generic (e.g., co-worker with the most pets), or you can tailor them like the descriptions above to reflect specific team members that each person will have to identify. This is a fun game that will get your team interacting and learning more about one another.
5. Closest to the sun icebreaker
The closest to the sun icebreaker game helps you to get to know your co-workers based on their responses to questions and statements. The game consists of several boxes that each contain a series of concentric circles. At the top of each box is a question or statement. Participants place virtual sticky notes with their names on them on the circles to indicate how much they agree with the statement. The closer to the center circle (the sun) the more you agree with the statement. 
This helps you to understand how different team members think about specific issues. Understanding how they think can lead to better discussions.
6. Team pets org chart
Pets play an important role in many people's lives. If your team has pets, have them share pictures and create funny office titles for them to put into an org chart. For example, a cat could be designated as "Director of Lap Warming" or a dog could be the official "Anti-Squirrel Defense Coordinator."
Encourage your team to be creative and have fun with it. You could even start a pet employee of the month (or quarter) based on team nominations.
Get started with this ready-to-use org chart template:
7. Visual Activities
Remote work can feel isolating at times. But Lucid's Visual Activities can help align teams, no matter how dispersed members may be globally. 
Visual Activities are dynamic, engaging activities that help you gain insights, understand opinions, and analyze data. They make it easy to quickly catch up with your team, take a pulse on how others are feeling, or even decide where to go to lunch. Use one of our existing icebreaker templates or create your own, and in seconds, your team can rank and gain consensus on their top sports teams, the best pizza toppings, their favorite books, and more.
8. Painting night
And speaking of virtual meetups, why not have your team members try to channel Bob Ross with a virtual painting night? If your co-workers already have art supplies handy, select a painting or photograph that everyone has to replicate, or choose a painting tutorial online and have everyone follow along over video chat.
For a fun twist on this activity, find a painting or photograph and have team members recreate it in Lucidspark using shapes and the freehand drawing tool. Either way, make sure your teammates all have a chance to show off their work!
9. Quiz show
Take the classic trivia night online with our template below. You can use general trivia questions, choose a timely theme (e.g., for Women's History Month in March, you can include questions about female trailblazers), or come up with questions about your team members or company history.
With the last option, your activity doubles as a fun break and a chance to get to know your co-workers and company better!
10. 2 truths and a lie
This icebreaker game is another simple way to learn more about your co-workers. Each team members should come up with two true statements about themselves (for example, "I have broken my left arm three times" and "As a child, I starred in a toothpaste commercial") and one false statement. Other team members have to determine which option is the lie.
11. Bop/banger/groove/jam matrix
Whether you have music buffs on the team or just team members with strong opinions, this remote team building game will spark some friendly debate and could even be good practice for projects with nebulous requirements.
Create a list of songs—they could be random or all relate to a theme, such as "boy bands"—and determine as a team whether each song is more of a bop, a jam, a banger, or a groove. These terms are not easily defined, so part of the process will be to determine what qualifies as a bop or a jam in the first place.
Use the matrix below to lay out your choices. Afterward, you could convert your choices into a team playlist so your team members have music for every mood while they work from home.
12. Work-from-home bingo
Need a long-term virtual team activity? Put together a list of challenges that your team members can complete remotely, such as completing exercises to relieve eye strain or trying a new recipe. Turn that list into bingo cards, and give a prize to whoever can get a bingo or blackout first.
13. Sticky note race
Nothing beats a good old-fashioned race. Challenge your co-workers to a remote "sticky note race" through a virtual maze. Use this Lucidspark template to set up your individual mazes on a shared doc. Each player will then select a sticky note color and put their first note on the starting square. On "go," each player will race to move their sticky notes through the mazes using only keyboard shortcuts. The first player to complete the maze wins!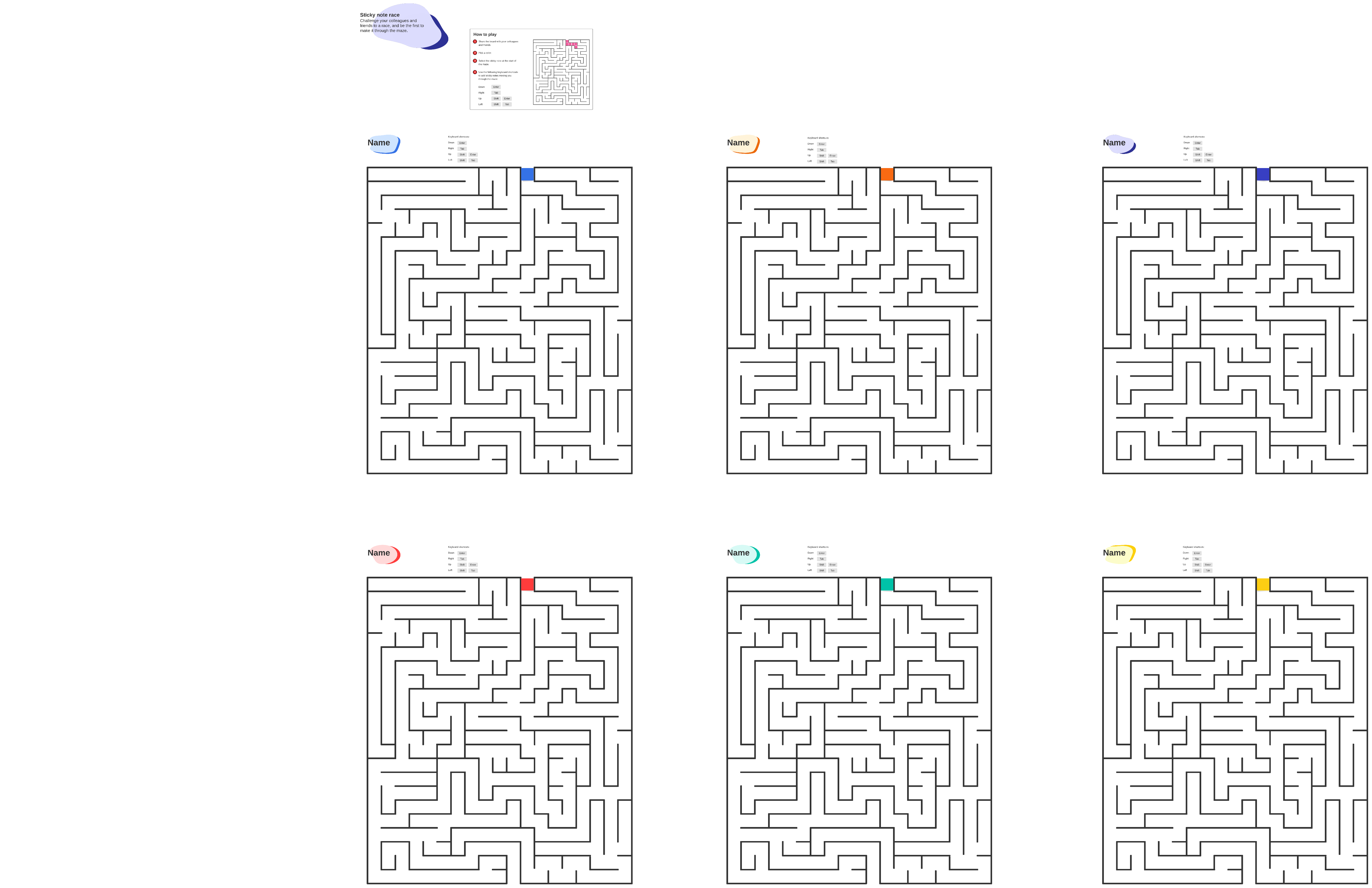 14. Bracket tournaments
Try out a bracket competition—like you'd see for a basketball tournament—to host team competitions or to rank and visualize decisions. The sky's the limit for how creative your team can be with this! You could watch a set of movies over time and rank them, try to find the best coffee brand as a team, and more. This virtual team building activity can be used across a couple of weeks or months rather than just for one meeting.
Bring your virtual team together with Lucidchart and Lucidspark
Team building—onsite or remote—isn't always easy. But with the right tools, you can create a connected and engaged virtual office.
Whether you're working on your next big project or creating a fun, virtual team building game, Lucidchart and Lucidspark will help keep your office connected.
Bring hybrid teams together to brainstorm, align on processes, and work together in real time.
Learn more