Improving time management with Lucidchart
Lucid Content Team
Reading time: about 7 min
We've all heard the expressions: "Time is money." "Time flies." "No time to lose." "No time like the present."
From the looks of it, time is pretty important. Learning how to manage and plan your time responsibly is key to taking advantage of this all-important resource, whether you're focused on project management or personal time management.
The average person uses approximately 13 different methods of time control or management, such as a monthly planner or scheduling software—and for a good reason. A visual representation of your time can provide you with a wider view of where your time is going and, more importantly, where it's being wasted.
With a little help from Lucidchart, you can create visuals that let you analyze the current state of your time management skills, prioritize tasks, and build a customizable planner to maximize your efficiency both in and out of the office.
Lucidchart can help you:
Plan a personal, educational, or Scrum project.
Balance your time with an efficient work-from-home schedule.
Minimize distractions to increase your general output during the workweek. 
Revamp your personal schedule to include new goals, commitments, mental health, etc.
Map out an effective study or homeschooling schedule.
Get started with a time audit
Begin your time management overhaul with a time audit. Choose a few days in your week to record how you spend your time each day, so you can get a clearer picture of which activities take up the most time. A time audit can be completed both with your personal schedule or as a team to increase efficiency.
Take your recorded activities and place them into three categories: very important, not as important, and not important at all, and then rank the activities in order from most important to least important. In Lucidchart, you can easily take the data you've acquired and overlay it on top of flowcharts and other documentation to identify bottlenecks, wasted time, and opportunities to tighten up your schedule.
You can also use Lucidchart's data linking feature to link your audit findings directly to your diagrams to better contextualize your data. Apply conditional formatting to quickly identify areas in your audit where unimportant work is taking up valuable time. This work could include answering unimportant emails, accepting courtesy invitations to meetings, etc. 
Consider sharing your individual time audit with your manager—grant them commenting permissions to allow them to point out where your focus should be and which tasks might be taken off your plate.
Understand what work needs to be done
Take time to establish exactly what it is you wish to accomplish with your time. Whether you're taking the first steps towards planning a project, rethinking your work routine, or renewing your commitment to time management, understanding your objectives is key. 
With your goal firmly established, you can begin to consider what concrete steps need to be taken to maximize your time. If needed, consult with your team members, managers, or in the case of personal planning, family members to brainstorm which tasks should be added to your to-do list. 
Pro tip: Use sticky notes in your initial brainstorming stages to quickly record ideas without worrying about where they fit in the schedule. You and your collaborators can import goals and objectives from any spreadsheet or CSV directly to Lucidchart for seamless brainstorming. 
In Lucidchart, you can visually map out the requirements for your project or goal using wireframes, mockups, customer journey maps, or flowcharts, depending on the nature of your goals. 
Use your visuals to confirm with yourself or stakeholders that you've included all the necessary objectives in your project. Our platform makes it easy to select a diagram template, plug in your information, share your visual with collaborators, and edit your document as objectives evolve. 
Prioritize work and delegate tasks
A key element to any sort of time management is deciding which tasks are important, which tasks are urgent, and which tasks are both. Prioritizing each task can eliminate the guesswork in deciding when each task should be completed and how much time should be devoted to its completion.
Great for teams
Our visual workspace includes a number of templates to help you streamline the prioritization process. Begin by selecting a prioritization matrix template, and then plug in tasks based on your analysis of their importance, urgency, impact, and effort. 
With the results of your prioritization in hand, you can then work with your team to determine various dependencies with a structured PERT chart or flowchart. Create a process chart to visualize roles and communicate responsibilities to your team members.
You can also draw up a Kanban board or Scrum board to divide up tasks as necessary and determine in which sprint each task will be completed. Your document can act as a convenient single source of truth, which your team can reference to stay on task, confirm responsibilities, and communicate changes.
Great for you
To better tackle your personal time management needs, you can use Lucidchart's selection of timelines and prioritization matrices to ensure that you're completing the most urgent and important tasks first. 
Then, use Lucidchart to make your own calendar or monthly planner. Select from our extensive gallery of diagram templates to choose the visual planner that works for you.
Upgrade from multitasking to timeboxing
Not only is multitasking potentially disastrous for productivity, but constant multitasking can also have harmful effects on short-term memory and lead to other neurological disorders. Instead of multitasking, experts recommend planning using timeboxing, a method that involves blocking out time for individual projects throughout the day or week. 
Timeboxing allows for complete focus on one task at a time, for predetermined and realistic blocks of time, minimizing distractions and increasing the quality of your work. By dividing a task up into chunks of work, you can avoid the burnout that comes with trying to focus on a task until completion. 
If you're looking for a simple template to quickly get started on time management for a simple task or project, check out our Pomodoro Technique template. To learn about how the Pomodoro Technique works, read our Pomodoro Technique for Time Management article.
On a personal level, timeboxing can be used to set aside time for important tasks that might not have a regular place in your daily or weekly schedule. Things like daily self-care, exercise, small chores, or seasonal tasks can be easily incorporated into your schedule with a little extra planning. This mode of scheduling is also ideal for creating school and/or study schedules in which a variety of subjects or classes need focused attention. 
Pro tip: Regular breaks should be factored into your work or study schedule to avoid burnout and should be considered as vital as any task. Experts recommend taking a break around once an hour to refocus, refuel, and de-stress during long workdays.
Try our timeboxing template to help you set your schedule in order. With conditional formatting, you can easily organize tasks by type, urgency, or task owner to ensure that each task can be quickly identified and completed. Add and arrange shapes as necessary to maximize your efficiency and make your schedule work for you.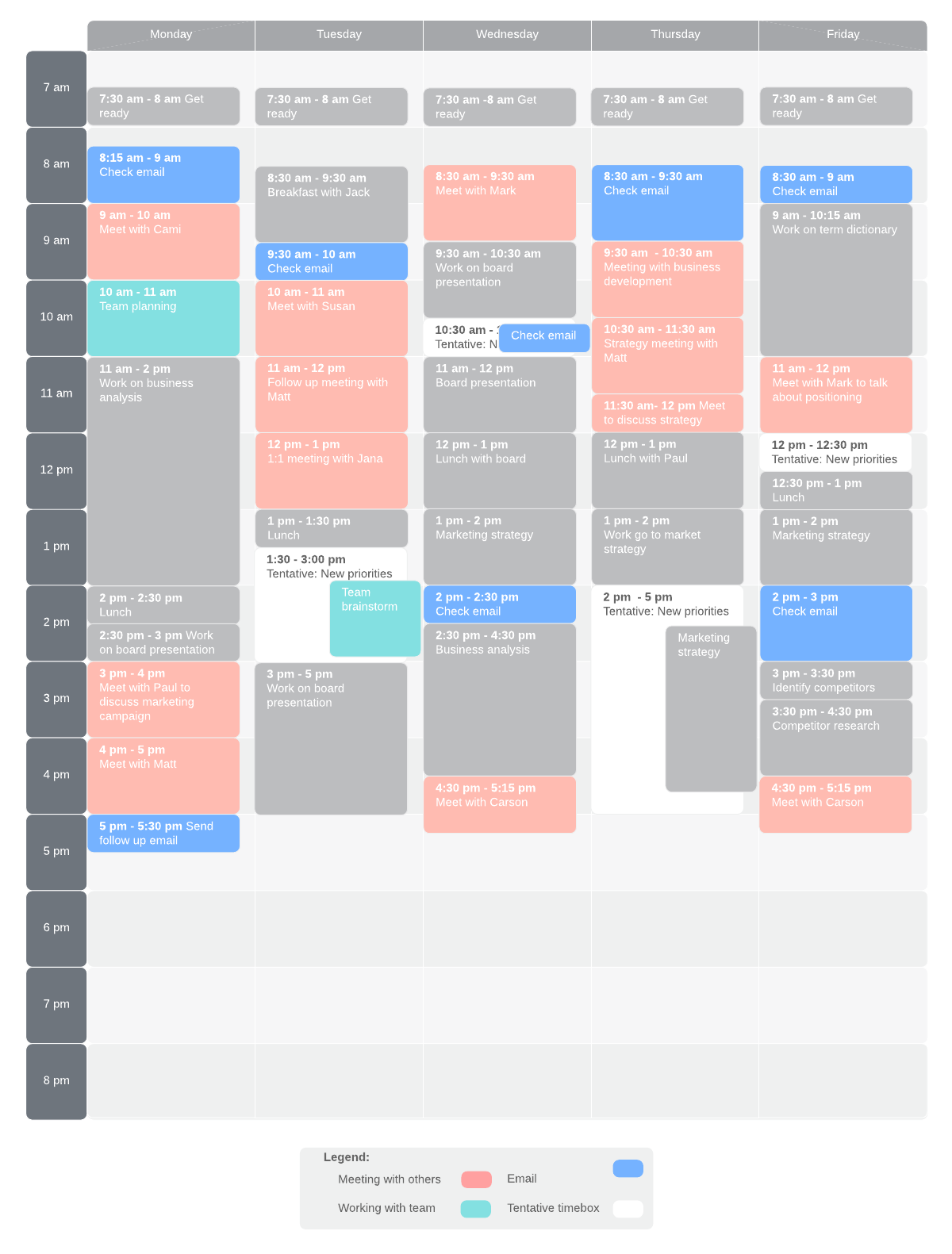 Don't waste any more time
Lucidchart is an intelligent diagramming application that can be used for each aspect of your work, education, and personal life. Use Lucidchart's intuitive features and professional-quality visuals to streamline your time management processes in meaningful, actionable ways. With our help, you can spend less time planning—and more time doing.
Don't have a Lucidchart account yet? Sign up today and manage your time better with helpful visuals.
Sign up now