Life is full of timed intervals. Take a minute to think about it: speed dating and networking, high-intensity workouts, and even the deadlines you need to meet at work every day are all dependent on fixed periods of time or timelines. 
Each of these everyday scenarios are examples of a timebox, a process that can help you gain a better understanding of where you maximize your productivity in every aspect of your life. Let's look at the way timeboxing works, the value it provides, and how it integrates into other work processes.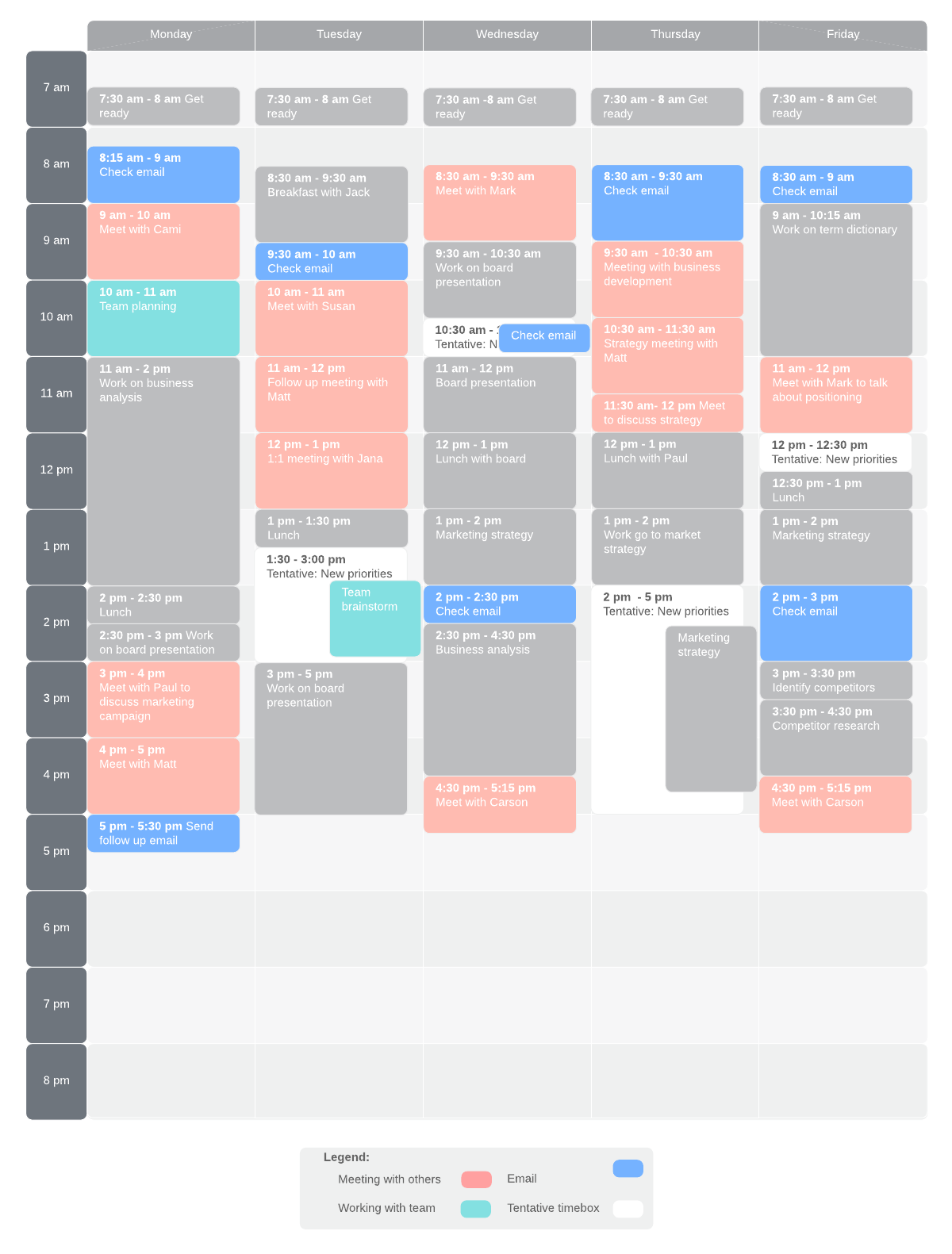 What is timeboxing?
Contrary to most productivity practices where an individual takes on a task and works at it until completion, timeboxing is a time management technique that limits a task to a fixed (but realistic) timeline that may be minutes, hours, days, or even weeks long, depending on the task complexity.
Think about an experience where you've dealt with the stress of an impending, seemingly impossible deadline. Hopefully you met the deadline but still remember the intensity of the focus you experienced while rushing to get everything done. Timeboxing uses this psychological phenomenon to the advantage of its adopter.
But why are deadlines such a motivating factor? 
Temporal motivation theory suggests that time is a central motivating factor and that "the perceived utility of a given activity increases exponentially as a deadline nears." In other words, our focus increases relative to our expected value of it in relation to the time table during which it is available to us. 
Consider, for example, a child who is asked to do their chores "before Dad gets home" at the risk of punishment versus playing outside with his friends. Most unmonitored, curious children would opt to play with their friends, up until the time necessary to complete the chores has almost run out, rushing to complete the chores just in time to avoid punishment. The child has actually demonstrated a powerful concept—they maximized playtime and obeyed. What is often viewed, then, as procrastination can be viewed as efficiency. Timeboxing is a proactive approach to this naturally occurring human psychological principle.
How to use timeboxing 
When looking at a long list of to-dos, it can be easy to feel overwhelmed, which can lead to stress or procrastination. Timeboxing can help you schedule your day to maximize your productivity and knock items off your to-do list in the most efficient way possible. 
Try these four steps to start organizing your day with a timebox:
1. Set your timebox for each task
Start by estimating how long it will take you to complete each task on your to-do list. Be realistic—more often than not, tasks take longer to complete than you anticipate, and it's important to make room for breaks and any unexpected interruptions. You may want to experiment with the duration of your timeboxes—maybe 15 minutes doesn't allow you enough time to get into a groove, but after 35 minutes you begin to lose focus. 
2. Set a timer
Once you've allotted time to each task, set a timer to let you know when it's time to move on to the next task and get to work. Setting a specific period of time will not only motivate you to work efficiently, but it will also ensure other important projects are not neglected.
3. Take a break
Between each timebox, be sure to leave room for short breaks. It may be tempting to continue working through allotted break times, but stepping away for a few minutes can actually help you return to your work with a fresh outlook. 
4. Review, rinse, repeat
At the completion of each timebox, or at the end of your day, take a look at your progress. If you completed all of your tasks, what can you learn and apply to your future schedules? If not, ask yourself honest questions. Did you allow enough time to complete the task? Where did you get derailed or distracted? 
Timeboxing in Agile Scrum
The Agile Scrum framework utilizes timeboxing as a central component of work sprints. By breaking up large projects into short interval development cycles, or sprints, Scrum teams view productivity as a measure of completing smaller tasks as a series of parts of a larger whole. The timeboxing technique helps this process by setting strict parameters on time spent on individual tasks.
Scrum involves five events, and all five events are timeboxed.
Sprint: A sprint is an interval of one month or shorter during which a team defines a goal and achieves it. Timeboxing is used to set the length of a given sprint and can even be used to set time limits on individual processes within a sprint.
Sprint planning: Before setting off on a sprint, the sprint planning process is required to identify exactly which tasks need to be executed and how they will be executed. Sprint planning is timeboxed by setting a specific length of time for the planning process—experts recommend 8 hours or fewer for one-month sprints, two hours or fewer for one-week sprints.
Daily Scrum: Each day in a sprint, teams meet for a 15-minute Scrum timebox to align on priorities and address any obstacles to the sprint goal.
Sprint review: At the conclusion of a sprint, the backlog is reviewed and given feedback in a process called the sprint review. The sprint review is a timebox relatively equal to half the length of a sprint planning meeting.
Sprint retrospective: Once a sprint is fully completed, Scrum teammates meet to discuss the entire sprint process, reflect on areas of improvement, and make decisions on changes for the next sprint. This sprint retrospective is a Scrum timebox of around three to four hours per one month sprint and is a similar length as the sprint review. 
The value of timeboxing in and out of work
Experts in productivity have concluded that when tasks are handled in chunks of time rather than given focus until completion, the gross time spent on a task can be reduced significantly.
Time restraints alone, however, are not potent seeds for fruitful work. Vigorous focus, when met with a designated time limit and oscillated with meaningful rest, is a powerful combination for productivity. 
Some experts suggest working in "time chunks," giving focused attention to a task for 25 minutes straight, followed by a five-minute break. This technique, called the Pomodoro technique, is an example of timeboxing.
The advantages of timeboxing include:
Focus: Because the central value of timeboxing relies on accomplishing one task at a time, project managers can be assured that all mental resources are being applied to each task. The timeboxing technique requires that each task is given full attention, at risk of not being completed within a fixed deadline. 
Scope: Defining project objectives before beginning allows the timeboxing technique to deliver scope on a given project timeline. When timeboxing is combined with task dependency, like in a Gantt chart, project management becomes as easy as looking ahead to see each task's effect on the entire project outcome.
Clarity: Timeboxing provides clarity by defining boundaries both on project outcomes and on project timelines. Project managers have the added benefit of knowing that by the end of X time period, Y item will be completed. 
Timeboxing is even a great way to instill mundane but valuable tasks into your daily life. For example, many mental health professionals suggest setting aside just five minutes a day for mindful breathing and meditation. This five-minute timebox can fit its way into any part of your schedule, with excellent physical and mental benefits. Even setting aside five minutes a day to tidy up a bedroom and make your bed is a timebox that adds to mental calm by providing a clear space and also saves valuable time on weekend or seasonal cleanups. 
Take timeboxing with you
As with any productivity tool, tracking next steps and current progress is essential to results-driven work—and visuals are often the best way to keep team members informed and increase productivity.
For the best in diagramming, top performers turn to Lucidchart, where they can create Scrum boards and other project management visuals and share directly with each team member across a variety of integrated platforms.
See additional tips on how you can use Lucidchart to manage your time (and your team's time) better.