Product positioning: Key elements and strategies for success
Reading time: about 8 min
Whether you're a small startup or an enterprise organization and whether you're launching your first or fiftieth product, there is always a long list of to-dos and priorities to get your big idea to market. How will you sell your product? What digital assets do you need to create to promote it? How will it be produced and distributed? Who do you need to hire to help you to keep demand high and customers happy? 
It can be tempting to want to address all of these questions from the get-go. Many startup CEOs rush messaging and brand buildout in the name of driving quick demand and leads. However, your priority should be establishing where your product fits in the market, how it's different from existing products, and why your customers should care or look into your product. 
This is called product positioning, and it's the most critical step for long-term success. Let's take a deeper look at how to position your product in the market.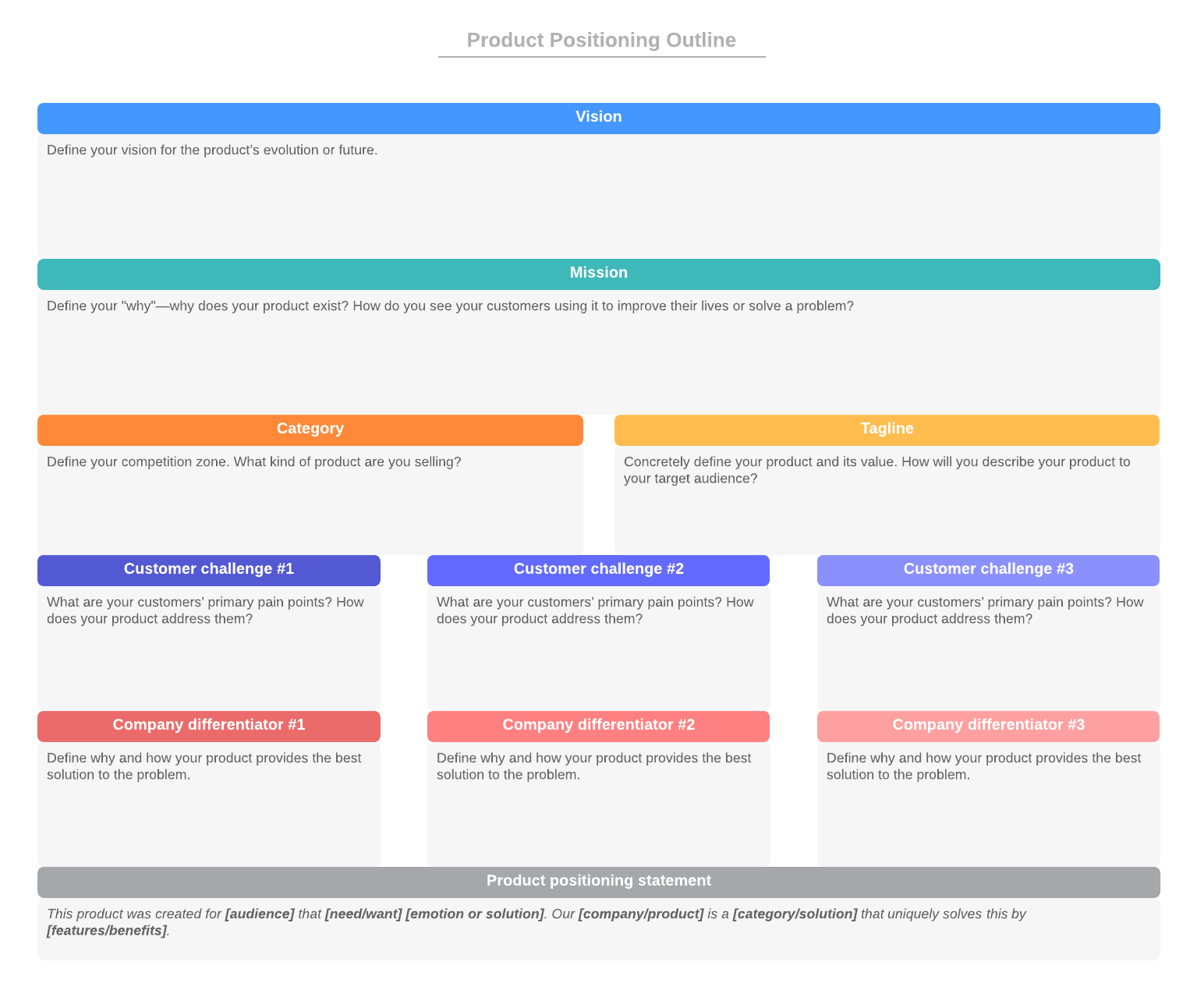 What is product positioning? 
A simple product positioning definition is where your product or service fits in the marketplace. It outlines all of the features that make your product unique and communicates how and why it's better than other products or solutions.
Think of product positioning as your product's foundation—this messaging will drive the rest of your go-to-market plan, from the content your marketing team creates to how your sales team speaks to prospective customers. Without it, your marketing plan will fail when pressure-tested against your competition. Effective product positioning considers your target audience and their needs and how your product can directly and effectively address those needs. 
However, product positioning can also be applied to products without an existing market. Apple mastermind Steve Jobs famously said:
"People don't know what they want until you show it to them…. Our task is to read things that are not yet on the page." 
When creating a new product category or market, your product positioning will establish how you convince your customers of a need they didn't even know they had. 
What should your product positioning consider?
No matter your product, the positioning of your product should include these seven elements.
Mission
This is your "why"—why does your product exist? How do you see your customers using it to improve their lives or solve a problem? Defining your mission will also help you think more clearly about how you will bring it to life in the market. 
Market category
Your market category is your competition zone. What kind of product are you selling? If you're delving into an emerging market or creating an entirely new market category, this is your opportunity to put your stake in the ground and define it. 
Customer pain points 
What are your customers' primary pain points? Does your product address one or many? How can you more clearly position your product as a solution to these challenges? 
As you consider what your customers are experiencing and how your product or service can solve common pain points, you may want to create a customer journey map, empathy map, or user persona card to create connection and record this information for everyone working on product strategy.
Company and product differentiators
Often, if a problem is big enough, someone has tried to address it before. The key is to clearly define why your product provides a better solution to the problem—and more importantly, how. In a saturated marketplace, it's critical to differentiate your product from the competition. 
Brand identity
Think about today's most recognizable brands. The Nike swoop. The green Starbucks mermaid. The Target bullseye. In each of these cases, the company name doesn't need to be present for you to identify the brand—and likely, the logo itself evokes some kind of opinion or emotion in you. This is the ultimate test of a strong brand. To create one, think about the tangible and symbolic things you'd like to be known for. This process requires introspection and vision. 
Vision
Speaking of vision, it's easier to identify why you created a product in the first place. It's more challenging to define your vision for the product's evolution or future. Considering this as part of your product positioning will help you more clearly define your product's immediate value—and its potential for growth. 
Product positioning statement
Once you've considered all of the above elements, you're armed with all the context you need to draft a solid product positioning statement. From a strategic perspective, this is the core of all of the marketing materials and messaging to come. Concretely describe your product and its value to your target audience. 
Here is an example of a product positioning template: 
This product was created for [audience] that [need/want] [emotion or solution]. Our [company/product] is a [category/solution] that uniquely solves this by [features/benefits]. 
Once all stakeholders agree on this statement, you can also draft a creative customer-facing tagline. 
From product positioning to go-to-market: Strategies and templates for growth
There's no one right way to capture the key elements of your product positioning. Many templates exist, and each can help you manage the process, provide a holistic look at every element of your new product positioning, and visualize how each piece relates to each other. A shared template can also make it easier for the necessary stakeholders to collaborate on different pieces of your product positioning puzzle. Let's take a look at a few helpful models: 
Product positioning template 
A basic product positioning template allows you to more clearly define each of the seven elements above. Organizing this information in a single template helps you proactively identify any correlations or discrepancies in your product positioning. 
Tip: After gathering insights into each element of your product positioning, this template can also be used to share and evangelize your research across the larger organization.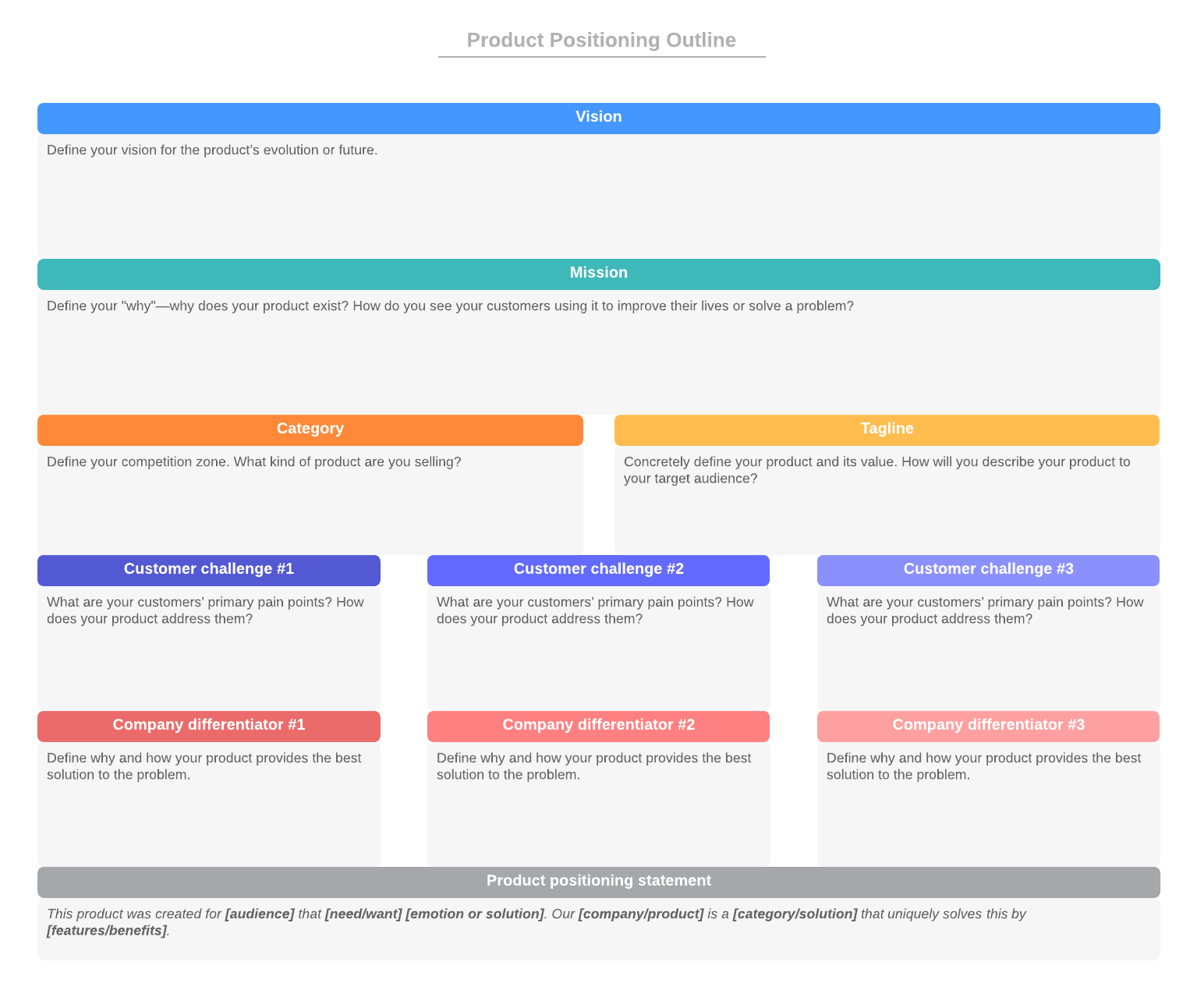 Ansoff matrix
Some elements of your product positioning exercise are easy to define. Others require a bit more collaboration or research. For these steps, an Ansoff growth matrix can help you determine exactly where your product fits into the marketplace, as well as risks and opportunities for growth. This simple 2x2 matrix can also add structure and rigor to future decisions as product offerings and company grow. 
Tip: Use an Ansoff growth matrix to define the more meaty elements of your product positioning, namely your market segment, customer pain points, and product differentiators. 
Business model canvas 
Big ideas often start as inspired conversations, or scattered, lengthy pages of notes. This is a great starting point, but you need to map out what your business or product will look like in practice to bring clarity to your concept and prioritize your efforts. 
A business model canvas is primarily used to map out larger business plans but is also effective in establishing and defining your product positioning. The canvas is a one-page document that succinctly summarizes a testable hypothesis of how your business (or product) should work or be defined—and all the imperatives to bring that vision to life. The canvas is a digestible grid that includes many of the elements listed above in a digestible grid but goes a step further to outline larger business considerations like revenue streams and pricing models. 
Tip: You can use an abbreviated version of this model to define your product positioning, then expand on it as you establish your go-to-market plan. 
Strategy mapping template
While it's important to solidify your product positioning before anything else, it's also important to have a clear vision of what comes next. A strategy mapping template helps bridge the gap between strategy planning and execution. When working on your product positioning, you can use this map to gather input, differentiate your value proposition, and establish what kind of work needs to be done. 
Tip: Use this model to ensure your defined product positioning is incorporated and considered in every step of your larger strategic business plan. 
Positioning yourself for success 
When it comes to successfully bringing a product to market, there are no shortcuts—and some steps are more business-critical than others. No matter your product, focusing on messaging and brand identity is paramount. The message is the strategy because every member of your org will need to carry it forward to drive any sort of sustainable demand. 
Lucidchart
Lucidchart, a cloud-based intelligent diagramming application, is a core component of Lucid Software's Visual Collaboration Suite. This intuitive, cloud-based solution empowers teams to collaborate in real-time to build flowcharts, mockups, UML diagrams, customer journey maps, and more. Lucidchart propels teams forward to build the future faster. Lucid is proud to serve top businesses around the world, including customers such as Google, GE, and NBC Universal, and 99% of the Fortune 500. Lucid partners with industry leaders, including Google, Atlassian, and Microsoft. Since its founding, Lucid has received numerous awards for its products, business, and workplace culture. For more information, visit lucidchart.com.
Bring your bright ideas to life.