Mural vs Lucidchart
Mural performs well as a brainstorming tool, but advanced features make Lucidchart a more robust diagramming software.
Trusted by industry-leading brands
The right software to take you from ideation to execution
Tools for the ideation stage and beyond

Mural's features make it a strong brainstorming and ideation platform—without much else to offer. Lucidchart includes standard shapes and templates for formalizing your ideas, plus process maps, network diagrams, wireframes, and other visuals to see any project through to execution.


Advanced features to make diagramming simple

Mural users can only create visuals related to brainstorming and planning. With Lucidchart, you can diagram anything, anywhere. Our advanced features include automated diagramming, data linking, and conditional formatting, letting you create basic and complex diagrams with ease.

User-friendly diagramming with no learning curve

With smart formatting features, Lucidchart helps users create professional, organized diagrams as quickly as they think. Mural's drag-and-drop shapes are well-suited for small diagrams, but larger, more complex diagrams can be difficult to format.


Hundreds of shapes and templates for every use case

With Lucidchart, you can explore hundreds of customizable templates and industry-standard shapes—or import your own custom shapes and templates to create uniform visuals across your team. Mural's shape and template options are limited.


Dynamic integrations with industry-leading apps

Lucidchart users can leverage integrations with industry-leading apps like Google Workspace, Microsoft Office, Confluence, Jira, Slack, and many more, with new integrations being added frequently. Our open API also allows users to develop their own in-house integration solutions. Mural offers only 11 integrations.

Start diagramming with Lucidchart
Experience how you can see more, know more, and do more. Make your first diagram now.
Make a diagram
Features that make Lucidchart the best
Select and customize a template
Lucidchart features hundreds of templates in our easy-to-navigate template library. This resource includes mind maps, affinity diagrams, fishbone diagrams, and other brainstorming tools, plus other examples and diagram types for a variety of use cases. Each template is completely customizable, letting you create diagrams that fit your exact specifications, and new templates added and refined each week by our team of dedicated template specialists.

Collaborate with others in real time
Lucidchart was built with collaboration in mind. With our visual workspace, you can share a living document that your collaborators can view, edit, and provide feedback on in real time. Customize diagram permissions to separate owners, editors, commenters, and viewers—and use @mention notifications, in-editor chat, and collaborative cursors to keep track of who is doing what in your document.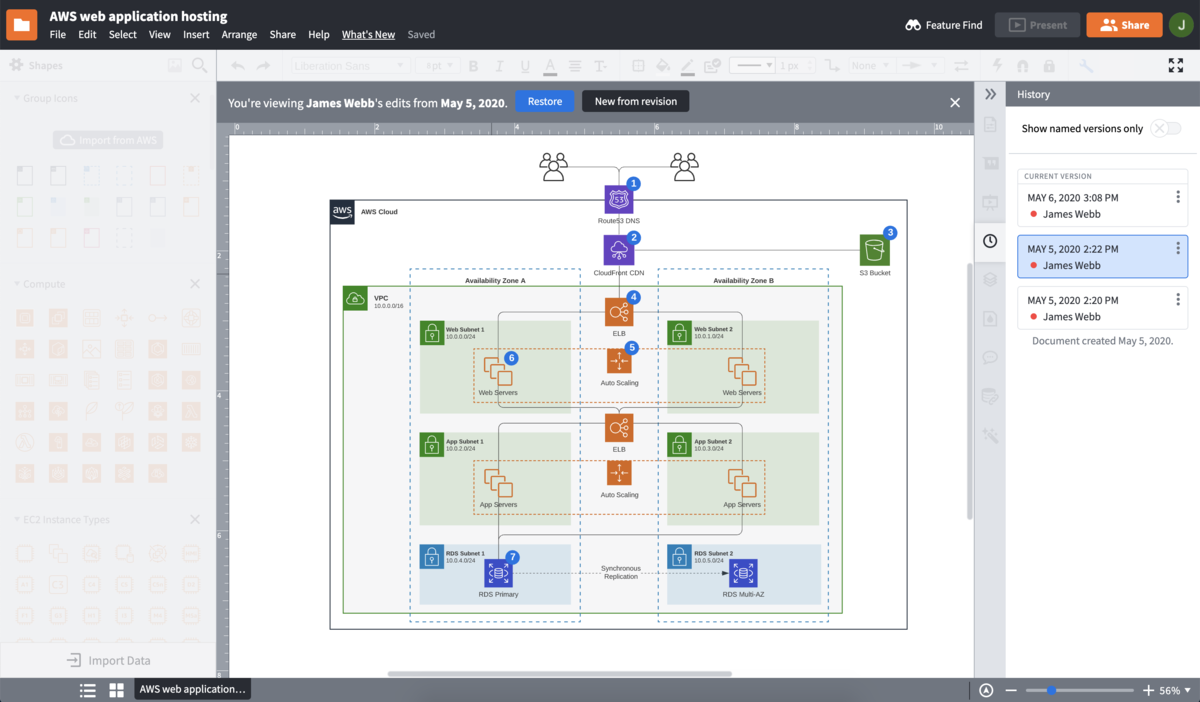 Easily keep track of changes
Track changes within your document over time using revision history. Lucidchart saves a full history of changes made in each document, so you never have to worry about losing your work or forgetting about previous versions of your processes or ideas. With this feature, you can also return to a previous version of your document—so it's possible to undo any change if necessary.

Share and present your diagram
Lucidchart lets you easily share and present your diagrams on your terms. Share your diagram with published links, export your document as an image, or insert your diagram directly into one of your favorite apps. Lucidchart integrates seamlessly with Google Workspace, Microsoft Office, Atlassian, and other software that your team uses daily. Plus, presentation mode lets you showcase your work through professional, interactive presentations without ever leaving Lucidchart.

Leverage increased security for enterprise clients
Lucidchart offers the only scalable diagramming solution for enterprises. Our enterprise clients can increase security and easily manage user accounts while enjoying full access to Lucidchart's advanced features. With single sign-on capabilities, user provisioning, dedicated client support, and a simple admin interface, you can work knowing that your information is private and secure as your organization continues to grow.

Learn more
Frequently asked questions about Lucidchart
Over 15 million users in 180 countries
When I need to map out a process or strategy, Lucidchart is my go-to software. It's helped me with a lot of presentations and close a lot of business by helping make my ideas clear.