If you work in operations, you work tirelessly to establish the most efficient ways to accomplish tasks and maintain quality. However, before you can act, before you can either institute a new process or make significant changes to a current process, you will need to get approval from stakeholders and get everyone else on board with your vision. You need a project charter.
Project charters should answer several questions for the individuals leading your organization and the individuals executing this process:
What business need will this process fulfill?
How long will it take to establish?
How much will it cost?
Who is responsible for every stage of the process?
What risks are involved?
As you put together your project charter contents, you'll likely have questions of your own, particularly if your company doesn't offer a standard form or template to fill out. Find the answers to the most common questions below, and learn how to create a project charter that wows your stakeholders.
What is a project charter?
A project charter states the scope and objectives of a project, as well as the people who will participate in it. (You may also hear it called a project definition report or project statement.) You should use this document to:
Authorize the project.
Serve as a baseline throughout the project and provide shared understanding.
Act as a contract, holding all participants accountable for their roles and responsibilities.
Your charter is the unquestionable source for details related to the project. These documents usually remain short but may link to more detailed documents.
Don't think of the project charter as another hoop to jump through for approval. A project charter gives you an opportunity to think through your process more deeply and prove to stakeholders the validity of your ideas.
What information should a project charter include?
If your organization doesn't have a project charter template, you are free to include the information you find most beneficial. The more thorough your project charter, the more convincing it will be and the better reference it'll become. Every charter should include some variation on the following categories.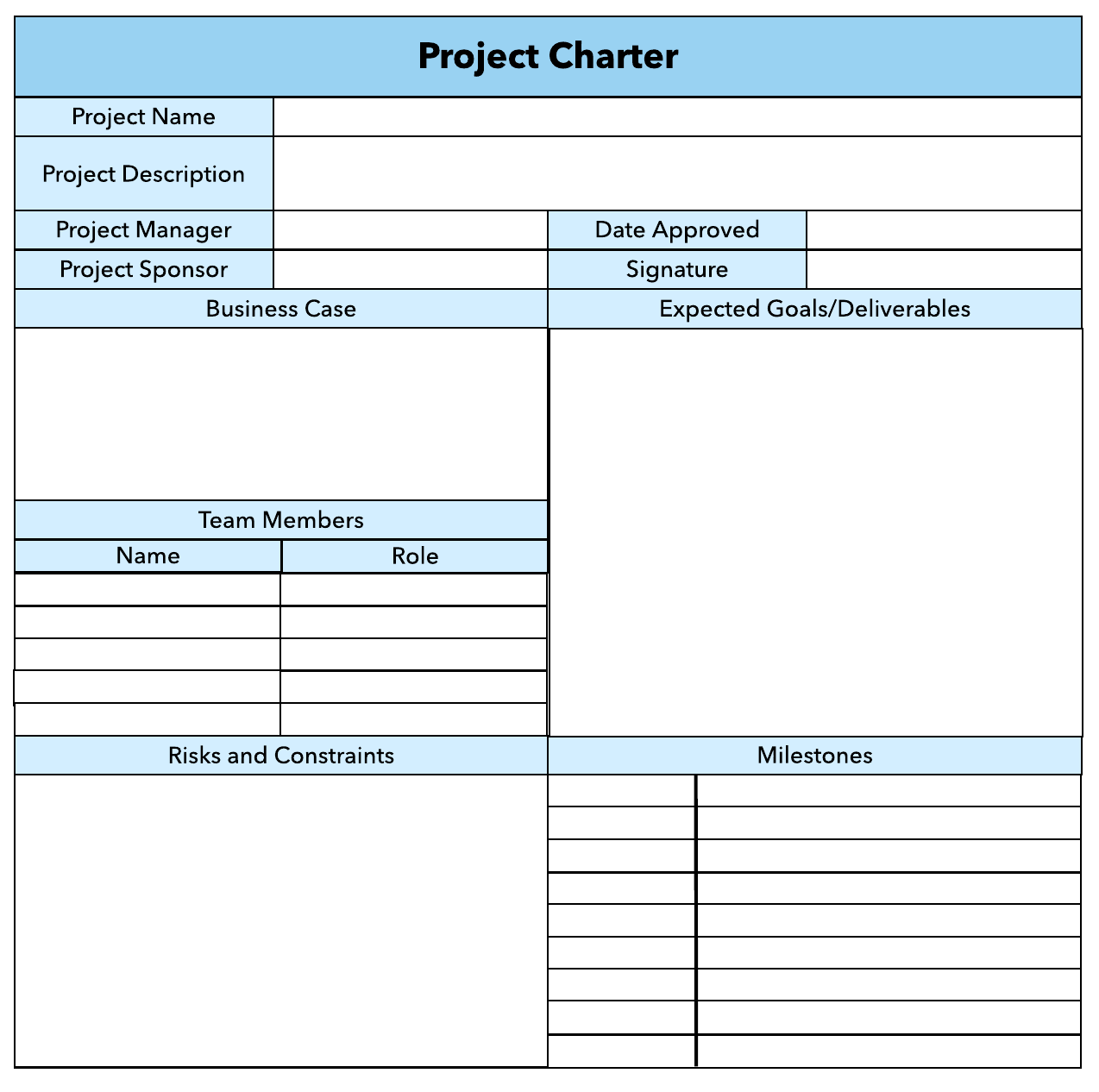 Title/definition
Name your project, and make the title as specific as you can. A project name like "HR Initiative" or "Software Update" doesn't describe why you would like to implement this project and isn't easy to differentiate from other project charters. Titles like "New Company Wellness Program" or "Software Update to Improve UX for Mobile Payments" define your goal right away. Also give a brief description of what the project will entail.
Business case
This section should explain the origins of the project, including the pain points that the project will alleviate, and the impact it will have on the organization.
Budget
If you haven't already done so earlier in the project charter, explain how much the project will cost and where the money will come from. This section could also list any additional resources needed to execute your plan.
Goals/deliverables
What do you plan to accomplish with this project? How does this project fit into your company's larger goals? What product, service, or result will you deliver when you finish the project? Since project charters are more flexible, you could include information in this section about your measurements for success in this project. How will you determine whether you have accomplished your goal? Which metrics will you use?
Team roles and responsibilities
List the people involved in this project and their roles. Many project charter examples simply list the individual's title or team, but if that information doesn't define the individual's responsibilities enough, you could reference a more specific document with the breakdown of responsibilities.
Risks and constraints
Mitigate risk from the very start of your project. The project charter should state known risks and constraints, as well as any plans for analyzing and managing risks throughout the project.
Time frame or milestones
Show when you plan to accomplish each stage of the project. The anticipated start and end dates are the most important pieces of information in this section, but a full timeline will give more context.
What other tips do you have for me?
Now that you have read the project charter definition and have a better idea of the appropriate project charter contents, you might want some additional direction to create a project charter with little hassle and with increased power to persuade and inform stakeholders. Here's what we've got for you.
Make it visual.
As you could have guessed from the motto, "Think visually," Lucidchart believes in the power of images, and the same principle applies to your project charter. Your stakeholders will read your document at least once, even if it merely contains a wall of text, but images or design elements will make your defense stand out and make it easier for people to refer back to key parts of the documents later on.
At the least, separate the different sections of your charter with boxes or accentuated headers for better readability. Then, see which parts of your document would be easier to scan or digest as a visual. For many project charters, the milestones section makes the most sense to convert.
Create a timeline in Lucidchart to show milestones of your project. If you normally work in Gantt charts and want to include a simpler version in your charter, take a look at our Gantt chart alternatives as well.

As mentioned previously, your project charter could also reference other documents. If it seems inappropriate to include your process flow or a breakdown of team responsibilities within the charter, build these diagrams separately and add a note or link.
Make it collaborative.
You might need to print out your charter to present later, but while you put it together, keep this document in Google Drive or another program where multiple people can view and edit it. Then the teams who will see the largest impact from this project can put in their two cents before you present to other stakeholders.
Whatever format you choose, make sure to share your project charter with everyone who plays a significant role once you finalize and start your project.
If you decide to add visuals using Lucidchart, you can take advantage of our integrations with Google, Atlassian, and Office 365. Download an add-on, and insert your diagrams seamlessly into your documents.
If you submit project charters frequently, consider these tips and put together your own project charter template! (You could even do so on our other outstanding software, Lucidpress.)
Have additional questions? Have you written a successful project charter in the past and feel like sharing your wisdom? Join the conversation in the comments below.