Workflow Automation: How to Get Started
Lucid Content Team
Reading time: about 7 min
A well-run organization knows the value of efficiency. That's because an efficient organization has happier employees, a better bottom line, and faster output. Workflow automation is one way to accelerate optimization throughout the company. You'll be able to reduce human error and improve the onboarding process while also decreasing stress and redundancy.
We'll show you how to locate processes in your organization that can be automated and then teach you how to automate those processes. The end result is a business where employees and management can focus on growing the business and capitalizing on ingenuity.
What is workflow automation?
Workflow automation is the process of automating parts of your business to do things on their own. It's the real-life version of "If this…, then this…"
For instance, if you have a new lead come in, you can automate a welcome email to that lead instead of manually typing out and sending the email. You can then set up an automated workflow to send a follow-up email three days after the initial email. It's all done without human intervention, so your employees are free to do the work they'd prefer doing, like thinking creatively, solving problems, and ordering burritos.
How to automate workflows
You can't automate until you investigate. In fact, without knowing the details of current processes your organization is currently using, automation only magnifies the inefficiency. Follow the steps below to create an automation workflow that actually improves your business processes.
Need to back up a step? Learn the definition of workflow and benefits of repeatable processes.
1. Identify the areas that need improvement
You won't be able to automate processes until you know which processes are already in place. Begin by mapping out your current processes and perform workflow analysis so you can better implement workflow process automation. That may seem intimidating, but don't worry: We'll help you every step of the way.
If you're new to creating workflow processes, start here. Lucidchart has a whole library of diagramming templates for you to use, so you can easily find a template for every role in your organization. These diagrams can be updated in real time and shared easily, so you can always gather input from co-workers and management. Because our platform is incredibly intuitive, you won't waste time learning new software when you're supposed to be documenting workflows.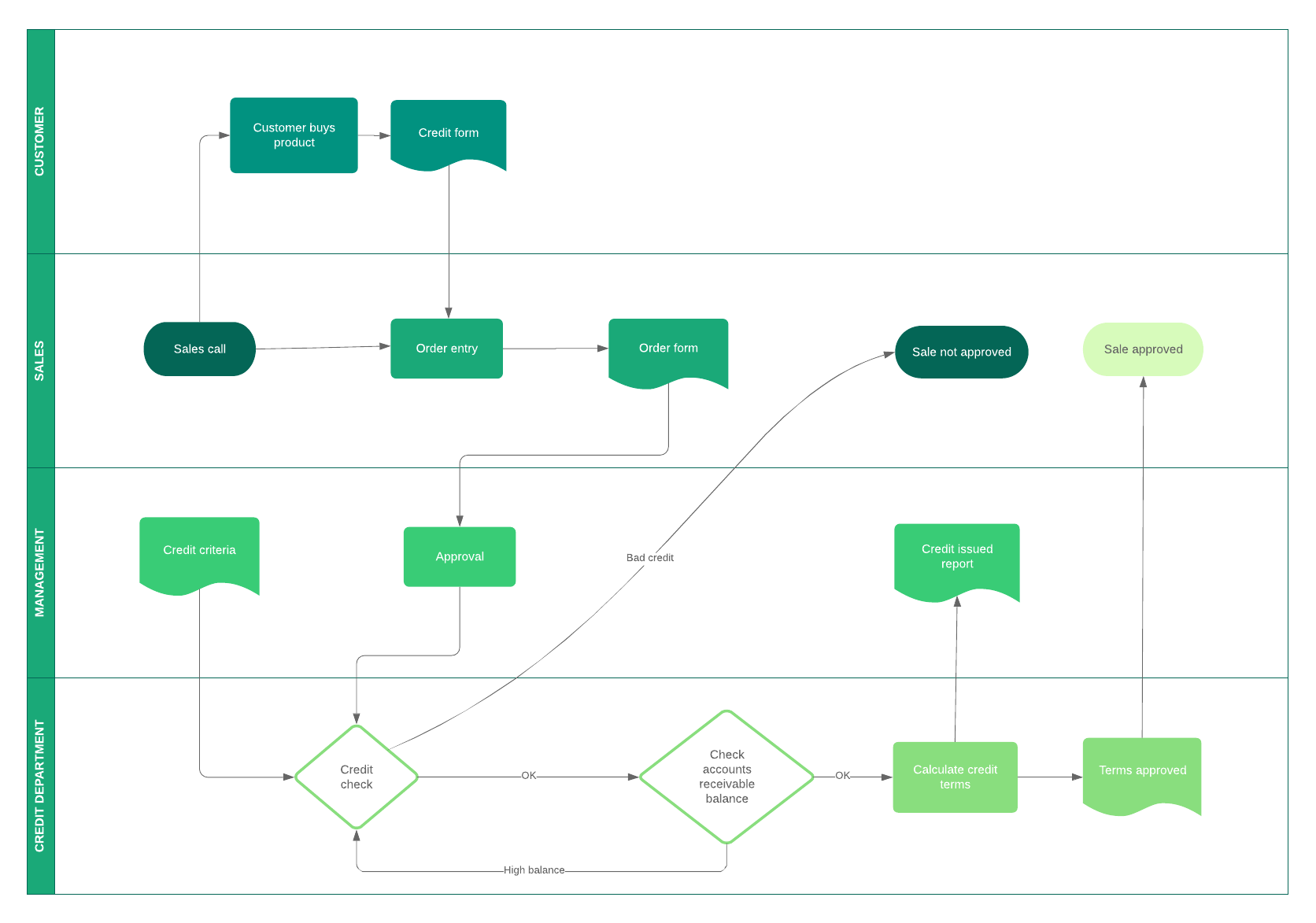 At this stage, visualization is key. It's not smart to just guess at which parts of your workflow are inefficient and try to implement automation. When you have visual workflows, you have evidence of inefficiency, and that's important for gaining the buy-in of both management and employees.
2. Define what you will gain from the automation
Define on paper what you attempt to gain from automating your workflow. Begin by articulating what the current process lacks or how it's inefficient. When you have a clear outline of the problem, you can show how fixing the problem will benefit the enterprise. That goal should be the guiding principle behind every step of the workflow automation process, from ideation to implementation.
Here's one example of how this process could look in real life: Let's say you've created workflow templates for sales, and you've found that the process of gathering and qualifying leads is incredibly inefficient. Perhaps you have many leads coming in, but your salespeople spend much of their time trying to determine which of those leads are qualified and valuable.
You've decided to implement better lead qualification software to improve this inefficiency and help your salespeople make better contact with better leads. In this case, your end goal is to increase the revenue coming in and improve the percentage of sales that close (because your sales team only works promising leads). Without defining the goal, you won't have a way to measure the efficiency of your process.
Here's another example: You run a business that gets a lot of engagement through Facebook. Your customers routinely message the business through its Facebook page, which means your social media manager spends a large part of their day responding to Facebook Messenger messages. Success in this instance could mean freeing up your social media manager to make more content. You could implement a bot to answer Facebook messages, give your social media manager more free time, and measure how much more content has been generated.
The point is, without defining what the goal is, you can't determine if you've reached the goal.
3. Start with the lowest-hanging fruit
It's important to point out that there will be many inefficiencies in the workflows you've defined. If you're overwhelmed with inefficiencies and don't know where to start, you can color-code your flowchart in Lucidchart to reflect the order of necessity. For instance:
Green = easy to automate, big payoff
Yellow = easy to automate, minor payoff
Pink = difficult to automate, big payoff
Red = difficult to automate, minor payoff
Once you have a color-coding system in place, all you have to do is start by—using the chart above—automating the green sections of your processes. Once those sections of your workflow have been implemented correctly and optimized, you can move to yellow or pink.
Using this system helps you recognize which parts of your workflow should be automated first and which parts of your workflow don't need to be automated (or would be more of a chore to automate than it's worth). Automation doesn't have to happen overnight, so think of it as more of a process of improvement instead of tyrannical workflow implementation.
It's also worth noting that there are plenty of automation software solutions that can make the process easy, such as Zapier, HubSpot, Wrike, and KiSSFLOW. We recommend a solution that works seamlessly with the apps you already use: For example, Lucidchart is integrated with Zapier, so you can send data from 1,000+ apps into Lucidchart and closely monitor your processes through visuals.
4. Get everyone on board
You've mastered steps one and two by detailing your current workflows and spotting the inefficiencies in them that you can easily automate. Now it's time to break the news to the employees.
This is another instance where Lucidchart comes in handy: It's much easier to show employees how the process is going to be automated than to tell them. Plus, if you're using Lucidchart to visualize workflows, you can easily toggle between layers and hotspots to show your audience what the current workflow looks like and what the workflow incorporating automation looks like. Once your employees see how much better things are going to get, they're much more likely to be excited about the change in workflow and help champion the implementation.
There's a good chance that the automation you implement will require automation workflow software, so this is where training comes in. Instead of assuming the training should take place in a meeting, you may want to send out a questionnaire to ask how your employees prefer to be trained. Different learning styles require different teaching styles, so in some cases, hands-on training is best, but other employees may benefit from text-based documentation that they can refer back to while they are actually performing the process.
There you go! Workflow automation takes a bit of work to define and implement, but the payoff can be extraordinary. Your employees can focus on meaningful work instead of redundancies like follow-up emails and cart checkout reminders. And your whole business can work on establishing itself in the space instead of being undermined by inefficient workflows.