Why employees resist following processes (and how to encourage them)
Lucid Content Team
Reading time: about 8 min
Imagine: your management team wants to see an improvement in quality, an increase in quantity, and a decrease in time to market. So you spend a lot of time and work with a lot of resources to research, plan, design, build, and implement a process plan that you are confident will help your production team be more efficient, make fewer mistakes, increase output, and get the product to market faster. The management team is excited about this new process and is eager to see it in action.
With great confidence, you present this new process to your employees. Instead of cheers and pats on the back, you get pushback from those who have to work with this new process. You explain in great detail how this process will improve production and increase revenue. But your shiny new plan is met with resistance.
Why?
In this article, we will explore some reasons why you might meet resistance when introducing new processes, plus some ideas for helping team members embrace new procedures.
Why are processes and procedures important?
Successful businesses center their operations on goals. To reach these goals, processes and procedures are put in place to ensure that quality products are available on time and meet customer expectations. Well-designed process plans can help your business:
Develop quality products and services.
Produce products consistently and efficiently.
Reduce time to market.
Fulfill customer needs and improve satisfaction.
Remain in compliance with industry standards.
If you don't have processes in place, or if your employees simply won't follow outlined procedures, the effect could be devastating. You'll miss opportunities to meet customer expectations and lose potential business.
What are some reasons for not following procedures?
There are many reasons that employees may be reluctant to adopt a work process. This can be disappointing and frustrating for managers, especially if a lot of time and money has been thrown at the project to implement new procedures. Here are some of the reasons you may get pushback on a new process proposal.
Creatures of habit: Humans are creatures of habit and generally don't like change. If your employees have been doing their jobs a certain way for a long time, they've developed many layers of work-related habits that are hard to break.

Doubts about the necessity of a new process: If your employees already believe that they are doing a good job, they may wonder why you want them to change and worry that a new work procedure will slow them down. 

Fear of added responsibilities: Employees may feel like they don't have the training or skills necessary to take on new responsibilities, a feeling that can lead to fear of failure.

Confusion or misunderstanding of the process: Your employees may not understand how certain roles fit within the process. Complex processes may need to be rolled out in small, incremental changes to reduce errors and increase success.

Lack of understanding about the impact on customers: Employees who don't have contact with customers may not understand how the proposed process changes will impact the final product and customer satisfaction. People may not follow processes because they don't think that their work has any kind of impact on customers.

Inefficient processes: This may be hard to accept, but employees could be working around your processes because those processes simply don't work. Maybe crucial steps were missed in the planning stages, or you don't have the right people assigned to the right tasks. 

No support from management: You may have created your business process at the request of company leadership. Sometimes, however, these same leaders are not fully supportive of process implementation and are not willing to wait for results.

Conflicts with other demands: Sometimes employees may need to deviate from a process to meet a special request. For example, some resources might be pulled from your process to meet the demands made by another process.
How to help your employees follow procedures
There are several simple ways you can make implementation of new processes more palatable. You already know that people resist change, but your team members are also reasonable and willing to try new things when they make sense. Here are a few suggestions to help your employees embrace new procedures.
Diagram your process and document everything  
Most of us are visual learners. A page with pictures and diagrams is much easier to read and digest than a page with nothing but technical documentation. Use visual aids like flowcharts to define process flows and to identify specific tasks. 
Visuals and diagrams that can be universally understood are especially useful when you're working with international teams. If you absolutely need to include technical text with your visuals, keep it simple in order to keep everyone on the same page. The combination of visuals and text can be a valuable reference for all team members as they learn how they fit in with the process.
Click any of the examples below to get started with a template in Lucidchart.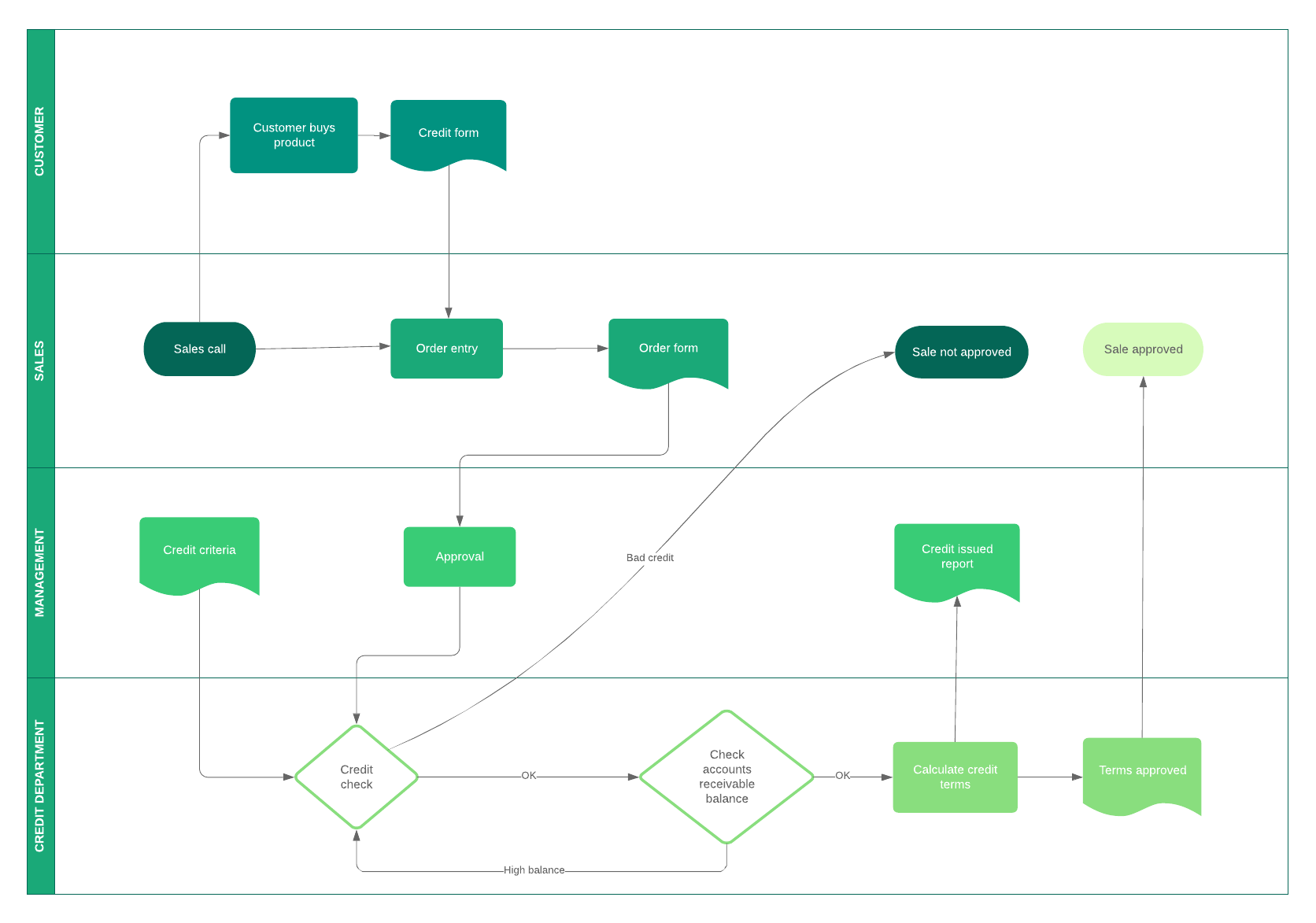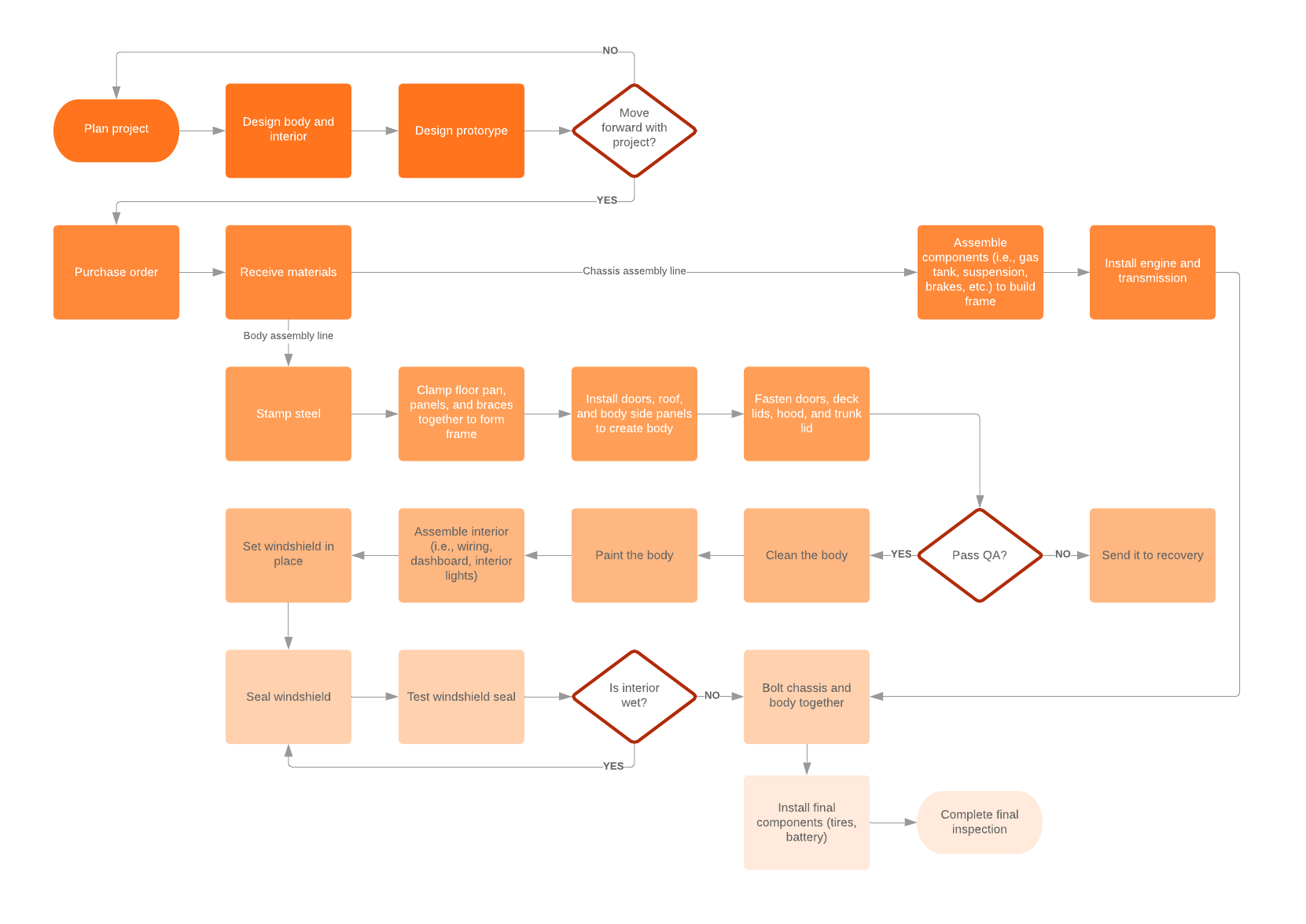 Make your process easy to find 
After you have created your documentation, put it where team members can easily find it when they need it. Create a single source of truth that can be accessed by anybody who needs it, day or night, from any location.
For example, Steve Groff at Delta Airlines printed off process documentation and put it up in the warehouse where everyone could see and adhere to it. "We'll print out huge murals on the wall that show the process. It keeps things visual. It keeps people on task. It keeps people doing their job and doing it correctly."
However, physical documentation often isn't feasible or practical, especially when you work with dispersed teams. A good cloud-based service lets you securely store your documents and diagrams in the cloud where they can be easily accessed as needed. If you use Lucidchart to document your processes, you can use Actions to link external documentation to the diagram and keep all relevant materials together. 
From the cloud, your teams can collaborate in real time to refine and update the processes and documents as necessary. Best of all, everyone can stay up to date with any modifications that are made to the process.
Help employees understand the big picture
Show your employees how the process impacts the company's goals and customer expectations. Help each employee understand how their role fits within the process and how it impacts the customer if the task is not performed correctly. If your employees understand the importance of their roles, they'll be more willing to work with a new process. 
For example, you may want to show the current state of your process back to back with the future state so it becomes clear where the new process will reduce bottlenecks, improve handoffs, etc. In Lucidchart, you can use Layers and Actions to toggle between current and future states.
You can also use a customer journey map to help your employees understand the big picture. A customer journey map represents a customer's experience with your products and services. Use the customer journey map to show your employees how their roles fit into the overall customer experience.
Reward employees for compliance
Some employees may push back against corporate processes because they don't see any value in it for them personally. Recognize employees for their good work. People like to know that they are doing a good job—and rewards don't have to be big or expensive to have an impact.
Show employees what to do
When you first introduce a process or hire a new team member, train employees how to perform each task within the process. Modeling a process can be much more effective than simply telling team members what to do. After reviewing the new process with them, give them time to work hands-on with the process, and provide them with feedback. Team members will learn faster and retain more knowledge by doing rather than just listening.
Decide on a process improvement methodology
The only constant is change, and your processes should change along with your business. Select a process management methodology so that you have a consistent way of analyzing, planning, optimizing, and automating your processes. The goal should be to improve performance, reduce costs, meet customer needs, and improve customer experience.
Let your employees know that you plan to continuously improve the process, and to further gain their buy-in, invite them to participate in monitoring the effectiveness of the process and suggesting changes. 
The bottom line is that when the employees who actually work with the process are asked for feedback, they are more invested in the process and more willing to put the effort to make it work.
Learn how to adapt and communicate changes about your processes with the help of Lucidchart.
Read our tips
Lucidchart
Lucidchart, a cloud-based intelligent diagramming application, is a core component of Lucid Software's Visual Collaboration Suite. This intuitive, cloud-based solution empowers teams to collaborate in real-time to build flowcharts, mockups, UML diagrams, customer journey maps, and more. Lucidchart propels teams forward to build the future faster. Lucid is proud to serve top businesses around the world, including customers such as Google, GE, and NBC Universal, and 99% of the Fortune 500. Lucid partners with industry leaders, including Google, Atlassian, and Microsoft. Since its founding, Lucid has received numerous awards for its products, business, and workplace culture. For more information, visit lucidchart.com.
Bring your bright ideas to life.