How to Make a Family Tree Chart
Reading time: about 7 min
Posted by: Lucid Content Team
In 1977, the American Broadcasting Company (ABC) gambled that a 12-hour miniseries based on Alex Haley's best-selling novel, "Roots," would be of interest to the general American audience. In an unprecedented move, ABC scheduled the series to be broadcasted over eight consecutive nights.
The gamble paid off as roughly half of the Americans alive in 1977 watched at least part of the series. 
The "Roots" miniseries was a cultural phenomenon that influenced millions of viewers to research their own roots. While writing the book, Haley did a lot of genealogy research at the National Archive, and after the series aired, letters to the National Archive tripled and applications to use the facilities increased by 40%.
If you are interested in your own family history, a good place to start is to create a family tree.
A family tree is a visual representation of a person's lineage, tracing relationships to common ancestors. Visually similar to an org chart, this diagram is usually presented in a tree structure starting with one individual as the root. From the root, lines representing branches terminate in boxes representing leaves. Each leaf represents individual family members with information such as birth, marriage, and death dates. 
A family tree diagram or genealogy chart makes it easy to record the people, places, and events that make up your family history and then share it with others. Learn how to draw a family tree (or get started faster with a few examples of family trees).
Why create a family tree?
If you are even a little bit interested in your ancestry and if you would like to gain some insight into who you are and where you came from, you may want to create a genealogy chart.
There are many reasons to make your own family trees:
It gives you a connection to your heritage.
It can help you trace genetics and family health concerns.
It is a good exercise for learning your family history in relation to historical events.
It is a good way to pique your children's interest so they will want to learn about ancestors and preserve family stories.
It can be fun!
How to draw a family tree
A family tree can be as simple or as complicated as you want it to be. 
A simple genealogy chart may include you, your parents, your grandparents, and your great-grandparents. A complicated family tree chart may include you, your parents, your siblings, aunts and uncles, cousins, and so on.
How far you go and who you include is up to you.
Getting started
Before you jump in and start drawing your family tree, you may want to do a little planning. For example, you might ask yourself:
How far do you want to go back? 
Is there somebody in your family who already has this information to give you a starting point? 
What type of information do you want to include on each leaf (births, marriages, deaths)?
Do you want to add pictures of your ancestors to each leaf? Where can you find these pictures?
You also may want to determine in which direction you will draw the tree. In nature, trees grow from the ground to the sky, but on paper or the computer screen, family trees can develop from the bottom up, the top down, or horizontally. It could be a good idea to look at some examples of family trees to help you decide how your tree will be drawn.
There is not a single family tree definition that dictates what has to be included or what the family tree should look like. But note that if you simply want to chart relationships without digging too deeply, you may want to draw a simple kinship diagram instead. Kinship diagrams use basic symbols, lines, and letters to represent relationships to help you visualize your lineage.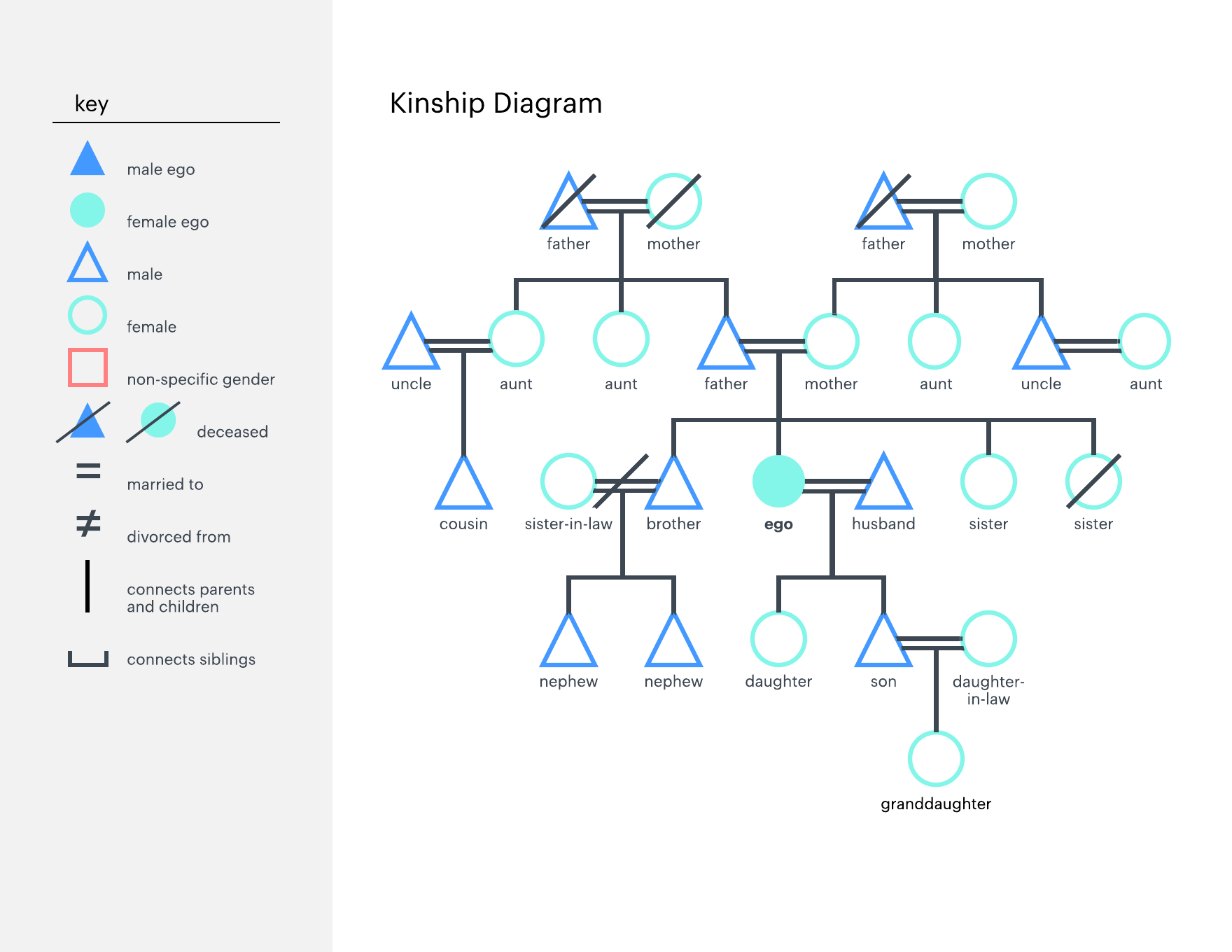 1. Gather information about your family
Write down what you know, ask family members to fill in the gaps, and find pictures and documents. Visit libraries and online genealogy sources to search for census records, news stories, land deeds, and other documents that can verify your ancestry.
Remember that you can only go back so far because of the limited availability of reliable records. You may have heard of some people saying that they have traced their lineage all the way to Adam and Eve. But in reality, it is very hard to find accurate records older than a few hundred years because many records have been destroyed in fires, floods, acts of war, and simple negligence. Some areas of the world were better at keeping and preserving records than others, so how far you can go back will depend on where your family came from. Most family tree outlines trace ancestry back three or four generations because of the limited information.
2. Draft a family tree outline
Compile all of the information you have and create an outline. Start drawing from yourself to your ancestors, or start with the oldest ancestor you know about and trace forward to you.
You can draw your family tree freehand using pen and paper or create a family tree online using Lucidchart. Through this visual workspace, you can select a family tree template online and modify it with a few simple clicks.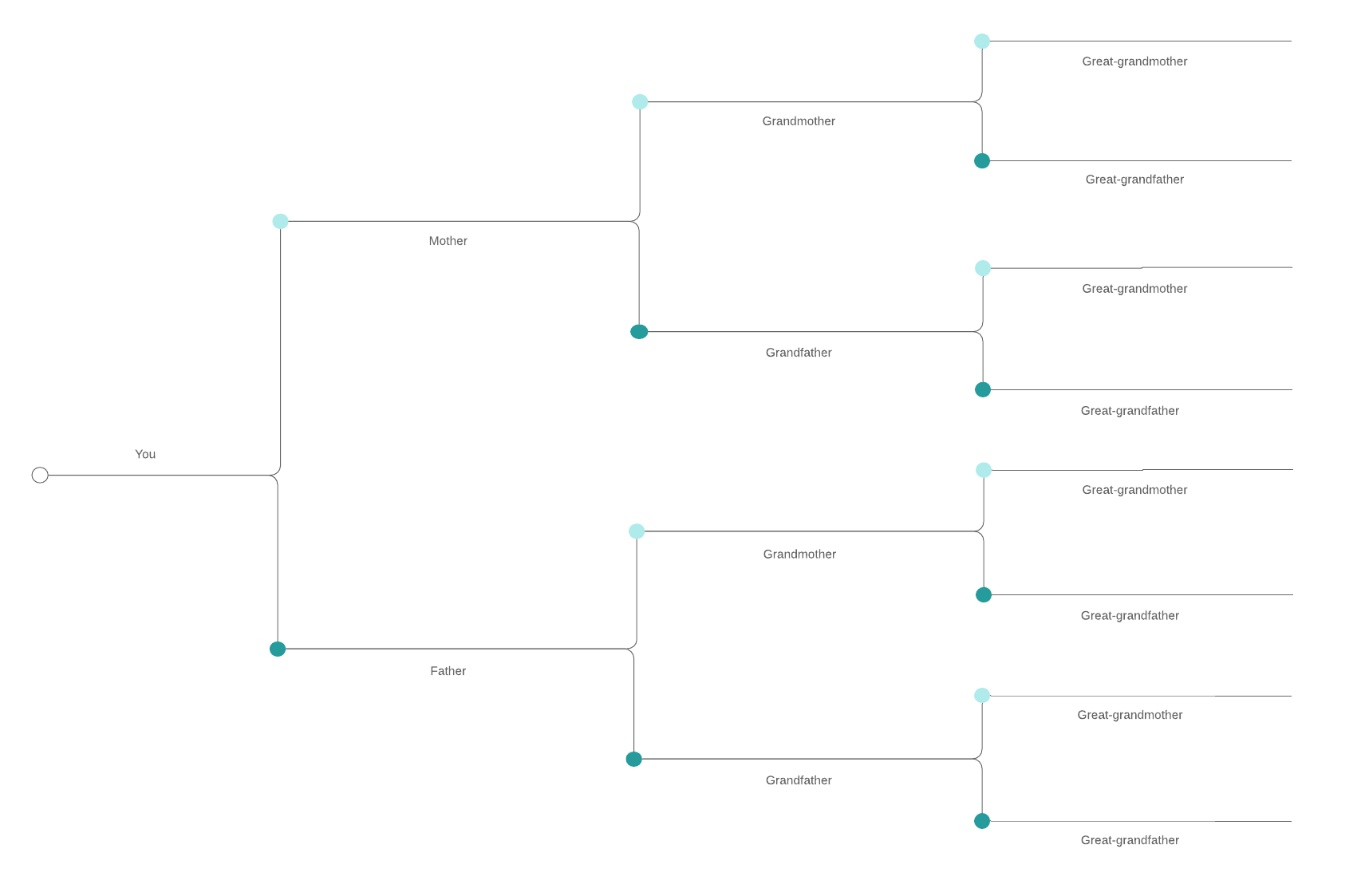 3. Add information to each leaf
Each family member will be represented by a shape connected by lines to represent relationships. Typically a box or rectangle is used to represent your relatives, but you can use any shape that you want to use. Each shape is a leaf on the tree. The shape you decide to use as leaves should be consistent and sized to include the information that you plan to put on your family tree chart. 
Place pictures, important event dates, and any other information you want to include in your leaf. As you put together this information, we would recommend a few additional guidelines:
Make it simple
If you want your family tree diagram to be useful to other members of your family, keep it simple so the information can be easily scanned and digested. Try to have each level of the tree represent a single generation so it is easy to trace relationships.
Don't air your family's dirty laundry
Who is going to be looking at this family tree diagram? There may be some family secrets that are not known to all living family members, so try to be sensitive about adding information that may not be too welcome to some of your relatives.
4. Distribute your family tree diagram
This is the fun part—once you have finished your genealogy chart or family tree diagram, share it with your family members and give them a chance to reflect on their genealogy or learn new family stories. You can also invite them to provide additional information.
If you have created your family tree diagram online with Lucidchart, click "Share" to give family members access to collaborate on the visual with you or export your family tree to a number of file formats.
Discover your family history with Lucidchart
Use Lucidchart to easily make a family tree chart. No matter what time zone your family members reside in, everybody with the permission to share and edit the document can open it, add notes, and modify or make corrections at the same time. It's a good way to bring your family closer without being in the same physical location.
Sign up for a free account so you can start tracking your family history visually.
Start diagramming with Lucidchart today—try it for free!
Sign up free
About Lucidchart
Lucidchart is the intelligent diagramming application that empowers teams to clarify complexity, align their insights, and build the future—faster. With this intuitive, cloud-based solution, everyone can work visually and collaborate in real time while building flowcharts, mockups, UML diagrams, and more.
The most popular online Visio alternative, Lucidchart is utilized in over 180 countries by millions of users, from sales managers mapping out target organizations to IT directors visualizing their network infrastructure.