The 4 Phases of the Project Management Life Cycle
Whether you're working on a small project with modest business goals or a large, multi-departmental initiative with sweeping corporate implications, understanding the project management life cycle is essential. Every project has essential milestones at the beginning, in the middle, and at the end, following a path from initiation to completion to evaluation.
Working with an understanding of the project management cycle helps you keep your project organized and on track from ideation to completion.
Project management life cycle overview
The project management life cycle describes high-level processes for delivering a successful project. For every $1 billion invested in projects by companies in the United States, $122 million was wasted due to lacking project performance, according to Project Management Institute Research. Wasted money and resources can be prevented with effective project management, as 57% of unsuccessful projects fail due to communication breakdown. In the phases of the project management life cycle, you come up with the idea for a project, define its goals, plan for its execution, and guide it to completion.
4 phases of the project management life cycle
The project management life cycle is usually broken down into four phases: initiation, planning, execution, and closure—these make up the path that takes your project from the beginning to the end. Some methodologies also include a fifth phase, controlling or monitoring. For our purposes, this phase is covered under the execution and closure phases.
To help you visualize the project management lifecycle, use this free customizable template. It's easy to edit and share with your team.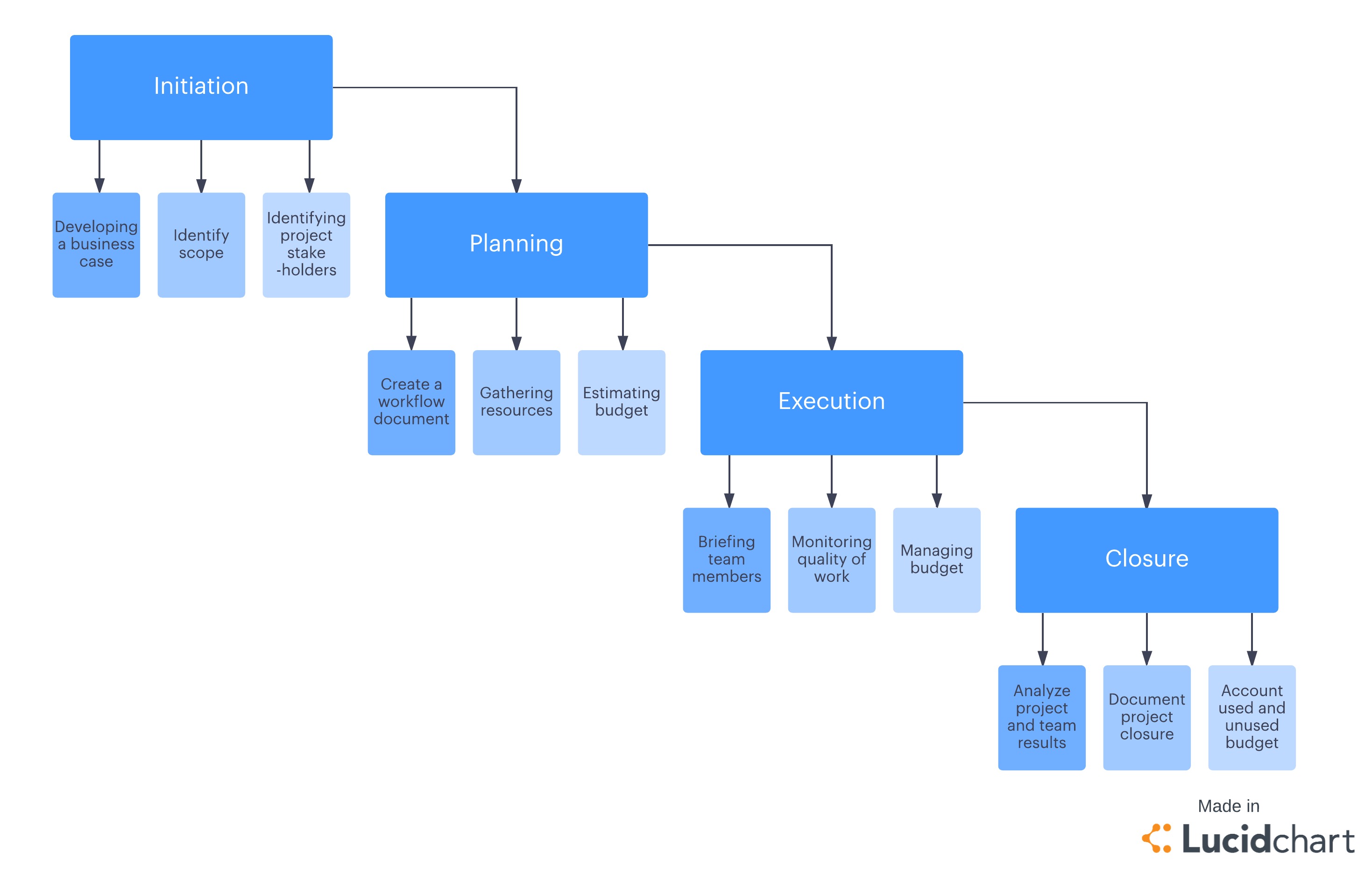 1. Initiation
In the initiation phase of the project, you identify a business need, problem, or opportunity and brainstorm ways that your team can meet this need, solve this problem, or seize this opportunity. During this step, you figure out an objective for your project, determine whether the project is feasible, and identify the major deliverables for the project.
Instead of waiting to have the project strategy decided for you, Moira Alexander advocates for a mental switch from being a project "manager" to becoming a project "leader":
"Project managers must be able to sell business leaders on the intrinsic value they offer to the business at a strategic level when they are at the table from the start of strategic planning instead of after the fact decision-making. Project managers effectiveness is drastically muted when offering a "fix-it" or "workaround" once high-level directional business decisions are made without their expertise."
Clearly, it's worth it to do what it takes to make your voice heard early—before the strategy is set in stone.
Project management steps for the initiation phase
Steps for the project initiation phase may include the following:
Undertaking a feasibility study: Identifying the primary problem your project will solve and whether your project will deliver a solution to that problem
Identifying scope: Defining the depth and breadth of the project
Identifying deliverables: Defining the product or service to provide
Identifying project stakeholders: Figuring out whom the project affects and what their needs may be
Developing a business case: Using the above criteria to compare the potential costs and benefits for the project to determine if it moves forward
You'll also develop a statement of work or project initiation document, which may include basic project life cycle flowcharts.
2. Planning
Once the project is approved to move forward based on your business case, statement of work, or project initiation document, you move into the planning phase. In this phase, you break down the larger project into smaller tasks, build your team, and prepare a schedule for the completion of assignments. During this phase, you create smaller goals within the larger project, making sure each is achievable within the time frame. Smaller goals should have a high potential for success.
Take a look at this example workflow diagram that you can use as a template to plan your projects.
Project management steps for the planning phase
Steps for the project planning phase may include the following:
Creating a project plan: Identifying the project timeline, including the phases of the project, the tasks to be performed, and possible constraints
Creating workflow documents or process maps: Visualizing the project timeline by diagramming key milestones using our Gantt chart maker
Estimating budget and creating a financial plan: Using cost estimates to determine how much to spend on the project to get the maximum return on investment
Gathering resources: Building your functional team from internal and external talent pools while making sure everyone has the necessary tools (software, hardware, etc.) to complete their tasks
Anticipating risks and potential quality roadblocks: Identifying issues that may cause your project to stall while planning to mitigate those risks and maintain the project's quality and timeline
The planning phase is also where you bring your team on board, usually with a project kickoff meeting. It is important to have everything outlined and explained so that team members can quickly get to work in the next phase.
3. Execution
You've received business approval, developed a plan, and built your team. Now it's time to get to work. The execution phase turns your plan into action. The project manager's job in this phase of the project management life cycle is to keep work on track, organize team members, manage timelines, and make sure the work is done according to the original plan.
Project management steps for the execution phase
Steps for the project execution phase may include the following:
Creating tasks and organizing workflows: Assigning granular aspects of the projects to the appropriate team members, making sure team members are not overworked
Briefing team members on tasks: Explaining tasks to team members, providing necessary guidance on how they should be completed, and organizing process-related training if necessary
Communicating with team members, clients, and upper management: Providing updates to project stakeholders at all levels
Monitoring quality of work: Ensuring that team members are meeting their time and quality goals for tasks
Managing budget: Monitoring spending and keeping the project on track in terms of assets and resources
If you have a properly documented process already in place, executing the project will be much easier.
4. Closure
Once your team has completed work on a project, you enter the closure phase. In the closure phase, you provide final deliverables, release project resources, and determine the success of the project. Just because the major project work is over, that doesn't mean the project manager's job is done—there are still important things to do, including evaluating what did and did not work with the project.
Project management steps for the closure phase
Steps for the project closure phase may include the following:
Analyzing project performance: Determining whether the project's goals were met (tasks completed, on time and on budget) and the initial problem solved using a prepared checklist.
Analyzing team performance: Evaluating how team members performed, including whether they met their goals along with timeliness and quality of work
Documenting project closure: Making sure that all aspects of the project are completed with no loose ends remaining and providing reports to key stakeholders
Conducting post-implementation reviews: Conducting a final analysis of the project, taking into account lessons learned for similar projects in the future
Accounting for used and unused budget: Allocating remaining resources for future projects
By remaining on task even though the project's work is completed, you will be prepared to take everything you've learned and implement it for your next project.
Use Lucidchart throughout the project life cycle
Finding the right tools can make even the most difficult project easier. With Lucidchart, the essential visual productivity platform, you can document all parts of your process to make planning and execution simple. For example, you can map out your process and quickly glance to see whether you're on track, or you can create an organizational chart to define the responsibilities of everyone on your team.
If you haven't used Lucidchart before, see how easy it is to get started.
Try out a tool that will increase your productivity and save time for you and your organization.