Why AWS is the #1 Cloud in Business
Reading time: about 4 min
Posted by: Lucid Content Team
Next week, Amazon Web Services will host an AWS Summit in San Francisco, just one of 29 summits scheduled between now and September. So what's the big deal? Why get excited over one more conference sponsored by just another corporate giant? We'll tell you: AWS is the number-one cloud in business, and you may want to consider getting on board. Here's why.  
Lucidchart is on board!
Try Lucidchart for AWS.
A global business leader
Gartner, the global leader in IT research, predicts that, by 2019, AWS and Microsoft Azure will form a duopoly in the IaaS market. What's more, that market will be huge. As data center outsourcing declines, cloud compute services are expected to increase from a $53.9 billion industry in 2016 to a $74.5 billion market in 2020.  
With a dozen other players in the game, including Google, IBM, and Rackspace, how can Gartner be so sure that AWS will come out on top? In their 2016 Magic Quadrant analysis (pictured below), Gartner lists a number of convincing reasons.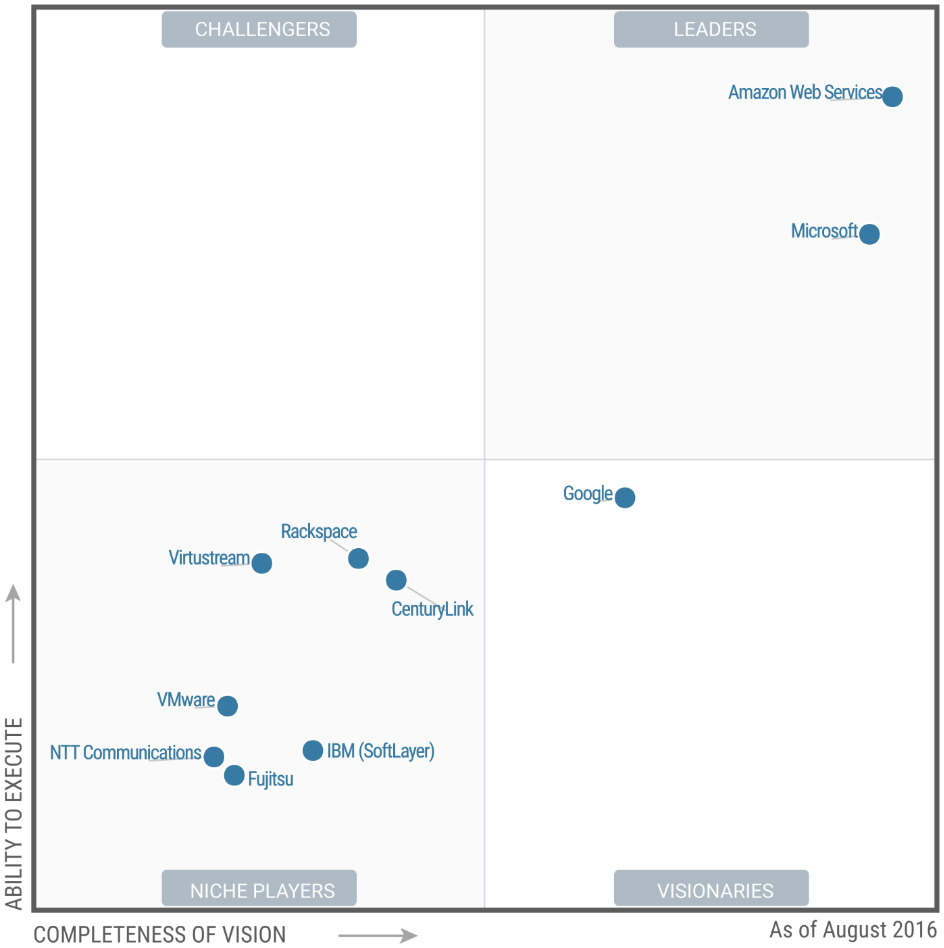 First, since pioneering the IaaS space in 2006, AWS has continued to prove itself an industry leader. They are agile and innovative, driving IT thought leadership worldwide.
Second, their share of compute capacity in use by paying customers is 10 times that of their 14 biggest competitors—combined. Their customer base is highly varied and spans a wide range of use cases. All in all, AWS boasts a multiyear competitive advantage that will be hard to outflank.
Finally, as AWS continues to grow and dominate the IaaS space, they are attracting their own ecosystem of open-source tools and independent software vendors that offer products packaged for or integrated with AWS. Not that we're biased, but of those integrated offerings, we're confident that Lucidchart is one of the best.
Your favorite AWS integration
As more and more data is stored in the cloud, clients want assurance that their information is secure. That means regular audits and well-maintained documentation. We know that auditing AWS network access and demonstrating security compliance can be a tedious, thankless process; it used to take our engineers two days to map out a network diagram from scratch. And so, to make work easier for engineers everywhere, they developed an AWS import feature.
Lucidchart takes advantage of APIs with AWS to collect metadata from Amazon's EC2, RDS, S3, Cloudfront, and SQS services. Then, using security groups, IAM roles, and other information, Lucidchart infers relationships that appear automatically as you drag and drop network instances onto the canvas. Watch the video to learn more!
You'll be amazed by the time you save and the headaches you avoid with our simple drag-and-drop functionality. This import was made by engineers for engineers, and you can see the difference in every step. Try it out now and thank us later.
The best booth at AWS Summit
Here at Lucid, we're excited for the AWS Summit in San Francisco. It will be an exciting two days of technical deep dives, keynote lectures from Dr. Werner Vogels and Andy Jassy, and most importantly, hanging out in The Hub with our biggest fans and greatest inspiration—our users.
Driven by user feedback and customer insight, we are constantly innovating to bring you the features you need which is why we are itching with anticipation to share some big Lucidchart news at the upcoming Summit! You won't want to miss it. So stop by our booth to get in on our secret and pick up some exceptional Lucidchart swag. We'll be waiting for you in The Hub at booth #1133.
And while you're waiting for the conference with bated breath, take some time to check out our user-inspired, semi-automated AWS import. We promise you won't be disappointed.
Start diagramming with Lucidchart today—try it for free!
Sign up free
About Lucidchart
Lucidchart is the intelligent diagramming application that empowers teams to clarify complexity, align their insights, and build the future—faster. With this intuitive, cloud-based solution, everyone can work visually and collaborate in real time while building flowcharts, mockups, UML diagrams, and more.
The most popular online Visio alternative, Lucidchart is utilized in over 180 countries by millions of users, from sales managers mapping out target organizations to IT directors visualizing their network infrastructure.