What We Learned from AWS re:Invent 2017
Reading time: about 2 min
Posted by: Collin Mangum
At Lucidchart, we love the chance to meet with our customers and partners, and AWS re:Invent in Las Vegas provided the perfect opportunity for our team to meet users and further understand the AWS ecosystem.
Lucidchart helps AWS users and other professionals visualize their work, network architecture, and processes in an organized and simple way. At the booth, we heard customers say things like "Thanks for making me look like a rockstar" and "It is so much easier for other departments to understand me when I show it to them visually."
The real buzz in our booth revolved around our new AWS architecture import, which automatically lays out your AWS architecture into a network diagram.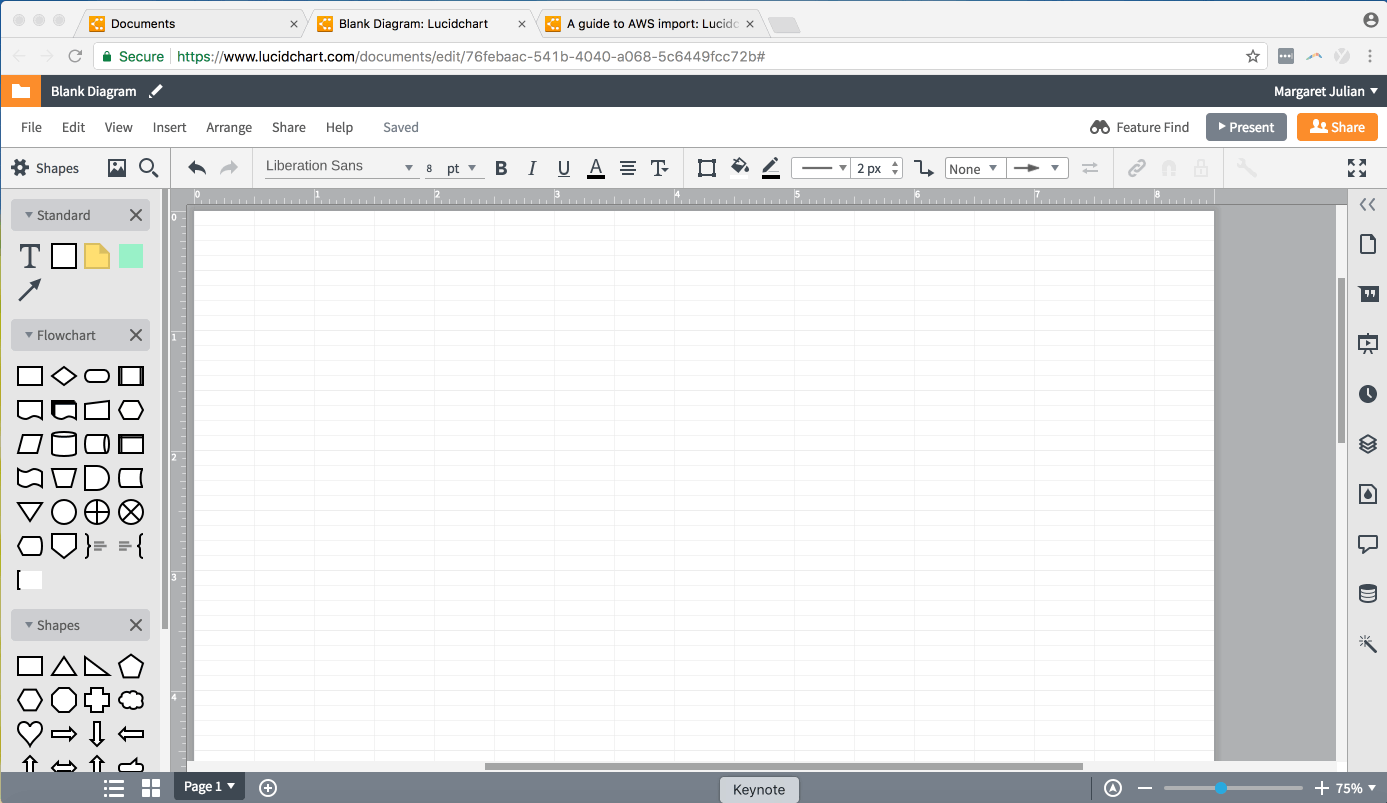 This feature saves network and systems architects countless hours of diagramming, tracking down information, and hoping that it is an accurate representation of their network.
Our takeaways from AWS re:Invent
But the Lucidites at AWS re:Invent didn't spend the entire time working the booth and pitching our product—David Torgerson and Nathan Cooper, engineers who work daily in our own AWS infrastructure, spent their days riding the monorail to keynotes and breakout sessions, learning how they can take Lucid's operations to the next level.
Both David and Nathan explained that, if you're only going to AWS re:Invent for the sessions, you could just wait for the presentations to become available online (although they were definitely happy to receive more detail about Amazon's KMS, HSM, and HSA offerings and see Amazon's future plans for supporting more secure installations).
The real value from the conference comes from workshops and discussions with presenters and fellow attendees. As they stood in line for different events, they learned how other engineers dealt with problems we've faced at Lucid, including EC2-instance vulnerability scanning across multiple accounts without creating a security hole and host-based vulnerability scanning and compliance monitoring in multi-account scenarios.
During workshops, Nathan could experiment and learn in a safe environment where he had no potential of breaking our production systems. All in all, the Lucid team made the most of their time in Vegas.
We are already looking forward to sponsoring and attending AWS re:Invent next year and hope to make our engineering friends' lives even easier when it comes to working visually inside and outside of AWS.
About the author
Collin Mangum is a product marketer who is constantly working to help users get the most value out of Lucidchart. His goal is to increase productivity and efficiency for IT professionals, engineers, and DevOps teams through visual work and automation.
Start diagramming with Lucidchart today—try it for free!
Sign up free
About Lucidchart
Lucidchart is the intelligent diagramming application that empowers teams to clarify complexity, align their insights, and build the future—faster. With this intuitive, cloud-based solution, everyone can work visually and collaborate in real time while building flowcharts, mockups, UML diagrams, and more.
The most popular online Visio alternative, Lucidchart is utilized in over 180 countries by millions of users, from sales managers mapping out target organizations to IT directors visualizing their network infrastructure.